Last time I wrote about our trip in Puerto Galera but haven't showed any photos. I said in my post that I will upload the photos the other day but been busy with other stuff. So before I forget it totally I will now share some photos we had.
Its Kyla's first time to enjoy the beauty of beach especially Puerto Galera. She was astonished with the water and the place itself. She immediately plays with the sand with her cousins. They also tried to be liked Mutya (Show in ABS-CBN) which is a mermaid.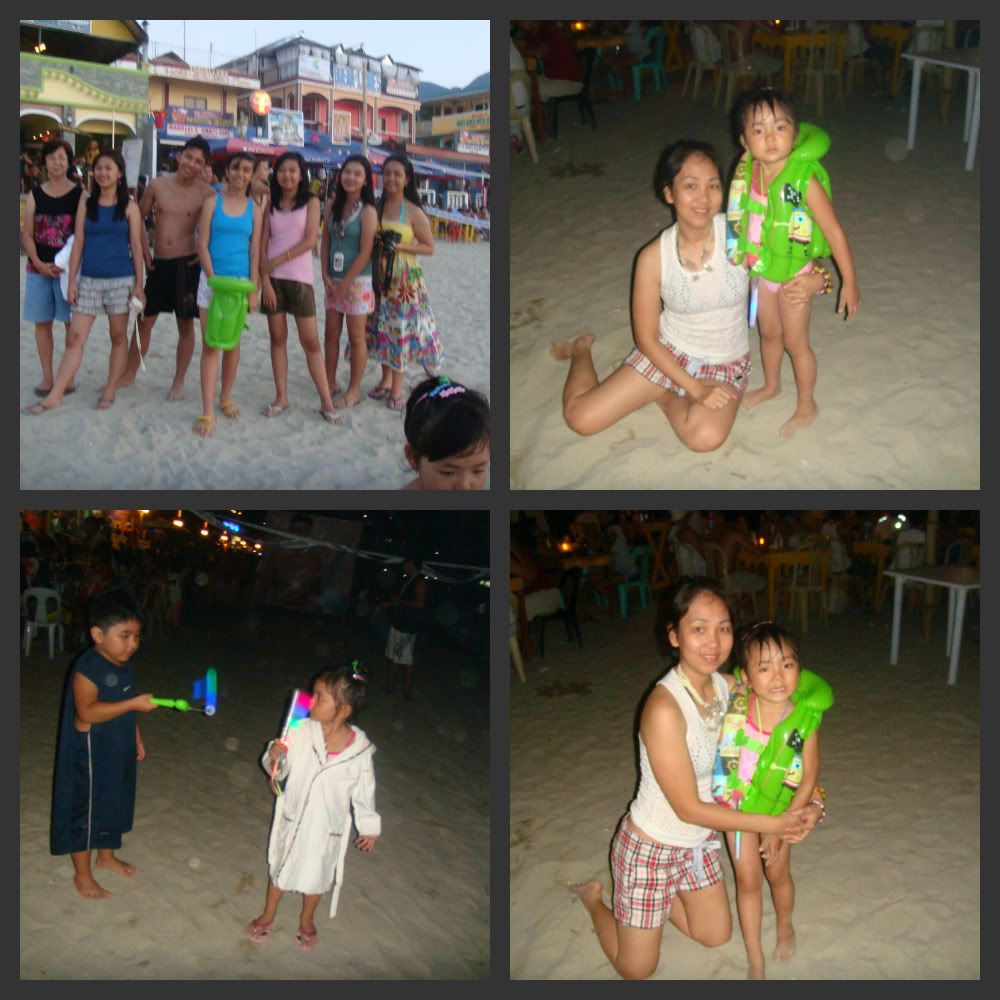 More to share in my next post meanwhile lets enjoy the rest of weekend…
It's been 4 days that I'm not updating this blog. We had our escapade in Puerto Galera last Friday and it was an unplanned escapade. What I knew is that we will visit one of the resorts in Batangas but when we are on our way we decided to visit Puerto Galera instead. So we go straight in Batangas pier and rode in an outrigger boat. By the way, we left the vehicle of my sister in Batangas Pier there are parking spaces available both inside and outside the pier along the highway and the charges are reasonable.
It took 1 hour for us to reach Puerto Galera. There are jeeps waiting for us that will transfer us to White Beach. Sorry, I haven't watched how long we took to reach White Beach but I guess it doesn't last for more than 30 minutes. Anyway, upon reaching the White Beach there are lots of vacationers from Filipinos to other nationalities.
Before we explore Puerto Galera we look for a place where we can stay for 2 days. The planned was just 1 night but we decided to make it longer. So instead of 1 night it became 2N &3D vacation. We had fun and it will be added in our memorable experience. Photos will be uploaded in my next post.
Today is my father's birthday and though were not able to celebrate his birthday because he had passed away three years ago. I know for sure he is happy with our dear God. I'm not vocal to say the three words "I love you" to my father especially when he is still alive but I love him so much. He will always be loved and remembered. And for sure we will be together again in God's time. Happy birthday Tatay and I miss you (teary-eyed here). I'm glad that I was introduced in blogosphere, I am the kind of person that doesn't speak much but because of this blog I am able to express myself. So I'm hoping that my father is here reading my post:)
Its ABC-Wednesday once again and we are in the letter N. So my entry would be my Niece who will be celebrating her 13th birthday this coming 24 of April. Her real name is Fatima Gabrielle but we call her NINA. Advance happy birthday Nina, treat treat hehe!


My entry for ABC-Wednesday, see more N entries just click the badge below.

Who wants ice cream? Summer is here now in the Philippines and one of the refreshing foods I want in this time is eating ice cream. Yesterday, after we attended the Sunday mass in the mall Kyla and I had a little strolled in the mall. And before going home I bought Selecta Ice Cream with four flavors. In the house we started to enjoy it, I'm glad I'm able to picture it before it becomes empty. And by the way the container of this 4 in 1 ice cream is red so i think it's acceptable for my Ruby Tuesday.
Last February we had our short vacation in Cebu-Bohol. One of the places we visited was Plantation Bay in Cebu. Here are some photos of Kyla … in the photos my little Kyla is having a leisurely walk in the place.
In the last photo maybe she was tired already so she decided to stop for a while and just have fun in the sand. I'm linking this post in Pink Fridays, join us every Friday.


Its Wednesday once again, I was checking when was the last time I updated this blog. So it's been 4 days that I'm not posting anything here, this blog is not neglected, lol … So sorry that I haven't posted much here because I was busy with offline commitments. Anyway, I have to post for ABC-Wednesday I want to finish what I had started. So now we are in the letter M already …time flies hmmm. So for my letter M I will not go further. The owner and responsible of this blog is MONA, yours truly. I can't find good photo of me, lol so I decided to have this photo. The photo was taken last December it's me with my daughter. Kyla's second name is MARIE so it's counted also with the letter M.


I'm linking this post in ABC-Wednesday and Ruby Tuesday. Have a good day!

TGIF …. For my Pink Fridays my share is my niece's cellphone. I saw the accessories in her cellphone the pink smiley so I thought of Pink Fridays. My niece showed me the pink back of her cellphone so I guess this is better for my Pink Fridays.

Join us every Friday just click the badge, happy Pink Fridays 🙂