The last time I updated this blog was six days ago sharing about my Sun Broadband USB which was accidentally busted by my nephew. I thought that I will buy a new one because many of the technicians I had talked said that it's not an easy thing to do and blah blah blah. The last option was to visit the cellphone technician and I'm glad he made it. He just opened the USB and glued some part and voila it's now usable again. I'm glad because it's saved a lot of money from 1,245 pesos (price of a new sun broadband usb) I just paid 130 pesos, it's a lot of savings right. Well, I'm happy that I'm back …Thank you all for visiting and leaving valuable comments will surely back the favor 🙂
Yesterday my nephew accidentally kicked my Sun Broadband USB. It's not proper but the first word that came in my mouth was (shit). I'm about to explode yesterday because it's my life, lol. I saw the USB has cracked so I immediately unplugged, checked and plugged it again. But it didn't recognized 🙁
Earlier this afternoon I went to Sun Cellular Business Center asking for some options in order to use it again. They provided two options but first thing they said that they can't provide another one because it's out of warranty already and since it's not because of factory defect. So, the first option is to go someplace or ask someone who can fix USB (they can't) but they were not 100% sure of this. The second option is to buy Sun Broadband USB again. Its cost 1,245 pesos or around $30 whaaattt???
Right now … I am using Globe Broadband Tatto. I got this as a prize here in blogosphere. This is my first time to use this USB after 6 months on hand. Well the connection is not bad at all. It's a prepaid one so I need to load it whenever I want to use it. Now, I have 50 pesos load or around $1 for one day unlimited consumption. If you do the math 50 x 30 = 1,500 pesos wheeew! While my monthly consumption in Sun broadband is 799 pesos only (it's for 1 month unlimited used) and the connection was good.
Well, I guess I should get the second option or else set aside blogosphere …!!!
The newest show in ABS-CBN "Gandang Gabi, Vice! has just aired couple of hours ago it was hosted by the one and only Vice Ganda. I watched the one hour show and for me it was entertained me. It's like watching on a comedy bar. Every Sunday different celebrities will join Vice Ganda. For this episode Vice Ganda's guests were Kim Chiu, Angeline Quinto and Bea Alonzo. Talking about life and some advices regarding love life but of course Vice Ganda is the host so expect laughter in every conversation.
Here is the preview of the show:
Next week I will find time to watch the show. This kind of show is what we need now. They said laughter is the best medicine, so I guess we should really see this show and let's forget our problem even in an hour.
Last week I didn't participate in ABC-Wednesday I'd been questing for my Q entry but haven't got one. But I guess "questing" counts, heheh. Anyway, next to Q is the letter R (do I need to say it, lol). So for my R entry is the Red Rose that Kyla gave to me last Mother's Day. It was taken in my mother's front yard. See the photos below.

My share in ABC-Wednesday … click the badge for more!

Happy Birthday to myself, lol … kidding aside it's my birthday today. We didn't celebrate much, just a simple celebration with my family in the abode. It's just a simple yet another memorable birthday for me. I will not make this post lengthy I'm tired already not because of my birthday but because I enrolled Kyla in school. This coming June she will start her first schooling. My wish for my birthday is for you Kyla. Hope you will finish your nursery level and you will overcome your shyness. Good luck in this new pace of your life. And just enjoy every single day!


Anyhow, thank you all who left birthday greetings in my Facebook account eventhough i'm not an active user of FB. Also want to express my thanks in PMC group in Facebook. Thank you very much… you all made my day complete.

How are you folks? Yesterday we had a busy day. I said the other day that we will be sending my BIL, three nieces and nephew in the airport. Now they were in Canada already, thanks God for their safe trip.
Anyway, today is a busy day as well Kyla attended graduation of her One Week Workshop in Jollibee. I'm glad that she finished the five days activities. It's her first time to join such workshop and though she doesn't participated in other activities I'm still happy that she finished the workshop. I'm proud of you Kyla, long way to go hope it's the start of some changes in your life. I mean she is the type of person that doesn't go along with other children easily. It's so hard for her to make friends with other children because she is a quiet or should I say shy person but I'm wishing that she will over come this. Anyhow, I want to share some photos of her graduation but I can't find the USB to transfer the photos L will try to update this post.  Good night folks!
How's your weekend so far? Sorry I haven't updated this blog been busy with offline things. The whole day yesterday we were in my BIL's house because of their farewell party. My BIL, my three nieces and one nephew will be migrating in Canada (they are in the photo below). Their mother who is my sister is working in Canada. I'm glad that my sister will be reunited with her family now. It was an answered prayer, thanks God for that blessing. Anyway, tomorrow is their flight we will be sending them in the airport. We were sad because they will be away from us but happy also because they will be reunited with their mom. I think my elder niece was 12 years old when her mother went to Paris, France and after 4 years she transferred to Canada. Last March my elder niece graduated from her nursing course. Imagined how long they are separated with their mom. I will not make this post long need to sleep early because seven in the morning we will be off to the airport. So what can I say, bon voyage … we will miss you all … have a safe trip …
I was surprised this morning because I saw a postcard on top of the television. So I immediately read it to find out who sent it to me. And guess what it's from sis (Ate) Rose of Rose Obstacles and Glories well this is just one of her many blogs. If you don't know her you are missing so much in blogosphere, heheh.
This is the first time I received postcard from non relatives (based on my memory). So this postcard is really a memorable one for me and it's made my day happy. Thank you also Sis (Ate) Rose for being a friend to me and yes hope we can meet someday. I will keep and treasure this postcard. Again, thank you so much from the bottom of my heart. Regards to your family especially to your burritos.
I'm still in bed when Kyla came handing one red rose. When she's in front of me she whispered happy mother's day mama, I love you. What will be your reaction with all those words coming from three years old? I was surprised and really happy. I asked her where she got it and she said that Nanay (my mother) was the one who took it in the front yard. This is a simple thought but its really big one for me. I love you too Kyla. Though I'm not the good mother at all times and sometimes you received some spank from me. I know for sure that time will come that you will understand why. My love for you is always here, teary-eyed now so have to stop this. Hoping your sweetness will never end and you will grow with that attitude.
This post is also for my mother. Without you I am nothing. Thanks for your unconditional love. Kyla and I love you so much.
(Too bad I can't upload photos of my mother and the rose it's always gives me an error message. Maybe because of the weather now, it's been raining since I woke up this morning and until now that it's almost midnight.) Anyway, I will try to add some photos next time. Again, Happy Mother's Day to all the mommies out there this is our day…and thanks for your warm greetings.

My Mother with my daughter Kyla
Hope you can see the spark of yellow here, its really tiny 🙂
My share on Mellow Yellow Monday, Blue Monday and Ruby Tuesday.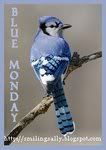 Kyla knew how to use computer/laptop already. I remember the time she is still clueless on how laptop works. She always asking me to write anything here. That time she is happy just by typing any letters in Microsoft Word. And when she discovered that she can play here, she asked for some help. She will insist to open any game but I will be the one to play. She will just look while I am playing. But I think last month I taught her how to use or handle the mouse properly and guess what she learns faster than I expected. She started to play Dora the Explorer on her own in Nickelodeon site. She is very happy that she can dress up Dora. Few days after, I was landed in Sesame street site. There are different games to play and you can choose regarding your age. Anyway to cut the story short now that she knew how to handle the mouse do I need to be bothered? Her latest addiction now is playing Plants vs Zombies. At 3 years old Kyla can play already online. Though she's not that good I mean she can't beat all the zombies but she is happy looking at the zombies dying. My dilemma now is she always wanted to use the laptop. Even after she woke up she will insists to play online. I don't like her to be hooked in online games or just by using computer because we all know that too much exposure here can give some negative effect in our health.