She has a new bicycle her grandparents bought it when they visited Kyla during their vacation here in the Philippines. Before Kyla used to ride on her baby bicycle and she's been using it since 1-year-old until today. It is still usable but I don't think it is still fit with her age she's now 4 years old. Before everytime we were in the mall she's bugging me to buy her a bicycle but I don't have extra money so thankfully her grandparents gave it to her.
I envy with this little girl hahah because I don't know how to use bicycle. One time, I rode bicycle with my cousin and accidentally fell and got wound. Same thing happened when we were in Baguio city long years ago. With my experienced riding in a bicycle I don't have the courage to pursue learning it.
I am glad that my daughter is willing to learn riding bicycle. She started riding on her baby bicycle and now she's using this one. Though it has support or the training wheels still I am proud of her because she's not afraid to try it. There are times she still fell down but it is part of learning. Now, she's not afraid of using it outside, good job Kyla. Next time we will try to remove the training wheels so you will be a professional biker, wink!
Swarvoski crystal beads are great for creating dazzling jewelry. This will refract the light and make them sparkle. No other crystal will have this sparkle. There are many brilliant colors to choose from when picking from the large selection of beads. There are also many different shapes, sizes and styles.
The colors are very brilliant making them great to use for a beautiful necklace. The bracelets that are created with these are also something to show off. These are considered to be the world's finest crystals because they are polished and faceted.
The Swarvoski beads are leaders in the bead making industry for this style because they are holding around seventy percent of the market share. These lead crystals are cut with much precision. The twinkle of these is created by the amount of lead that is in the Swarvoski crystal beads. This is because it gives the bead a better light refraction.
This is why the Swarvoski crystal bead is a great option for any jewelry that you want to shine. These will definitely make the grade when it comes to making jewelry. Some of them will have a coating on them to make them more luminous. Sometimes this will give it a rainbow effect.
This bead is one that will be great to wear to any type of occasion. They are even worn to special occasions that require the best jewelry in the eyes of many. They will dazzle the biggest crowd. They are very elegant because each one of them will be flawless. Most people will agree that when these beads are used, they will be the focal point.
Every project can have this addition to it and make it look amazing. There is no bead like this one. Every piece of jewelry that is made and worn will get the best compliments. These can be in any shape, size or style.
Aside from coloring book and watching Disney junior; playing with play dough is another thing that Kyla loves to do. Her grandmother bought her Play Doh Cake Maker Play Set last time she visited my daughter.
Anyway, here she is playing with her new play-doh. I asked her to look at me first for a souvenir photo.
So finally after a long wait the cakes are finished with the help of me of course. She said she is selling the cake so anyone who wants to buy Kyla's cake just give me a buzz, kidding!
Happy with the result of her cakes … here she is giving me a nice smile =)
Google Celebrated Earth day 2012 with an animated Doodle on its home page. Honestly, I am not aware that we have an earth day (silly me). Or maybe I know about it but I don't give more attention.  Awhile ago I was watching variety show and mentioned that today is Earth Day, haist! So I searched on google and found out that indeed Earth Day celebrates every 22 day of April so that is today. Big part of United States of America take part of this celebration yearly that was initiated by Gaylord Nelson way back April 22, 1970. 
Well, for me wherever we are we should take part of this celebration for a green healthy environment. The earth is our home so let us protect it and act now before it's too late. Happy Earth Day 2012!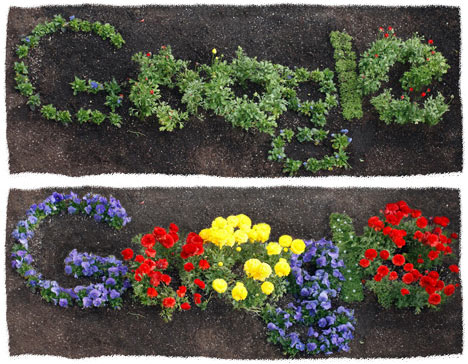 Today my father is celebrating his birthday but he is not with us anymore. Four years ago he passed away because of diabetes and some of its complication. As I said before when I talked about him I think during his 4th death anniversary that I missed him so much and as long as I am here breathing I will continue to love him even though he is not with us anymore. 
I know wherever he is right now he can read this and sorry because we didn't visit him today in the cemetery but we will tomorrow. Again, I don't say "I love you" to my father verbally but I hope still he can read this and he will know that we love him so much. My daughter Kyla said she loves her Lolo Tony (my father) so much though she was only 4 months old when my father passed away. Anyway, Happy happy 74th Birthday to you my father and I/we love you so much. Don't worry about nanay (mother) because we are here to love her unconditionally. 
I don't watch American Idol season 11 regularly but weekly it's in the news here because of Jessica Sanchez. She is a Filipino-Mexican and part of American idol season 11 top 6. Last time she's been saved by the judges because they used "season save" this is to stay Jessica in the show after she garnered the lowest votes of that particular week. I think this power of the judges can only be used once through the whole season.   
So after she garnered the lowest vote Filipino community in America asked for help to vote Jessica Sanchez to the next round. Even celebrities here in the Philippines and some tv shows are also asking Filipinos in America to vote for Jessica Sanchez.  So last Thursday (Philippines) the 7 finalists performed once again. Jessica Sanchez performed two songs; Fallin by Alicia Keys and Try a little Tenderness by Otis Redding and gladly it was well received by the judges.
Friday came (Philippines) and time to eliminate for another idol contestant and it's surprising because Jessica Sanchez garnered second to the highest vote. This is happened because of the support of Filipino community in America. As a Filipino I am proud of her and hopefully we will see Jessica Sanchez all the way through the finals and hoping that she will be the first who has Filipino blood to win American Idol.  
A kapamilya fanatic is always looking forward for ABS-CBN Summer Station ID. So finally today they launched it in ASAP entitled Pinoy Summer Da Best Forever performed by Sarah Geronimo and Gerald Anderson.  If you haven't watched it I grabbed the video in youtube. Thanks to the uploader =)
After watching this video I am really proud that I am a Filipino. Indeed it's more fun in the Philippines especially during summer. Thumbs up for this video!
Today is the second day of the 3 Day sale here in SM City Lucena. So my mother, my niece and I went today to shop a little. I think this kind of sale is happening only once a year so we don't waste the opportunity to shop with discount. There are so many shoppers; it looks like people have no financial problem, hahah!  
Shopping is fun but at the same time it's tiring but worth it because we got discounts and freebies. In connection with 3 day sale there are lots of discounts and freebies privilege for shopper. Also shopper has a chance to win1 of 3 Eee PCX 101H PC Netbook. To win shopper is given one raffle coupon for every 500 pesos accumulated purchase and for every 1,000 pesos, shopper has a chance to win Five of iPhone 4S.  Who wouldn't like to win these awesome prizes? How I wish to win any of these prizes, my blogger friends here said I am lucky because I always win in giveaways online so I hope this luck will not just ends here in blogosphere.
Its a tiring day today but on a lighter note my daughter will come back tomorrow here. She spent one week vacation in Manila with her grandmother and grandfather who just came here for short vacation from Paris, France. I am so excited and missed my daughter so much because this is the first time she sleeps in other place without me. Ahhhhh, I can't wait for tomorrow =). 
Indeed summer is here because its very hot for the past days. Every summer halo halo is very popular here in the Philippines. Certainly halo halo can beat the heat of summer. For others who are clueless about halo halo, it is a traditional treat consisting of a blend of fruits, sweet preserves, evaporated milk and the most important ingredient shaved ice. In restaurants they normally topped it with a scoop of ice cream. 
Last time when we went to Liliw, Laguna I tried halo halo in one of the restaurants in the place, they said they have different halo halo  because of curiosity I tasted it . While eating the halo halo I noticed that pineapple makes it different from other halo halo because here in our place we don't put pineapple or even in other restaurants I already tasted halo halo. So this is the first time I ate halo halo with pineapple. Well its good but if the pineapple is not sweet enough I don't think it can blend with other ingredients of halo halo. Here is the photo of halo halo I ate in Liliw, Laguna. 
Halo halo is not expensive well it is expensive if you will eat this in the restaurant. But if you will buy this in your neighborhood this will just cost 15 pesos. The one I ate in Liliw cost 35 pesos not bad because it is good for two persons already. 
As I have said before my daughter loves to watch shows on Disney Junior; Jake and the Neverland Pirates is one of her favorite.
According to Wikipedia, the show revolves around a group of three children (two boys and a girl) who are pirates in NeverLand(vs. Peter Pan's Neverland), looking for treasure. Their main obstacles are Captain Hook, Smee, and Tick-Tock the Crocodile from Disney's Peter Pan franchise. Captain Hook usually sees Jake and his crew doing something fun and steals it from them, and Jake and his crew have to get it back. After they succeed, Jake and his crew count their gold doubloons (which they receive after solving each "pirate problem").
Everyday, she always waits for this show. I allow her to watch it because I believe this show shows good traits that help my daughter to be kind, respectful and helpful.
These pictures were taken while she was watching the show. What about your kids do they have favorite tv shows?