Technology has gone farther nowadays. With tablets, android phones, laptops and PCs that are readily available for every consumer, everyone can easily get hold or buy gadgets of their choice. And with the growing popularity of social media, everyone can just take photos and videos and share them immediately to the world. With just a tap, touch or click of the mouse, everything is almost possible. 
But sometimes, creating awesome photo slideshows can cause headache, especially if it deals with codes and other alpha numeric things and the like. It may take hours and hours before finally producing a very unique and inspiring slideshow of all the photos you have taken. But thanks to technology still, programs like Slide Deck javascript slideshow will make things easy for you. SlideDeck.js lets you unleash your creativity. If you have a website, you can customize the SlideDeck to match your website's design. It is actually SEO friendly and can boost your rankings. The contents of your slide are organized so it is automatically indexed by search engines. It also goes well with any device, so your content is seen no matter how your website is accessed. Best of all, it is easy to use, and you can download it instantly. So if you want to have an organized, beautiful, customizable and user-friendly slideshow, try checking our SlideDeck.JS. 
This is just one of the many things that technology and the Internet can give us, convenience, ease and access to contents anytime, anywhere you are in the world. With just a tap or touch of your latest gadget, you can instantly impress everyone.
The last time I did laundry my hand got
wounded (see photos). I prefer hand washing because for me washing from machine can't completely clean the clothes. Hand washing made my clothes cleaned but my hand became ugly after, hahah. Well, seriously it was painful for 2 days especially when it's wet. 
I was thinking if I got it from the soap but I am using the soap even before. They said maybe I was allergic to some of the ingredients of the soap but as I said I used it previously. I used to get wound on my fingers every time I do hand washing but not like this which is very noticeable. Well, my hand was completely healed and I hope I will not encounter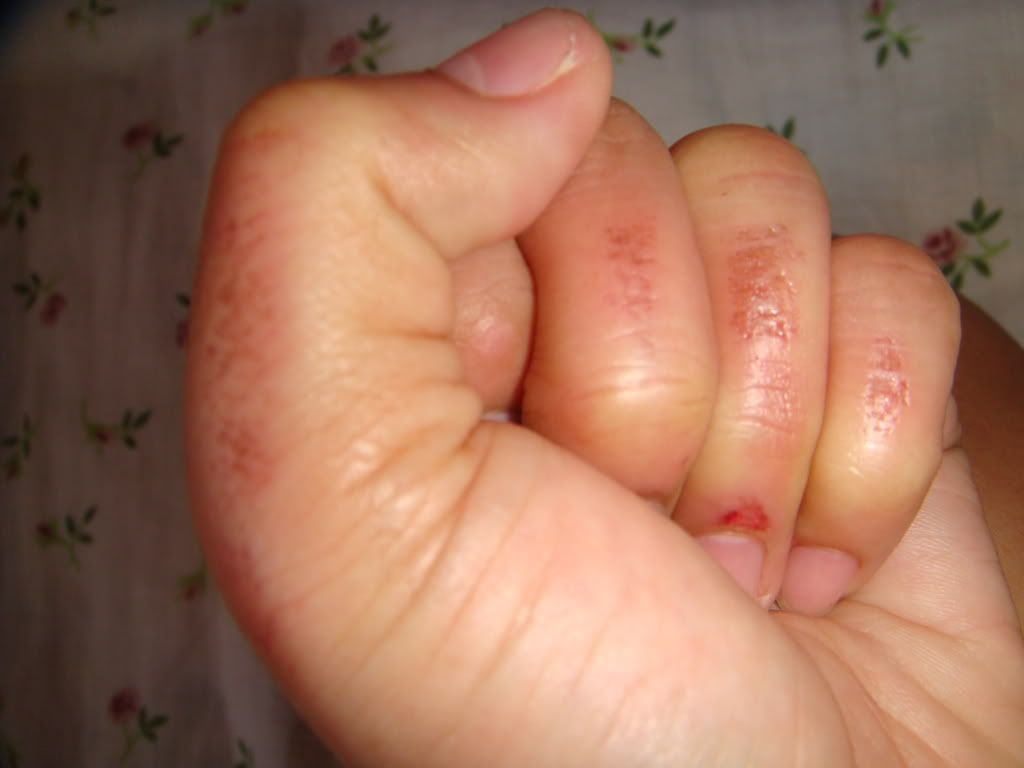 this dilemma again.  
The other day I bought Perla soap, it's a kind of detergent bar but can be used also to our skin. But I heard negative feedback like it makes skin dry because it's a kind of detergent. Other claims, it's good to their skin. I guess the result depends on what type of skin. Anyway, I will try Perla soap in my clothes. A friend suggested this because she said it's not harsh to skin especially to hands, she added it's a mild soap. So I will use it next time I do my laundry. I will try this also to my skin and see the effect for myself. I'm not sure but I think when we were young one of my sisters used Perla soap as her laundry bar and skin soap. So, I will see it for myself if it will work in my clothes or my skin. 
Disclaimer: I don't receive any compensation or anything from Perla. I just wanted to give it a try so I mentioned it here. 
This is just an observation; I don't know why other married people haven't worn their wedding bands after the following months or years of their nuptial. I wasn't able to wear this kind of ring but if I have the chance for sure I will forever wear it. Ring signifies love and commitment to each other so it should not be forgotten. Sadness, because as I said I've seen married couple especially mens wedding bands are being neglected. Some of them just wanted to hide it in their jewelry box. Aside from that some of wedding rings are put in pawn shops. Well, this is just my observation and if I'm wrong you can correct me =).
My daughter is attending school for almost one month already. From the day she started kindergarten I haven't seen any of her paper/art works in school. Normally, she will bring her books at home if she has an assignment but not her artworks. Well, this thing is normal to her school. I mean teachers are not showing their artworks because there is a time to do this thing. Usually during school's "Open House" where there is program first and after parents/guardians will be going to child's classroom to see their accomplished artworks. 
This is my second time to attend this kind of event. When my daughter is in Nursery last year they also had this event. I was happy that time because I've seen my daughter artworks and happy to know that my daughter was able to do such things. 
Open House is done once so I will not think twice and attend this event. I am excited already because this is the moment I've been waiting for. I hope Monday is already here, lol. The mother cannot hide her excitement haha. I will be seeing my daughter artworks starting June so for sure its numerous already. She is now in kindergarten I guess their artworks are already level up compared last year. Well, whatever her artworks; nice, not so nice, or very nice =) I will be very happy. For me anything she made was already her accomplishment. 
After this Open House we will see their artworks again on their last day in school. All their artworks from June to March will be sending home. That's a long time, so I will not let the chance to see my daughter artworks this Monday. I will take photos of her artworks and share it here. As far as I can remember I shared some of her artworks in her Nursery class so will do the same.  
Have a blessed Sunday =)
It's better to give than to receive =). Well, I just think of the quote because I remember on my last birthday; my cousin went here asking if I could give old clothes of my daughter to her grandchild. I didn't think twice and hurriedly looked for some old clothes and gave it to her. I felt happy on that day because I helped other people even in my simple way. Anyhow, aside from the clothes my cousin had other business to me, heheh. She said, her friend is looking for stroller. She asked me if I could sell my daughter's stroller but I said it's not for sale. Maybe I will just tell her about the stroller I found online. And just like my cousin's friend, if you are looking for stroller you can Click here for more details. For sure you can find one that best for your child.
So it's confirmed the singer, song writer and producer Mariah Carey is the new judge of American Idol replacing the slots of Jennifer Lopez and Steven Tyler. The two judges already announced they were quitting American Idol to give way on their career. 
There was a rumor saying Katy Perry and Nicki Minaj will be one of the judges of American Idol but the gossip is over because Mariah Carey is the new judge of American Idol season 12 happening next year. While there is no clear report on who will replace Steven Tyler. We can still watch the long time judge Randy Jackson on Idol.    
Mariah Carey will receive $18 million paycheck with an option to renew her role on the show. Still Jennifer Lopez ranks highest celebrity earner as judge on singing competition. On her first season on Idol she earned $15 million and got $20 million and bonuses on her second season. Only means Jennifer didn't quit the show because of salary dispute but to give way or concentrate on her career. 
Anyway, I am excited for the new season of American Idol and look forward on Mariah Carey as one of the judges. Aside from that I'm excited if there is Fil-Am joining the contest.
"Today marks another milestone for Eat Bulaga as the first international franchise of our show will be launched in Indonesia, Eat Bulaga Indonesia in SCTV," this is the official statement of Eat Bulaga.
Eat Bulaga holds the record of being the longest running noontime variety show here in the Philippines. It was started way back 1979 on RPN 9 and at present airing on GMA Network. I was only 2-year-old when Eat Bulaga started, now I have 4-year-old daughter already. Indeed, historical achievement for Eat Bulaga. The main purpose of Eat Bulaga show is to help especially poor people and to give happiness to everyone.
The first international version of Eat Bulaga called Eat Bulaga Indonesia was premiered on Indonesia last July 16, 2012 under SCTV network. And just like the original show, Eat Bulaga Indonesia has similar concept. The Indonesian version will be filled with entertainment, games, prizes, and inspiration just like Eat Bulaga. The segments on Eat Bulaga like Pinoy Henyo, One For All, All For One, Bulagaan, and Karaoke Stud will also be featured in Eat Bulaga Indonesia. Earlier I watched in youtube some part of Eat Bulaga Indonesia version of One For All, All For One and the concept is similar to the original. The team song of Eat Bulaga was also used but of course they used their language and changed lyrics. They used the same tune and the title of the show Eat Bulaga is mentioned in their theme song.
Statement from Eat Bulaga Indonesia said, we want this program to be a success like in the Philippines, where it has been running for the past 33 years." historical achievement of the show.
Indeed historical achievement because it's the only show running for almost three decades and still counting. I think this is the first show in the Philippines that got international franchise. We used to get franchise from other countries but now we got the first franchise (as far as I know) from other country. Well, Eat Bulaga Indonesia will be airing for 13 weeks and see how the people respond to the show. Well, good luck Eat Bulaga Indonesia and hope your show will be a successful one just like the the original Eat Bulaga. 
The kind of living we have now is completely different compared many years ago. Before, people are satisfied already in simple ways of living especially when it comes to food. They eat healthy foods because they just get it from their garden. Many people are planting fruits and vegetables and used it in their cooking. Maybe this is the reason why people before have long life compared today. We can notice ages 50-60 is the span of life today. This is due to our unhealthy ways of living. 
I will not go further because I, myself have unhealthy living. I used to eat unhealthy foods like junk foods, too much sweets, salty and oily foods. Added to that I don't have regular exercise and most of my time is in front of laptop. My mother told me I should take at least one vitamin daily. She added, this will help me especially I don't have good sleeping habit; normally I sleep very late and wake up early morning. Mother knows best so I'm thinking now to get adult gummy vitamins. I heard positive feedback about this vitamin. The gummy vitamins contain the combination of multi vitamins and Omega 3 plus there is vitamin D. It is also good source of DHA & EPA. The ingredient comes from organic and the color is made from natural color or flavor. It is available for the whole family so kids and adults can now enjoy the healthy benefits of gummy vitamin. 
The advancements of technology have made such a huge difference in the business world. If you had to do business two decades ago, you need to have a huge amount of capital enough to cover your overhead costs. In other words, not everyone can go into business. It would almost be impossible for a young person, a jobless housewife to even get into a business, let alone grow it. Thanks to the advent of technology, that is not necessarily the case these days. In fact, we see more and more success stories of university drop-outs, ordinary young people, and used-to-be jobless housewives succeed in making money online, or start a small-scale business endeavor — given some time, they saw it grow and flourish. 
Now, starting a business could be a bit risky. One of the things that you have to deal with is the problem about having an enough amount for capital. Some people who have seen their businesses grow might like to take their endeavors to a higher level, thus they would need more capital. Now the challenge comes in: where do they get it? If they had to loan money from the bank, that would take time, not to mention that there would be lots of forms to fill up, collateral which many people might have difficulty coming up with. Chances are, their businesses could not go any further for lack of funds. This is where Kabbage does a real good job at providing these small-scale businesses with enough capital either to start a business, or to grow one. With Amazon loan, one does not have to wait too long. It definitely gives small-scale businessmen the opportunity to expand their enterprise– thus increasing more cash inflow. Sure, getting into a business endeavor is not as easy as it sounds. But when you believe in your business' potential to grow exponentially, you will find that the getting into it is worth all the risk. And wherever your business takes you, you will always go back and be grateful to that time that you had the opportunity to avail of more funds to make your business grow.
Dolphy died at 83. I didn't know that Dolphy, the one and only Comedy King passed away last night, July 10 at around 8.34 pm. Early this morning when my daughter opened the TV, that's the only time I heard Dolphy passed away already. 
If we could remember, last June 19, Dolphy was brought to Makati Medical Center due to pneumonia. On June 16, he was admitted at the same hospital because of shortness of breath. After, nearly one month being confined at Makati Medical Center, the Comedy King, passed away at the age of 83. He is about to celebrate his 84th birthday on the 25th of this month. 
According to reports, the reason for his death was because of multiple organ failure, secondary to complications brought about by severe pneumonia, Chronic Obstructive Pulmonary Disease (COPD), and acute renal failure. 
Today, Dolphy's corpse was brought at Dolphy Theater in ABS-CBN compound. And earlier, necrological service was held. I confessed while watching it I saw myself crying. I am one of Dolphy's fans and for me he will be remembered forever. Thank you for being part of our life, for all the inspirations and for the many years you made us happy. May you rest in peace.