I got an interest on making Tutu couple of days ago. So what is tutu? According to Wikipedia – A tutu is a skirt worn as a costume in a ballet performance, often with attached bodice. It consists of a Basque (or waistband, it can either be part of the bodice or a separate band) and the skirt itself might be single layer, hanging down, or multiple layers starched and jutting out. 
But today I noticed tutu skirt is not only used for ballet purposes because I see kids wearing tutu in occasions like birthday party, trick or treating or any similar event. I find this costume cute so I'm eager to make one for my daughter. This is one of the many costumes I have in mind in trick or treating. I'm thinking so advance, hahah… but time flies. 
Ok, so to make the story short, I went to YouTube because I know there are many tutorials there. And I wasn't wrong because I found lots of tutu tutorials. Watching them made me realized it's easy to make tutu skirt. So, hopefully I will pursue this thing and make one for my daughter. 
Have you ever had a tutor way back when you're still studying? Honestly, I didn't have any till I graduated from school. We couldn't afford to pay for it especially that time. But today I noticed even younger students have tutors. Just like some of the classmates of my daughter. Even when they were in Nursery level they already had. Actually, not only her classmates but almost all the students in their school rely on tutors. Well, right now I don't hire any tutor for my daughter instead I'm her teacher. But with the fast changing of technology I knew education is also shifting. My knowledge might be limited so for sure I need to find someone who can help me in my daughter's lessons. I'm not closing any door and open to have a tutor for my daughter soon.
Last year my daughter joined Math quiz bee as part of their Math week celebration. She competed with her five classmates and got second placer on that contest. Now that she is in Kindergarten I see her doing better in her Math subject. I'm thinking soon she will have  math tutors not because she can't do it but I want her to excel more in that subject. Tutorspree can help me with this thing because they offer high quality private tutors. I was surprised to know that they have more than 7,000 tutors across the country. Tutors can be done in the house, library or any place more convenient to both of the students and tutors. They offer math, language, science, economics, test prep tutors, programming, English and history tutors. It's so simple to enroll in Tutorspree just reach them through their site or over the phone. The tutor cost depends on the lesson, duration and the city. The good thing is if you are not happy with their service they can refund the money but make it sure to notify them within 24 hours of your first lesson. Well, I will be considering them in the near future in the meantime let me share them first with my other relatives abroad.
The other night I cooked spaghetti for our dinner. My daughter asked if I could cook spaghetti for her. So wish granted I cooked pasta for her. We have only pasta noodles, cheese and hotdog available. Good thing there is nearby convenience store so I just bought spaghetti sauce, maggi magic sarap and corned beef. Normally, when cooking pasta I'm using ground pork or beef but it's not available so I need to find substitute for that and found corned beef instead. So here is my simple spaghetti recipe. The exact amount of ingredients used is not provided.
Ingredients: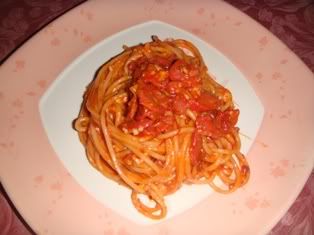 Spaghetti noodles

Ready made Spaghetti sauce

Hotdog

Corned beef

Cheese

Maggi magic sarap

Garlic, onion

Pepper to taste

Oil
Direction:
Cook spaghetti noodles according to package direction.

In a separate pan, heat the oil and sauté onion and garlic.

In the same pan cook hotdog and corned beef.

When done add spaghetti sauce, a little water and put seasoning like magic sarap and pepper.

Add cheese while the sauce is boiling to make the sauce a little thick and cheesy.

Just let it boils for a few minutes and it's done.
Verdict:
My daughter liked it. She even ate the spaghetti the following day. I'm happy because daughter appreciates my cooking. I'm not great at cooking but everytime I do, I'm always trying my very best =)
Time flies few more days to go and its "ber" already. Here in the Philippines Christmas celebration starts as early as September. So for sure in the coming days I will be hearing lots of Christmas songs. And speaking of Christmas I have so many wishes but I think the best thing I can get this Christmas is briefcase. If it happened, I will be very happy to say out load that I Got Briefcases.  And to be specific laptop briefcase is all I want for Christmas. How I wish somebody will give this to me so my laptop will have a special bag that I can bring anywhere. So friends and family reading this you know what to give, heheh.
Here is my new my|phone B88+Duo. Last time I said I will buy mobile phone with dual sim feature.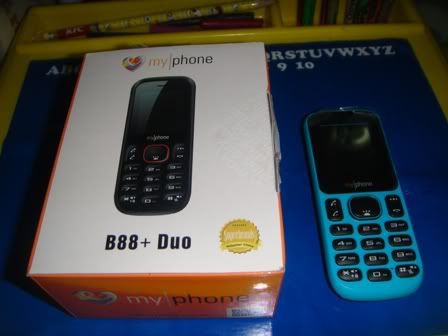 My Samsung Galaxy Y doesn't support dual SIM so I have no choice but to purchase another mobile phone. Changing SIM regularly will make my phone weak for sure. So, I decided to buy new one but a cheap phone only because I will mainly use it for SMS and calls purposes.
So why I need mobile phone with dual SIM features? Because I have Globe SIM for my banKO account. I'm also planning to have a small reloading business. So having dual SIM in one phone is helpful. 
Included in the package: 
B88 + Duo Unit
Battery
Batterycharger
USB cable
User Manual
 Specifications:
Dual SIM Bar FM Phone  
GSM Dualband
1.8" 128×160 pixels TFT
VGA Camera
Wireless FM Radio
MP3/MP4 player
Money Reader (UV Light)
Expandable memory up to 8GB
Bluetooth/USB 
Likes: 
It's affordable and very easy to use.
This is my first time to use mobile phone with Dual SIM and thankful because it's not really hard to use.
Now listening to music made easy through this phone. I can hear music anytime anywhere through their wireless FM Radio.
I like the money reader feature because I can detect easily if the money is fake or genuine (photo below)
So far the battery life is good.
This phone has Bluetooth so transferring files are not hard.
It's a pinoy phone ready which contains prayers, about our country, great Filipino quotation, famous movie lines and many others. But I have a problem using it because everytime I click them it said "file not found." I need to visit the store to ask about this error. I hope it will fix because pinoy applications are useful.
Dislikes:
No games available.
There is no jack for headset. I need to buy separate usb adapter in order to use headset.
It has limited capacity for SMS (both SIMs)
In General:
I like my|phone B88+Duo and for only 888 pesos I can enjoy the features of this phone. Serve as your best friend if you are into SMS and calls only. The sound is fine. It has built-in camera but I prefer to use my other phone and digicam. Bluetooth feature is helpful. I like the money detector feature. 
Father, you're already missed. He passed away when my daughter is only months old. He used to work as a welder when he was still with us. Now, that he passed away, his job is transferred to my brother. I wonder if they are using bar clamps with that kind of job. I believe this tool could help them make their work more easily and accurate. Anyhow, sorry for being emotional, I just missed my father and wish he is still with us but this is impossible already. So just allow me for being sentimental, heheh.
I'm planning to buy new mobile phone. I have one here which is Samsung Galaxy Y but it's not enough. I need to find the cheapest mobile phone with dual SIM feature. Yes, not expensive phone, actually below 1,000 pesos is enough. I will just use this because I have Smart, Sun and Globe network. And because my Samsung Galaxy Y is not for dual sim purposes, it will be hard if I will put other SIMs every now and then. For sure my mobile will not last and easily corrupted. 
Don't ask me why I need all these SIMs. My smart network is used for a long time already. While I bought Sun cellular SIM because I need to call my Sun broadband provider. Also it will be helpful if I have sun SIM because most of the family members are using this network. I have Globe SIM because I used it for my BanKO account. 
This week is a busy week but for sure after this week I will find time to check for the cheapest mobile phone. I don't need expensive one because I will just use it to call or send message. So, I hope I will find the cheapest but lasting mobile phone.
I am suffering from upper left back pain for almost two weeks already. I remembered I slept on the floor and felt pain afterward. I thought it's just a joint pain and will disappear easily. But as I said it's almost two weeks and still suffering from pain. I didn't ask for any opinion from doctor because it's not really painful but today is different. So, mother called the neighbor who is a physical therapist. After she saw my back she said it's already swollen and has nodules. So she began massaging using oil. After almost thirty minutes of pressing my back I still felt the pain and until now I am writing this post. 
I'm thinking the back pain I have now is because of numb and too much working in computer. And even after long hours of working online I will do bathing without resting for minutes or an hour. Aside from that the back pain became worst because I am taking a bath daily in early morning and I'm using cold water even though I have back pain. So she advised me to take a bath using lukewarm water and do it in a short time. She also mentioned my back pain will not go away instantly after what she did to me. I will still feel the pain till three days. She said if after that day nothing changes she will do the massage once again. 
I hope by tomorrow or in the coming days my back pain will go away and nothing serious will happen. This coming week is a busy week because my daughter will have her first quarterly examination so I need to review her lessons for the past two months. Another thing, they will celebrate National Language Month (Buwan ng Wika) this Friday. I need to prepare her Igorot costume and other things so I'm really hoping and praying that my back pain will go away. It's hard to do something if you are feeling uneasy so help me God. 
Most people want to have a house that is the envy of many. If I had a magnificent house, I probably wouldn't want to go anywhere else and simply relax there all day long. That's maybe one of the reasons why some people work so hard. They want to buy or build that dream house. But having a lovely house doesn't only mean having all those nice and functional furniture. One must also have stylish and sturdy building products such as windows, millwork, skylights, cabinets, fireplace mantels, shelves, vinyl railing systems and a lot more. Windows would surely look drab or ugly if you put the wrong kind of Venetian Blinds or curtains. Furthermore, you should install the right kind of drapery and curtain hardware that would go well with your windows and curtains.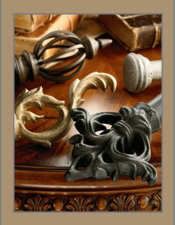 Drapery Rods Direct can provide you with that service. The company has been in business for more than 20 years so clients are assured they are given products of utmost quality and affordability. Plus, the company has known for excellent customer service. Drapery Rods Direct has probably installed every type of drapery and curtain rod. If you're having a hard time choosing designs, just rely on their expertise. They exclusively sell Kirsch Drapery Hardware and Accessories such as Kirsch Wood Trends, Kirsch Wrought Iron, and Kirsch Superfine Traverse Rods. Kirsch Decorative Holdbacks for Kirsch Wood Trends and Wrought Iron Drapery Hardware are also sold. Holdbacks are available in several finishes for the Kirsch Wood Trends Collection and five finishes for the Kirsch Wrought Iron Holdbacks. 
Shipping is free for many orders exceeding $100. Also, all Kirsch Hardware are on sale with over 20% off. Rest assured that your purchases will be delivered to you fast and without any problems. However, if the product you bought arrives damaged, they will replace it and you don't have to pay a single penny. They accept credit card payments via Mastercard, Visa, Discover, and American Express as well as thru Paypal.