Archive for September, 2012
So entrecard is over? I've seen my entrecard widget not working for couple of days already (I think for almost a week). I haven't visited the site of entrecard so I'm really clueless till now but a friend said it's over already. I hope they are just down and not gone forever. 
I'm sad if this is really true because for the past months I've been depending on them in getting visitors in all my blogs. Actually, I have new health blog and planning to add in entrecard as well. But as a rule, the blog should be 3 months running before adding in the site. Since my blog is fresh so I'm waiting till my health blog runs for about 3 months. Well, I think waiting is not advisable already because of the problem that entrecard is facing now.
Anyhow, still hoping entrecard will go back into business because it really provides traffic in my blogs. How about you are you affected by the sudden shutdown of entrecard? Do you have any similar sites I will be willing to join them. Have a blessed Sunday, everyone =). 
I'm in a state of confusion, hahah. I thought I will be buying kindle fire for my daughter but when I checked in Amazon they said they are not sending the kind of kindle fire in the country. But they have other version of kindle fire that could be sent here. I read reviews from different sites and said kindle fire is possible to send (new or old version) but I need to pay for shipping and some hidden charges (taxes, etc).
So, I think I should not buy kindle fire anymore and besides it has no camera. The camera I am using has battery problem already so I need to buy gadget that supports photos and videos. So instead of purchasing a Kindle fire I will check for Apple Ipad or Samsung Tablet. I already asked my niece in Canada the price of these two gadgets and the prices are cheaper compared here. The problem is vacation in Canada was over so no one will come here in the Philippines and bring the gadget. If I will let my niece buy the gadget more or less it would be sent this Christmas, that's a long wait. Other option is to ship it here but we all know it's not cheap to ship items here so it's better to buy it here because for sure the amount is the same (price and shipping).
Well, I have to think more whether Apple Ipad or Samsung Tablet. What do you think? What is the best for you? I hope I will get more ideas so I will be enlightened whether Ipad or Samsung Tablet or just simply share if it is worth it to buy any kind of tablets.
Searching for affordable items online is what I'm doing every time I'm online. For me buying online is more convenient than going in the mall. And since Christmas is fast approaching for sure many will go to mall to shop. I don't want to mingle with other people and it's also time-consuming unlike shopping online wherein you can shop at the comfort of your home. Well, unexpectedly while doing my window shopping online =) I went to a shop that sell elegant diamond ring engagement, does it mean I will be walking down the aisle, wink!
So last Friday, daughter and the rest of preschooler students had their first educational field trip. The last destination of daughter's field trip was Filinvest Mall in Alabang wherein we enjoyed our free time for almost 1 hour. Anyway, after a short stroll in the mall, we decided to buy Krispy Kreme Doughnuts as our pasalubong or (homecoming gift). Oh my, we consumed less than 1 hour just to find the store of Krispy Kreme. We asked tenants where to find the store but we didn't' get clear information. Then we saw guard and same thing no clear information provided. We almost give up but we saw another guard and asked once again where we could find Krispy Kreme doughnuts store and we are thankful because he gave the right path. Along the way we saw other people carrying boxes of krispy kreme so we just said sigh, finally the store is here.
Looking at this box, Krispy Kreme is celebrating its 75th birthday! Wow, 75th year in the business so for sure they are really a trusted doughnut store.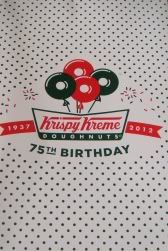 There is a wide selection of doughnuts but I chose to buy this original glazed doughnut. I bought 1 dozen for only 285 pesos, its already on sale 🙂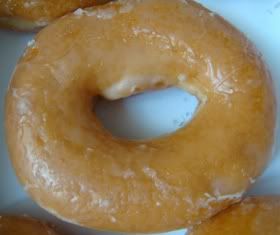 Children were given a Krispy Kreme hat in celebration of their 75th birthday.
Christmas is fast approaching; I've been hearing Christmas songs on the radio, television, mall, and other establishments. Aside from Christmas songs, lots of Christmas decorations are already on sale. Here in the Philippines, Christmas is started as early as September so for sure many are already searching for something to give this Christmas. I have so many things in mind but I think sterling silver necklace is a good present already to give this Christmas. What do you think?
I have old magazines that are just hid in the closet. So, I checked youtube on how to recycle old magazines and thankful because there are many available tutorials. So here is my first DIY (Do it yourself) stuff. I made hair clip storage; my daughter's hairclips are located everywhere in the room. So, this is the reason why I made this hairclip storage. Now, it's easy for me to find her hair clips every time I need it especially when going to school. Actually, you can put hair clips in shoe box without making this thing but I want daughter's hair clip storage more presentable =). 
Anyway, as I said there are many tutorials in youtube so credit to them.  I was inspired to do recycle out of old magazines because I found it easy but needs patience and time . Let me share how I made this hairclip storage but I'm not good in giving tutorial so please bear with me, heheh. 
Materials:    Old magazines, Shoe box, Glue stick, Glue Gun, Pen
Step 1 –  Get an old shoe box. Wrap the whole shoe box with magazine it should be looked like the photo below.
Step 2 –  Roll a piece of magazine using pen. One page of magazine will give you 6 rolls. After rolling, glue it around shoe box. 
Step 3 – Make sure to put piece of roll magazine around the shoe box and voila this is the result, daughter's hair clip storage. 
Everyone wants to be a superhero. They watch them on television and in the movies and read about them in comic books and other publications. Superheroes are a sign of people rising above their limitations to become something much greater, which is a moral all of us can relate to, even if we have to go without the super powers. The popularity of superheroes is the main reason why they're at the top of every list of most popular Halloween costumes for kids. When all else fails, you can lean back on the old standard super hero costumes. The classic superheroes like Batman, Spiderman, Superman, and all their friends aren't going to go out of style anytime soon. When Halloween costumes start popping up on the shelves, you're bound to see a multitude of options for all of these superheroes. You might even be able to find a costumer that's going to fit your dog. As you head out to costume parties, you will notice a majority of people are wearing something that fits within the superhero category. It doesn't even have to be the classic superheroes mentioned earlier in this paragraph. You could put your own creative twist on your costume and come up with a completely new superhero. 
Luckily, the opportunities are endless when it comes to picking out your costume. Super hero costumes are frowned upon because they're not creative enough in some circles. Sometimes you will be able to find a version that's different enough from the normal superhero costume that it's accepted as being something remarkable. Unfortunately, you're likely going to have to consult with a professional or perform alterations on your costume yourself. There are numerous iterations of a superhero's costume throughout its history. You could start reading some comic books to get some ideas and then go from there. It's important to have a keen awareness of your skill level in the department of creating and altering costumes. There's nothing wrong with consulting with a professional to get the job done, especially if you plan to enter into a costume contest. They will cost a little bit more money, but you will get your money's worth out of the deal because you are able to receive attention and prizes for having the best costume. It doesn't matter if someone calls you a derogatory name after seeing how much detail you put into your costume. The people who recognize costumes as what they are deserve the respect of everyone involved. 
There are so many different ways you can go when you're trying to find the right costume. A great classic costume option is to dress up like a superhero. You might come across a lot of people who have a similar costume to you, but they never put in the same amount of money and effort to get the creative masterpiece that stands before them. It's interesting to see how far the world of costumes has come along. It's hard to imagine what's lurking in the pipeline for the next 10 years.
Usually, people who have artistic inclinations but who come from middle-income or working class families are encouraged to set aside their talents for the sake of earning for the family. Others manage to dabble in their art on the side, however most people do not even have the chance to let the public get a glimpse of their work. 
Thankfully, contemporary artists now who have access to the internet can have a chance to let their artworks seen all over the world and also sell them through artstar.com. The items may not sell that much unlike in museums, but it is better than nothing having an audience to your work. 
At artstar.com, they do not just upload any contemporary artwork in their website. Like the Prada Marfa by Noel Kerns, the admins of the site carefully screen submissions based on the recommendations of their known curators. So you could be a known artist or a struggling one, you have a place in the website as long as your work meets their standards. 
These works are then reproduced through high quality reproduction but in limited quantities. So buyers and potential collectors are sure that what they are getting are limited edition works. 
It is great to have a place like this where contemporary artists and art collectors can connect with each other through the website. The internet has provided a wonderful avenue for that. Many modern-day artists have seen their work get appreciated as well as collected by many people worldwide.
For many years I've been committed online. Actually, most of my time and I'm proud to say I'm SAHM (stay at home mom) and earn a little, heheh. Before I engaged to online job I used to read books especially about parenting. Now, it's hard for me to just stay in one corner and read books. We all know reading is a good form of knowledge and we actually learned from it. But because I don't practice reading books lately, I'm thinking this knowledge that I should have is just being set aside. Well, I'm thankful because audio books online is now available so meaning I have time now to read books with no excuse. So, are you a book lover?