Archive for November, 2012
My enthusiasm of watching Korean series is back. So, lately I'm always looking for DVD in the market. I have hard time watching them online because my connection is very slow. It only ends up dismayed. Watching in television is nice because it's already tagalized but watching them everyday is not my passion and sometimes I'm not at home so I missed some of the episodes. I'd rather buy DVD and watch it anytime. Quiet, I'm buying pirated DVD. I knew it's prohibited but I'm just being practical and besides the quality is good as the original but not all. I also noticed in pirated DVD there are times dvd labels  aren't correct. Same with the poster image I remember one time I bought Korean drama and the image is not right it's supposed to be poster of the other Korean drama. I guess that's one of the disadvantages of buying pirated one. Anyhow, I just bought 2 Korean  dramas and will watch it this weekend.
I am using Happy plus Card for less than a month.  So what is Happy Plus Card?
It is the country's first cashless payment card with rewards that is acceptable in Jollibee, Chowking, Greenwich and Red Ribbon. Soon Mang Inasal will be included in the list. By using this card no need to pay your transaction using cash. Just tap the card in the machine (make sure it has load) and you get your food. No need to wait for your change (which sometimes a problem) and you will receive benefits using this happy plus card.
Benefits of using Happy Plus Card 
Free food for Points – Earn happy point when you use your card and use the points to get free food. For every Php50 food purchase earns you one happy point. One happy point is equal to one (1) peso.

 
Monthly cash winners – register and reload your happy plus card for a chance to win up to Php100, 000 every month. Exclusive only to registered card holders.

 
Php100 = 1 raffle entry
Php300 = 5 raffle entries
Php 500 = 10 raffle entries
Php1000 = 25 raffle entries 
The more you reload, the more raffle entries you get. 
Fast cashless payment – No need to search your wallet for cash or wait for change. Just tap the happy plus card to pay for your food.

 
When you run out of load, just reload your card for a minimum of Php100. You can do this before you order.  
To enjoy these benefits you need to purchase the happy plus card for Php100 and load it for a minimum of 100 pesos. Remember to register your card so you are entitled to join the raffle monthly. Happy plus card is good for three (3) years and renew it after. 
When you purchased happy plus card you also get this free coupon discount coupons valid for 1 month upon purchased. 
Jollibee – Php50 OFF for every Php250 foor purchase
Chowking – Php50 OFF for every Php250 foor purchase
Greenwich– Php50 OFF for every Php250 foor purchase
Red Ribbon – Php100 OFF for every Php500 foor purchase 
Happy plus card is transferable.  So far I'm enjoying this card and its hassle free. But I read from other users that they encountered problem using this card. I guess the problem is the machine. So better check your balance first before giving your order. So if something happens, you can see if your balance is accurate.
Photo not mine
One of the gifts that my daughter received on her 5th birthday is "Express Yourself" Scrapbook. I think we will be busy doing this scrapbook in the coming days. Daughter has many photos that can be put in this scrapbook. Her photos are just saved here in laptop. So I'm thinking to make a copy of her photos since it's already thousands. While browsing the file of photos I saw her videos and photos of her first lesson in swimming. Unfortunately, she didn't finish her swimming lesson. She didn't want the instructor to teach her. All she wanted is just to enjoy the water without having pressure from the instructor. So, I just let her enjoy the water, maybe it's not yet her time to attend swimming lesson. Anyway, this is the place where my daughter attended swimming lesson. It has 2 swimming pools; for kids and adult. I'm not sure if they have led pool lights because if they have for sure this will add attraction to their pool. Anyway, I will be browsing more of her photos and try to start her scrapbook.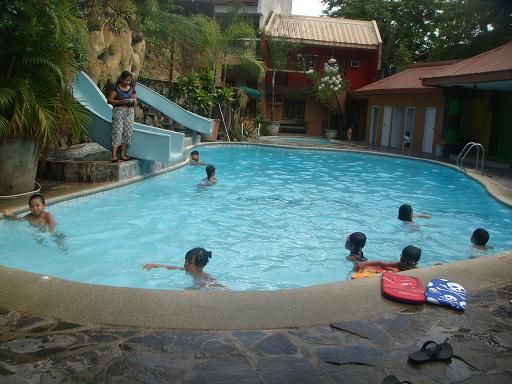 So busy in my offline stuff for the past days so I'm not able to update this blog. I should share this thing two weeks ago but forgot to do so. Anyway, aside from attending trick or treat in school my daughter also attended trick or treat in one of the hotels in our area. This was her first time to attend trick or treat wherein hotel is the venue. She used to attend in school and trick or treat in Jollibee. But for this year I didn't join her in Jollibee. There are many participants every year in Jollibee I think all the Jollibee branches in Quezon province are gathered in one place yearly. I don't want to mingle with hundred of parents and participants so I chose to join in one of the hotels here.
The fee amount is Php 250 which includes pumpkin basket, face painting, photo booth and food. I was surprised with the pumpkin basket because it's so little, haha. Even the apple that they gave didn't fit in this pumpkin basket.
Anyway, daughter wanted to have butterfly on her face so here she is while the paint artist is putting her requested butterfly. On photo booth we got 4 shots.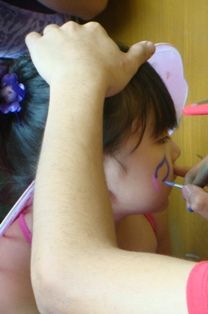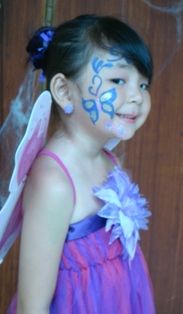 These are the foods included in the package. Well, I'm not satisfied with the foods. The spaghetti noodles are so thin but the taste is quite good. There is white pasta but lacking of flavor. Pizza is good but I think they only used tasty bread. For the dessert there are cupcakes with Halloween theme. Well, the one I tasted was banana cup cake, quite good.
After eating children were asked to go in different offices of the hotel for the trick or treat. Daughter got 1 apple, small imported chocolates, candies and cookies. There is one room where the kids are giving 1-2 minutes (I think) to find the hidden goodies. It's hard to find because it has dim light. The goodies were hidden under the bed, pillows, drawer, tables, and blankets. Daughter didn't get anything in that room so the staff gave her some candies.
Overall, it's a nice experience but I'm not sure if we will attend here again next year. I want my daughter to experience other trick or treat event maybe in the mall next time, we will see!
I'll never forget in 101 Dalmatians how similar the cartoon people are to their pets and I always hope people don't think I look anything like my pug. Just look at Jane Lynch and her pooch (one of them) or Reese Witherspoon and hers. However, one thing we really can't and shouldn't ignore – we have all seen them; pets as overweight as their owners.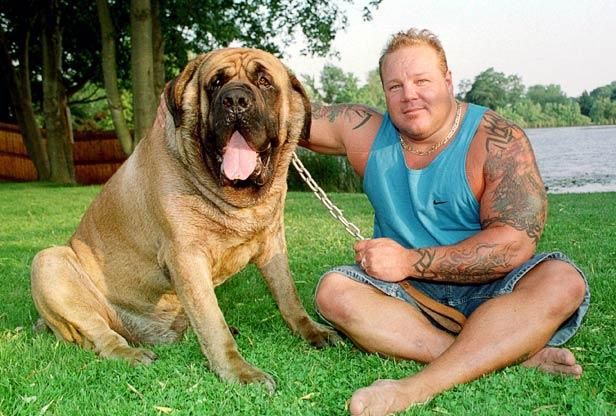 Keeping your dog active is just as important as keeping yourself healthy, if not more as dogs cannot choose when to go out for a run like we can unless you live on a country estate and leave the back door open for them to come and go as they please. Unfortunately, as dogs get older, arthritis can be a painful and not uncommon condition that should be addressed in order to keep your dog comfortable with remaining active.
There are so many things out there to help. For example, Cortaflex can help relieve the stiffness and discomfort associated with arthritis and those who suffer from movement and joint problems. Using natural ingredients, Cortaflex actually starts to repair and rebuild the cartilage from the moment you administer it and helps to maintain healthy cartilage in the future. It's not a medicine; it's an all-natural dietary supplement which can be mixed in with your pet's normal food.
Alternatively there is Synoquin which supports the growth and maintenance of cartilage and healthy joint function in dogs as it is a nutritional supplement. This is great for overweight dogs as the naturally occurring ingredients help give dogs that extra helping hand maintaining an active lifestyle. Healthy cartilage is crucial for healthy joint and tendon movement which can affect your pet's willingness to exercise due to discomfort.
A very simple way to keep your dog on the ball (literally) is to get some Kong Toys such as the Air Kong Squeaker Football for some old-fashioned 'fetch'. There are so many to choose from including one that floats on water for some splashing fun and the original treat hider, all of which are fun and no bother at all to use.
I have wish list if only Santa is for real for sure I will ask him to provide my wish this Christmas. I've been thinking to get a new bed. Daughter and I are sharing bed for many years already and the shocking part it's only a single bed. We don't have our own house and we are living in my mother's house actually sister's house but she is living in other country. That's the hardest thing when you have no house. You can't make any changes or choose to have big room. Aww, I don't want to make drama here but hoping one day my daughter and I will have our own house that we will call it "our home." Anyway, back to the bed I'm saying earlier I will include this in my things to buy. And of course velvet will not be missed. A nice bed is not complete without comfortable coverlet. These are just two of my bedroom wishlist still more to come. I just hope they all come true this year or early next year.
Buying new television is one thing I am looking forward. I mentioned in my previous posts that my television is not working properly. Though I'm still using my television but sometimes I have a problem with its power. Sometimes it takes minutes before it will finally open. Aside from the power, the color is also a big dilemma. Sometimes it's black and white and there are times it's red and blue only. If you have this television for sure you would love to have new television.
So, yesterday we went to the mall and searched for quality and cheap LED TV. There are wide selections of television from different brands. My little girl wanted to have the big LED TV but my budget is not enough. I'm also taking into consideration the space of our room. I doubt if a big television about 40 inches will fit in our room. I guess 32 inches is better already but looking at the price I doubt if I will get it right away.
Anyway, I'm about to leave the appliance center when the staff asked me to see Changhong brand. This is my first time to hear about this brand. The staff said it's a Korean brand but it was assembled in China. The price is quite cheaper compared to other brands like Samsung, LG, Sony, Toshiba and other leading television brand. I'm not good or have knowledge in any brands of television so till now I haven't decided what to purchase. I will ask my brother to accompany me once I decided to buy new television.
Anyway, hoping I will buy LED TV this Christmas or as soon as possible. I have savings already but it's not enough so hoping more opps to come so this dream will come true.