Archive for December, 2012
I forgot to share my Christmas wishlist. Well, I'm pretty sure that those in my list will not happen because Christmas was over. But still happy because one of them did come true. I was eager to buy new television because the old TV was acting weird already.
To make the story short, I bought 32" TCL. I was glad because the money I used to purchase came from my earnings here in blogosphere, indeed a fruit of blogging. Anyway, before I bought this TCL television I thought of buying other brand like Samsung or LG that has 3D and WiFi features. But when I checked 32" LG television its only 3D but don't have WIFI. Unlike 42" LG television that has both features (WiFi and 3D). As much as I wanted to have 3D television but the salesboy said I need a 3D player and the 3D CD isn't cheap even the pirated CD cost much.
So, I made up my mind and purchased 32″ TCL brand. The original price was Php 26,995 but I got it for only 14,800. Among the features are LED, True Color, Ultra Slim, Blue Ray, USB, and HDMI. Photo below was taken few hours after brother and I bought it. It was first put on the floor and the following day, my brother with the help of our cousin put in on the wall using the free wall bracket. Aside from wall bracket I also received free 4GB USB baller.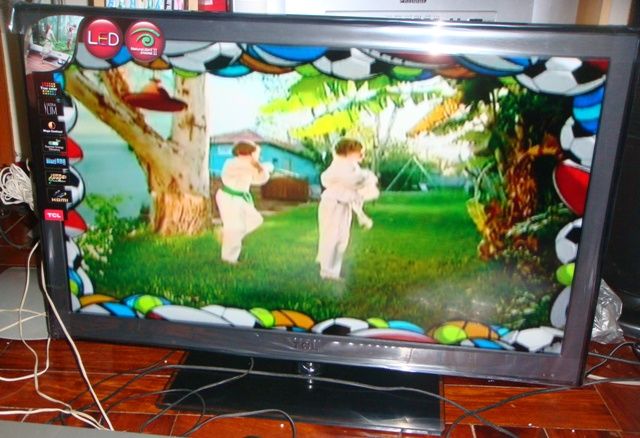 If we have money or savings it doesn't mean we should be contented. We should be aware that money can easily disappear if not used properly. So as early as today we should learn how to save money. Like for example save some portion of your income at least 10% so when time comes and you need it, there is money to use. There are many available sites or program that can help you manage your income. Well, I'm not expert on this thing but you can find more info available at Annuity Advantage to help you understand how this annuity works.
Grandparents are super spoilers when it comes to their grand children. In many cases, they show love and care for their little ones more than they have for their own children. Some say that these is their way of giving all those kept feelings they had when being firm with their own children is more important. Despite feeling sore about these situations, you adore your parents and actually love having them around to spoil the little ones. If not for the back problems that they frequently complain about, everything would have been perfect especially during special occasions. Fortunately, there are simple yet effective ways to help them oldies especially grandma with her distress.
Looking at Parentgiving's bedding products, I found the Good 'N Bed Adjustable Wedge just right for her needs. Using the adjustable foam wedge helps relieve back pains while it assists patients breathe normally and get better sleep every night. While our parents spoil the kids to pieces, the only way we can show our appreciation to them is to take care of them and spoil them in every way we can even if it comes to their beddings! Parentgiving's website is full of products especially made for our aging parents. Our parents may not be very vocal about their needs but some signs of discomfort and pain are easily noticeable.
Giving them simple solutions to help ease their issues may come as a surprise to them but admit it or not, they will be touched and your thoughtfulness will be greatly appreciated. You too can start spoiling your parents with all your love, Parentgiving has more than comfortable beddings to offer. See their lists of products and you might just find something that will ease your parent's discomfort and make everyday living easier and convenient for them too.
Congratulations to our very own Janine Tugonon first runner-up Miss Universe 2012 held at Las Vegas, Nevada, USA.
For me Janine answered Judge Nigel Barker (America's Next Top Model) question intelligently. The question was "As an international ambassador, do you believe speaking English is a prerequisite to be Miss Universe? Why or why not?"
Janine Togonan responds – "For me, being Miss Universe is not just about knowing how to speak a certain language. It is being to influence and inspire other people. So whatever language you have, as long as you have the heart to serve and a strong mind to show to people then you can be Miss Universe."
The Miss Universe 2012 title was won by Miss USA Olivia Culpo. Other winners were Irene Sofia Esser Quintero of Venezuela, Renae Ayris of Australia and Gabriela Markus of Brazil.
Christmas celebration at SM City Lucena isn't complete without fireworks display. So today they started the first fireworks show for this year. Daughter was excited to see the fireworks display so she waited in the balcony for longer hours. SM City Lucena is near to us so we always witness fireworks display even just staying at home.
Daughter liked the fireworks she saw but it took only 5 minutes. Well, still we enjoyed it and besides it's free. Too bad I don't have good camera to capture or record it. Anyway, were looking forward to 3 more fireworks display happening on December 22, 25 and 30.
It's good to be back. I wasn't online for 3 days (I think) because I sent this laptop to computer technician. I had problem with the speed of this laptop and the technician said it's because of virus. He said the best remedy is to reformat the laptop. So for 3 days I haven't online. Well, yesterday I finally got this laptop and now it's working very fine. But when I first tried it I had problem connecting the net because my Avast antivirus blocked my Sun broadband wireless and gave me this reason malware detected. I sent SMS messages to the technician and he said Avast might block my sun broadband because he updated Avast to the higher version. The best solution he said was disabled antivirus for the meantime so I can use my net. Now, that the antivirus is disabled I have high risk of getting virus again. So by Monday morning I will bring the laptop to the technician so he will update my antivirus that is fit to my broadband connection.
Anyway, I'm glad because this laptop works very fast. Before even I opened only 1 site it takes long minutes to download. Now, I open more than 10 websites and it working very fine.
I was looking at the pink toy cabinet of my daughter and thinking that I made wrong decision with the design. I didn't buy the toy cabinet but I had it made by neighbor. I realized the cabinet is too big reason why it's too hard to lift when I wanted to change the position. If I could still change the design of daughter's toy cabinet but its impossible already. I was thinking I should make it divided to three so it's easy for me to alter the location. This huge cabinet wasn't fit for a small room. I also noticed the cabinet hinge used in the cabinet was not really tough. Sigh, I always end up regretful.
These are the discount coupons I got when I availed Happy plus card in Jollibee. It's so sad because it's already expired and I didn't use any of them. These coupons were valid for 1 month from the time I purchased the Happy plus card but I forgot to use it. Sigh, I should get Php 50 to 100 OFF from these food stores Jollibee, Chowking, Greenwich, and Red Ribbon. Anyway, better luck next time …for sure there are other discount coupons for me to grab on.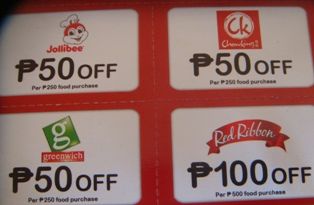 In two weeks my niece will visit us all the way from Canada. She's been there for 19 months and now she was given a chance to come home and celebrate New Year with us but this is just a short vacation. Anyway, when my niece went to Canada she learns how to do skating and skiing. Actually she loves doing these things and considered as her favorite thing to do in Canada. Anyway, earlier I was browsing the net and saw about thule ski racks, I'm not really familiar with ski activity but I think this rack has something to do with skiing. Well, I better ask my niece about it when she comes home.