Archive for January, 2014
For many home owners, a sliding glass door is a practical option patios, decks, and balconies. Such doors can be easily customized to fit just about any doorwall space, and these doors save space in the sense that they do not need to swing open on either side. On the other hand, sliding glass doors, with their large panes, can also be a target for home burglars. These glass panes are easily breakable and, once broken, leave a large enough hole for a burglar to easily enter one's home. For this reason, many home owners with sliding glass doors these days have begun installing additional security on their doors.
Most sliding glass doors come with a standard lock feature. This typically involves a simple latch that can be slid up and down to lock or unlock the door. Some doors will also have a button on the bottom of the door that can be stepped on by foot to release the lock at the same time the latch is unlocked. However, this type of security is often not enough to keep would-be burglars and crooks away. Instead, it is encouraged that home owners beef up their sliding glass doors with even further security.
A patio door security bar may be all that is really needed to deter a criminal from trying to break into a sliding glass door. These security bars are placed between the actual sliding glass door pane and the stationary pane it is attached to. When the security bar is engaged, the door cannot physically be opened from the outside, even if the basic lock was undone.

These door locks come in a variety of colors and styles so as to match the aesthetic appeal of the existing door. Furthermore, these locks are known for their durability. Most are made out of steel and all are built to last. From the inside, the door lock can be easily engaged or disengaged by simply pushing the door lock up or down. The device is simple yet effective. Plus, these locks can offer a lot of additional peace of mind for little price.
Those interested in beefing up security at their homes may want to look into the option of shopping for a security bar for their deck, patio, or balcony door. Many suppliers offer these locks for purchase, with SlidingPatioDoorLock.com being just one of many options that are available.
I still remember the earthquake happened in Cebu-Bohol last October 2013. It's a tragic experience especially for all the victims, however Filipinos are fighter and I know we can beat all these trials happening in our country. I'm sharing about earthquake because this morning I wasn't aware that this thing occurred in Southern Quezon. Well not only Southern Quezon but other nearby places. I was in the dentist this morning and the secretary asked me about this earthquake. I told her that I didn't know it happened. She said it happened at around 2am. My brother came in the house and he talked about this earthquake. He said he woke up because he felt the bed was shaking. My sister also mentioned about this earthquake. I felt that I was the only one who didn't know this thing. I was sound asleep because I jumped to bed late, I think at around 1am and easily fell asleep. According to the local report, Lucena City had magnitude 3 and it happened for about 8-12 seconds. We were fortunate because nothing happened to us. I know it's not huge compared to Cebu-Bohol but still it's an earthquake and alarming. Thing like earthquake happens unexpectedly so we should be ready at all times.
No doubt carpet brings beautification at our home. With the many styles, textures and colors, carpets help to create the atmosphere we want for our abode. This serves as great decorating part of our house. Aside from beautification at our house, it helps us to breathe easily. Why? Because it serves as trapping and keeping dust, pollen and other particles that could cause allergies and other illness. But it didn't end there because the dust and other pollen stuff that the carpet got need to clean so our carpet will remain stunning and beautiful in our eyes. Carpet cleaner is the only solution that can help our carpet back to its original textures.
I was in this site awhile ago and read everything about carpet. So, Green choice carpet is #1 in US.  They provide good services when it comes to cleaning carpet and because they choose for green cleaning, this is nice for the safety of the family. No chemicals use so children and pet are safe with them. They only have the experts meaning the staff is fully trained and certified.
Aside from carpet services, they also offer leather and upholstery cleaning. They even clean mattress with bed bugs and mites using green cleaners so mattress has no chemical fumes or odors that can cause allergic reactions.
If you want your carpet totally free of dust and other dirt you should visit their official site. With low prices and great discounts, I'm sure you will hire their services.
It's nice to see your kid eating with enthusiasm. My daughter is not a picky eater but she eats only little. But from time to time she is asking for foods. I think this is fine. I heard before that eating small amount every meal is fine rather than heavy eating in one meal. So my daughter eating small portion and then ask again later is much better.
The good thing about my daughter is her love of eating vegetables and fruits. She prefers vegetable and fish than meat. Before she didn't want to eat meat at all but I told her that we need meat also in order to grow. Now, she eats everything already from vegetables, fish and meat but the latter is occasional.
Lately, she enjoys eating balut (balot). This is commonly sold as street food in the Philippines. It is a developing duck embryo that is boiled alive and eaten in the shell. Unlike other street foods, balut is always safe as it is always sold piping hot and sealed (unopened).Balut is nutritious and flavorful. 
I thought she wouldn't like it when I first showed it to her. You know how a balut looks like inside so I thought she would say ewwwwww. I was wrong because she wanted to taste it especially the broth. And when she finally tasted it she said it's yummy.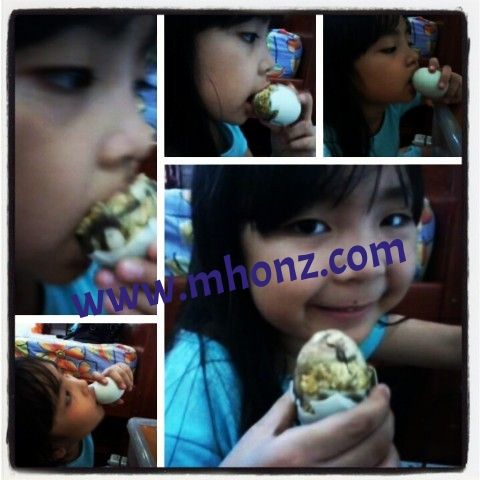 There is balut vendor always passing at our house at around 5pm. Every time my daughter hears this balut vendor she is asking me to buy but I don't let her eat balut everyday. I only buy balut when I'm craving for this food and this the only time also she can eat this food. Anyhow, few days ago my mother purchased balut and my daughter got one. She ate everything but not the tough part. My daughter said one is not enough to her, lol. she really likes balut!

Are you looking for any machinery tools? If yes, you should browse new cnc machinery here. The site has wide selection from old and new machineries. If you need air compressors, air cooling and heating equipment, bar machinery and CNC machinery, they have all these tools. Well, they are just some of the huge collection of machinery in this site. They have the largest resource and listing marketplace for the metalworking industry, with over 222,000 new and used machineries. I'm sure you can find a machine that you are aiming for in this site, so check it out.
The weather is getting colder and colder everyday. My daughter's time in school is 8am. Her school isn't near at our house so we need to get ready and leave the house at least 30 minutes before her school time. My wake up time is 6am but lately it's hard for me to get up from bed because of the weather conditions.
Last week my daughter went back to school from Holiday vacation. The weather is really cold since the start of January. I didn't feel this kind of weather last November and December specifically. I was complaining that I didn't feel Christmas because of the warm weather. Anyway, when January comes, the weather is really cold reason why it's hard for me and daughter to wake up early.
According to the weather report, we will be experiencing this kind of weather until next month; February. Honestly, I like this kind of weather but thinking that I'm being lazy when the weather condition is like this, I wonder if I really like the cold we have everyday, heheh. And besides, this cold weather brings illness. My daughter has colds and cough but thankful because it's not severe, Glory to God. I hope she will be okay because next week is their examination.
Anyhow, I won't complain and just embrace the weather we have. It's not always cold in the country and it's not huge compared to other countries who are suffering from snowstorm.
Many of the appliances in the house are not working fine already. Just like our refrigerator though it's working but we have dilemma in closing the door. The door was slightly broken so closing it is really a problem. Aside from this our faucet became a problem but thanks to my brother it was fixed now. The kitchen cabinets are having problem also. The doors are hard to open and close because these draw slides are already broken. We need to find the right draw slides for our kitchen cabinets for them to work again properly.
I just opened my paidpost site and surprised to see 37 messages from them. I thought they were sent wrongly because it's too many but I was wrong. Well, one of them is regarding the payment status and the rest 36 messages were about link removal. Anyway, I was waiting for payout from this paidpost site since December but didn't receive. I though I was the only one who didn't get the payment. Thanks for their message and they promised to give payment next week. I hope no more delay on payment next time. Okay, I will start deleting or removing the link of each task. I have 36 posts to delete and the messages were sent yesterday so have to remove it right away because it's urgent thing. After removing, I will start doing my assignment tasks. Thank you for giving me assignments regularly. Hope for more tasks in the coming days, months and years. Cheers for 2014.
I'm still on the quest of finding new digital camera. I was thinking also if I will buy mobile phone instead. Mobile phones today are not just for calling or texting but for taking photos and videos as well. My mind is not set yet on what to do but I might consider digital camera. Every time I'm in the mall I always find time to visit camera stores. I hope as soon as possible I will find one that will go with my budget and has better quality. My choices brand are Sony, Samsung, Nikon and Canon.

Samsung galaxy camera is one of my choices among the digital camera. If I'm right, I have seen this kind of camera in many Korean series I have watched. I really wanted this kind of camera but sadly, this camera is not cheap. The first time I saw this camera in nearby store it was Php27,000 ($700). Few days ago, I checked this camera again and the price was $600. Still high for me so I hope the price will go down in the coming days. If not I will check other digital cameras and maybe choose a cheap one.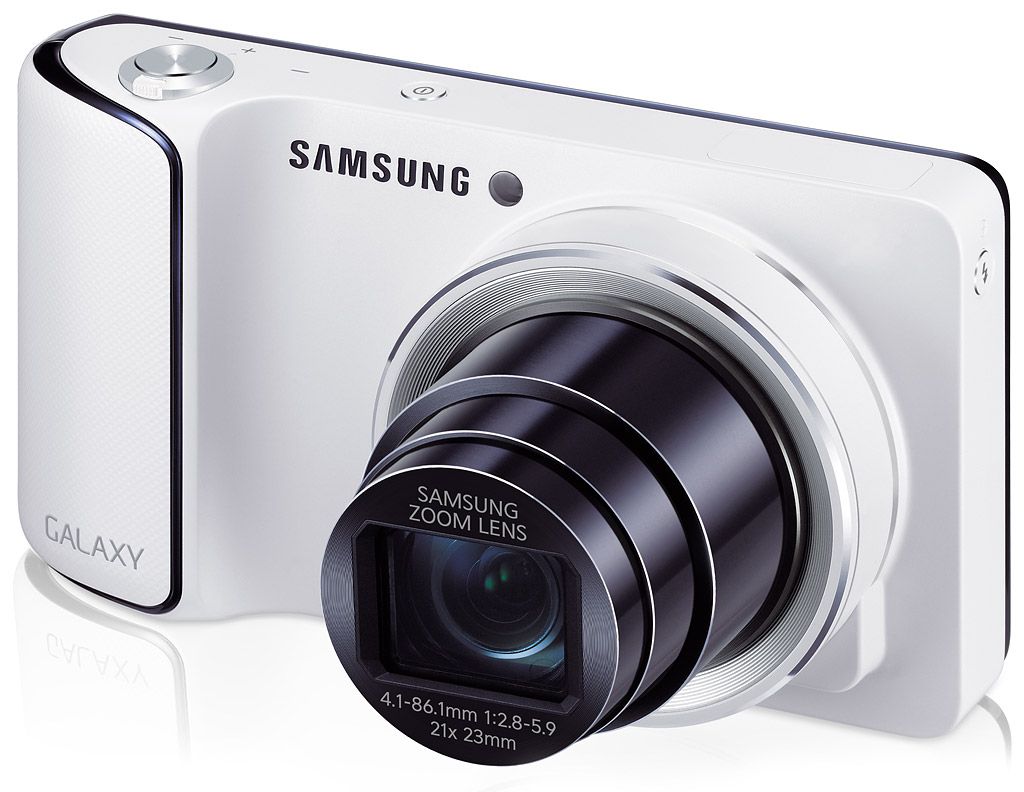 Samsung galaxy camera features a 16 megapixel CMOS sensor and a 21x optical zoom lens, as well as Wi-Fi and 3G connectivity. It has a GPS receiver by which the camera can make geotagged photographs. It runs on Android's 4.1 "Jelly Bean" software and it allows for in-camera organizing, editing and online sharing or storage of images and videos. As with other Android devices, other software can be downloaded from Google Play.However, voice calls cannot be made on the Galaxy Camera. This feature would be provided in its successor, the Samsung Galaxy S4 Zoom. (Source- Wikipedia)
Overdue post. Our simple feast last Noche Buena. We had spaghetti, buko salad, Red Ribbon cake, vegetable salad, chicken, gelatin, fruits and tikoy (glutinous rice cake). We don't normally eat together during this time but still we prepare foods so we are ready for Christmas.