Archive for September, 2014
I heard the news about ISIS few days ago. I didn't mind it but it has been in the news everyday and got alarmed already. ISIS or Islamic State of Iraq and the Levant did brutal doings like killing of innocent civilian especially in Iraq and Syria. They are part of the terrorist and said to be the richest in all terrorist.  ISIS funds itself through oil and an extortion racket.

There's a rumor that they already entered our country and recruiting Filipino to join their group. Usually they recruit out of school youth and mentioned places particularly in Mindanao. There are photos of young Filipinos posing in black flag, this black flag symbolizes ISIS. Although the genuinely of the photos are still questionable and didn't confirm the legitimacy of the photos or might be these people are just inspired by ISIS.

There's also news saying this ISIS plans to kill Pope Francis during his visit in the Philippines next year. This is very alarming and I hope our country is ready in this kind of situation. I heard the Presidential Security Group (PSG) would lead the security of Pope Francis. Well, whether it's true or not that this group is already here in our country, I hope our government is ready so no innocent citizens would be suffered. It's in my prayer that this ISIS group won't operate here in the Philippines and all over the world. It would be alarming and frightening so we should be ready and alert at all times.

Thanks God the internet connection is back. Four days ago I can't connect in our WIFI connection. I thought it's because of the heavy rains happened last week. The other day I called PLDT hotline and talked to the operator. I was happy because I didn't wait long to talk to the operator. After giving the details of our WIFI he helped me with some possible ways but none of them help. He told me to open the WIFI the whole night and they will check it in the server. So I let the modem open and checked immediately in the morning. Still the connection was failed. In the afternoon I called them again and the operator told me that the issue regarding my WIFI connection was already forward to the office of PLDT in our place. She said that anytime soon the technician will come to check our connection. No technician came yesterday. Though no technician came, I opened the net again this morning and surprisingly I was connected already. Thanks a lot because my source of income based online and it's a waste of time and money renting computer. And besides I think its not safe to go online outside because of the password you are entering. They might copy the password so as much as possible I want to do my online tasks at home. Oh well, happy that the connection is back and hope it won't happen again.
When you move within the city in which you live, it's typically a very easy process. However, if you decide to move farther – across the country, for example, or to another country entirely – you are going to face a unique set of challenges. When considering a demenagement longue distance, use these tips to make life easier. 
First, cut back as much as possible on what you own. Identify what you really do not need – clothes that you have not worn in months, for example. Get rid of these items. You may also be wise to get rid of some large items and buy them again when you arrive. The biggest thing that makes the move easier is simply having less to move. 
Next, plan ahead and have a good schedule that allows for flexibility. For instance, if you have work on the first Monday of a month, try to move on the prior Monday. This gives you a week to move, unpack, and get settled. If you try to do it all the day before you are supposed to start work, it can be way more stressful. 
Finally, for long distance moving to New York, take a moment to get to know your new place before you arrive. Do you need to go up multiple flights of stairs? Is there going to be street parking or not? The more you know, the easier it is to plan out your day and to know what to ask the moving company.
As of late, there has been a considerable amount of talk about being "sex positive" in groups of sexual enthusiasts and those who work in the industry as sex educators and therapists. During a time where the open discussion about sex is becoming less taboo, many are becoming more curious about what being sex positive really means and how one can fit into the definition. So what exactly does it mean to be sex positive in today's society? There are three parts to this answer:
Healthy Expression
Having a healthy expression of sexual energy and erotic desires is one of the base pillars of being sex positive. A healthy expression is defined, as anything that doesn't harm one's self or another. There are a variety of ways that a person can express his or her sexual energy. Some have extreme fetishes that may appear abnormal to some, but to that person it is a normal and healthy form of sexual expression. Some may like to have safe sex with multiple partners at a time, while others may enjoy having solo sex while others watch on in enjoyment. Having a healthy expression of sexual energy will be defined differently by each person and is the first step towards being sex positive.
Being Non-Judgmental
Being non-judgmental of another's form of sexual expression is the second pillar of sex positivity. Each person will have a different opinion of what is healthy for him or her and being a sex positive person means to accept that person's expression no matter how diverse it may be from one's personal execution.
Open to Sexual Self-Exploration
Understanding of one's sexual makeup and skill is rooted in his or her ability to explore self independently. Having sex solo through self-pleasuring, the use of sex toys, meditation and other activities similar are all ways a person can come in touch with their sex positive selves and enjoy a fulfilled sex life. Self-exploration grants a person the understanding he or she needs to become aware of how sexual energy feels and how it affects the body. Some men may decide to use sex toys during their self-exploration, and a sex positive person would look at this form of expression as healthy. Sexual exploration with self is vital for a complete sex life.
Being sex positive can be work in itself because it takes the breaking down of a conditioned mindset that views sexual expression as one way and one way only. One must learn as much as possible about how varied sexual experiences can be in order to have a mind that is fully sex positive, and by taking the learning process one step at a time a person can become sex positive faster than he or she thinks. Being sex positive isn't just about being free in one's sexuality; it's also about embracing and accepting others as they are and developing healthy relationships that can change the world.
The drama depicts the difficult decisions and moving human stories that take place daily in the OB-GYN department, focusing in particular on Seo Hye Young, a talented and determined obstetrician who has just transferred from the prestigious Seoul base to the branch hospital. Her straightforward manner of handling her professional life is in contrast with her love life, which is marred by her relationship with a married man. This becomes even more entangled when she meets Lee Sang Shik, the chief of NICU, and her long-time friend Wang Jae Suk also shows his interest. (Source – http://wiki.d-addicts.com)
 Verdict:
I don't know if I will include this drama to my all-time favorite Korean drama compilation. For me the story was good but not remarkable like other K dramas. All the major casts from OB-GYN department, Jang Seo Hee, Suh Ji Suk, Song Joong Ki and nurse Lee Young Eun as well as Pediatrician and head of NICU department, Go Joo Won delivered their acting very well. Every time the doctors need to do their duties the scenes look reality.
I like all the casts and how they delivered their acting, the story was good but the reason why I won't put this on my all-time favorite K dramas is because the romantic moments between the two leading casts happened in the last minute of the drama. They should have more moments together. Well, If  I like a certain drama I always have this feeling of watching them all over again. I don't feel it in this drama but I don't say its not good its nice really. Maybe I'm just looking for more intense moments.
Well if you are doctor especially from OB-GYN and Pediatrician this drama must watch. I'm sure you will learn a lot. If I'm going to rate I think 8/10.
Before the cold winter months arrive, it might be a good idea to call a company to come look at your furnace. When considering Calgary furnaces that are sold or repaired, you need to think about the cost of a new unit compared to fixing the one you have. Someone can come look at the filters, vents and the unit to determine if everything is working properly for the colder season. If there is something wrong, this is a good time to get it fixed before you turn it on in the winter. In the event there is something wrong with the unit that can't be fixed, it's better to find out earlier instead of later when you need the furnace. This can save you money in the long run.

Another important item in the home that you need to have checked is the hot water heater. Hot water tanks Calgary sells are often economical because they don't use as much power. This might be an option if something happens to the one in your home now. A plumbing company can look at your tank to see if there are any holes or leaks that need to be repaired or if you need to get a new unit because the other one might not be safe to use.
I heard from a news channel that a 7-year-old girl was raped and died due to 20 stabbed. I have daughter that will be turning 7 this year so, I know the feeling of the mother. I admit there were times I scolded my daughter but it doesn't mean I don't love her. And if something happened to my daughter I don't know what I'm going to do. I'm really sad to what happened to the innocent child. This child could have better future but the evil people made everything stopped for this girl. I pray for the soul of this child and rest in peace besides our God. Anyway, it's good to hear that the suspects were arrested but I don't think this is enough. They got the life of the innocent child so they should pay for it by giving their lives too. Sorry, but the thing they did was a serious crime and they should suffer a lot. It's so sad that we give the best to protect our child but other people would make everything to harm them. We don't know accident or incident would occur so taking care and protecting our children 24/7 is a must.
Whether you have a small bathroom or one that is large enough for a claw foot tub and walk-in shower, there are some pieces of furniture that you can place in the room that serve as functional and decoration. Cabinets are an addition that you can place anywhere in the room. If the bathroom isn't that big, you can stack the cabinets on a wall. This is an easy way to get more space in the room without items being in the middle of the room.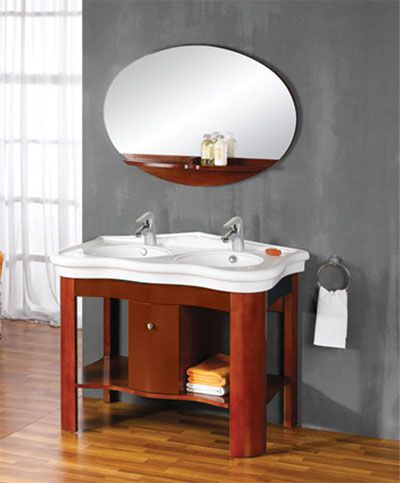 Another option for furniture for the bathroom is a vanity. You can possibly find more vanities than any other kind of furnishing for the bathroom simply because there are so many styles. Something that only has one sink is ideal for an apartment or a small home. IF you want something elegant, then consider a vanity with two sinks and a ceramic outline. The vanity can have a mirror, or you can only use a sink and counter. Some vanities have storage compartments underneath them, and there are some that are used with a stool or chair so that you can apply makeup. Other furnishings that you can get include tubs of various designs and storage racks that you can place in the corner of the room or behind the toilet.
I made my very first video compilation of my all-time favorite Korean drama. When I made this video I don't know how to start. I don't have any program or something to start the video. Thanks to Google for the tutorials, but, sadly none of them help me. I remember I made photo compilation of my daughter when she was a baby using Windows Movie Maker. I used this once again to compile my all-time favorite Korean drama. The simple video was successful and can be seen in youtube but I admit I need to learn more about this movie maker. Well, as a Korean addict I'm happy to compile my favorite drama and hopefully soon will make videos of my favorite Korean leading men and ladies and soundtrack of Korean drama.
By the way if you could check my account in youtube – pigrabbit1. Curious why this name. Well, it came from the korean drama "You're Beautiful starring Park Shin Hye and Jang Geun Seuk. No question, I'm really addicted to Korean, lol. If  I  remember it right when the time I'm getting an account in youtube this is the Korean drama I'm currently watching. Without thinking of other names I used this pigrabbit but add number 1. I made my account long time ago but only this time I feel like using it.

Here is the video, hahah!
1. Autumn in my Heart – Reason
2. 49 Days – Can't Forget You
3. Innocent Man – Really
4. Princess' Man – I Love You Today
5. Crazy Love –
6. Full House
7. Boys Before Flowers – Stand By Me
8. My Love from Another Star – Touch Love
9.The Greatest Love
10. Meteor Garden – Broken Vow (I know it's not Korean but my addiction on Korean drama started with this Taiwanese drama. Meteor Garden is the first Asian drama series that had been aired in the Philippines.)
In the unfortunate event that your home is damaged in a fire, some companies will come to your home to repair the damage so that you don't have the stress of dealing with cleaning. A fire damage Palm Springs company can look at the severity of the damage to determine the best plan in getting the smell of smoke out and clearing away the debris left behind by the flames. This is something that is ideal for those who might not have the resources to clean the home. Owners who no longer want to live in the home can consult a fire damage company that can get the house prepared to restore for renting or selling. 
Flood damage is something that can occur because of a heavy thunderstorm or if the pipes burst in the home. A flood damage Fort Lauderdale company has various methods of removing water from areas of the home. Fans can be used to dry the carpets, and mildew protection can be used to prevent anything from growing underneath the flooring. The company can sweep water from the home in order to prepare for removing the furniture so that the rooms can be cleaned thoroughly after the flood.