Archive for December, 2014
I got free Chowking 2015 Planner when I purchased Chinese Style Fried Chicken Lauriat and upsized the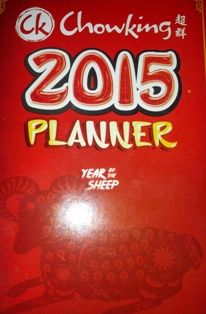 drink. This planner is a good stuff for me to have this 2015. Unlike last year, I want this year to be more organized. So, I think Chowking planner would be a great help. Aside from the space provided for your day to day plans every month, inside are personal information, 2015 Chinese horoscope, national holidays for 2015, calendar, contact list, Philippine area codes, international dialing codes, conversion tables and spaces for some of your notes.
Added also in the planner is the Chowking lucky treats for 2015. You could get free chowking product every
month when purchase certain meal from the store.
The color chosen for a room always has a great impact on the walls or spaces it covers. The appropriate color combination can make your kitchen look bigger or smaller, cheerier or more solemn. Knowing how color choices affect overall design can help you pick colors that make your kitchen remodeling in Los Angeles represent you.
Texture plays an important role in the overall appearance of your kitchen as well. Stainless steel, with its sleek visual appeal, contrasts beautifully with the natural, warm feeling elicited by wood.
Bright, bold colors such as orange, turquoise and fuchsia make the biggest impact in the kitchen.
One creative way to choose the right colors for your kitchen is to use the Chakra system. This system uses colors that are matched to certain parts of the body. The seven major chakra energy centers are located along the spine. Each of the centers resonates to a particular color and is matched to an individual organ, group of organs or glands. Each chakra works individually, and yet they all work as part of a unified system to achieve balance and harmony. Sky blue is the color assigned to the throat, green to the heart, yellow to the solar plexus and red to the base of the spine. Those using the Chakra system would chose the color blue to encourage self-expression and yellow to aid digestion.
I rarely tasted Krispy Kreme Doughnuts
because we don't have store in our place. We need to go to Manila for us to taste donuts from this store. The problem is we don't go to Manila regularly and sometimes lucky if we would go there at least twice a year. My sister would give us some because her husband is working in Manila. Few days ago, they gave us donuts from Krispy Kreme so we were delighted. Their donuts are really tasty though very sweet but for me the donuts are definitely luscious. Well, they should be because the price is not cheap. And because Christmas is fast approaching  they have this "Make Magic Happen" wherein you could buy box of donut with Christmas theme. One of the donuts included is the cute snowman. Daughter already ate some part of snowman's tummy and scarf.  Would love to eat donuts from Krispy Kreme, anyone could give me this as Christmas present?

One of the decorative pieces that you can put in any room of the home is a lamp. Stained glass lamps offer a brilliance of color that you usually won't find with other lamps. They can be placed in any room of the home, but there are some things to keep in mind with the colors before making a selection.
The first thing you should do is look at the theme in the room. Is there one color that you use, or are there several colors that can be seen. If you only have one or two prominent colors, it will be easier to get a lamp with several shades to blend with the room. Lamps with stained glass work well with colors of brown and beige as the colors on the glass will be a focal point in the room. If there are multiple colors, then try to find a lamp that has only one or two colors that blend with the others in the room. A light pink or blue will usually match well with any room in the home. You should also look at the pattern on the lamp. Choose something that will blend with the other decorations in the room instead of something that will look out of place.
Its December. Time flies. 24 days to go and we will be celebrating Christmas. I'm not really excited for this celebration. I'm always looking forward for New Year but not Christmas. My daughter is the one who is excited; I think Christmas is really for kids.
I'm happy that my daughter will be having 2 weeks school vacation. This only means that there's no reason to wake up early in the morning. It's so nice to have a break from sending and fetching in school. Thinking of what she's going to eat for her lunch. Well, I'm blissful because she's not choosy when it comes to her foods. Whatever I have in her lunch bag, she eats them. Sometimes if she has a request food, I make sure to prepare it for her. That's my every day routine during school days and having a break would be great.
I think the start of the Christmas vacation would be on December 19. December 18 is their Christmas party. Before the party and vacation they will be having their 3rd Quarterly examination. Wow, time is really running. One more quarter to go and school for 2014-2015 would be ending very soon. I can't believe her time in grade 1 would be that fast. Anyway, I have to end here and start making her reviewer. Its better to do it in advance to make sure she's prepare on her examination. Good luck to both of us.