Keeping your jewelry easily accessible
while organized can be a major task. You might choose a jewelry box which can hang your necklaces and hold your rings and earrings, but then you'll constantly need to open and close each compartment to find the jewelry you need for an evening out. You might even toss your necklaces and jewels into your drawers, but no one enjoys entangling a mass of necklaces or searching for a random earring in an entire drawer of jewelry. Jewelry organizers are ideal to keep your trinkets easily accessible and viewable with a glance.
Products such as the Lovely Jewelry Organizers help keep your necklaces, rings and other pieces safely stowed while also permitting you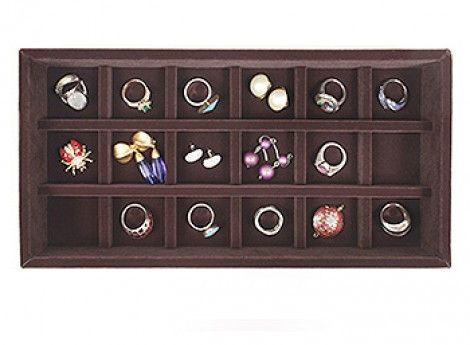 access whenever necessary. These drawer organizers are versatile and functional trays which also serve as a beautiful backset for any jewelry. If you need a place to set your watches and bracelets, you might choose a flat liner for your organizer while if you need a place to store your inherited pearl necklace, you could choose a velvet lining. The versatility of these organizers is based off a variance of size, function as well as your own personal design taste. However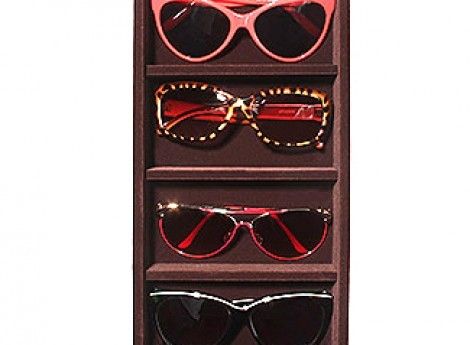 you want to arrange your drawer organizers, you can shift and change out the trays throughout the year according to your current demand for certain jewelry.
Jewelry organizers are changing the way people store their favorite necklaces, rings, bracelets and earrings. Beautiful with flexible styling, these designer trays are ideal for keeping your jewelry safe as well as close at hand. If you've been searching for the perfect jewelry storage option, shop today for your own jewelry organizers.
Happy 74th birthday to my mother. Yesterday, she had a simple celebration in our simple abode. It wasn't a huge party. It was only a family celebration but we invited some of closest neighborhood. It was a blast celebration and ate some of our favorite foods. The family wasn't complete because two of my sisters are living abroad for many years already. Thanks to internet because we were able to talk to them on my mother's special day.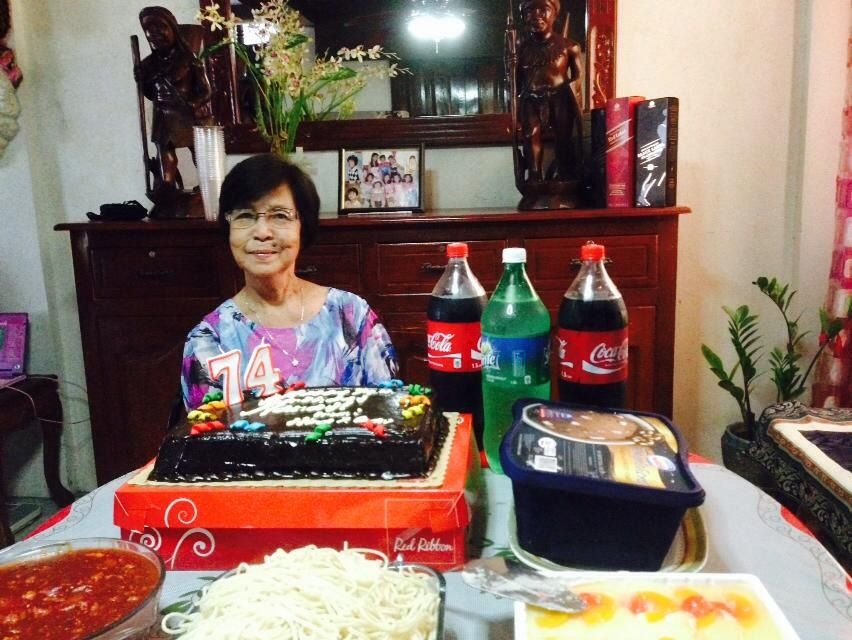 Last year, before her 73th birthday she had a serious illness and we were all alarmed. She has been confined in the hospital every other month. We were thankful because she celebrated her 73th birthday not in the hospital. I'm claiming that God already healed her and the doctor even saying it was a miracle. Thanks God for granting our prayers and for giving her another year to live. My wish for my mother is to continue living a happy and healthy life. I personally say thank you for all the love not just for me but for my daughter. Thank you for everything. Happy happy 74th birthday again and wish for more and more candles to blow in the coming years.
Early childhood is a precious time in the life of a child. It is a time for children to develop as they begin to age towards becoming an adult. Numerous studies have confirmed that early childhood is very important for each child. While it can be easy to focus on educating a child, there are other ways to develop a child that are safe and fun.
Going Out Exploring
It can be one thing to tell a child about animals that may be exotic or unique. It can be another thing to show children animals that are wild and different. Parents, relatives
and other adults can do a great disservice to children by only showing them life through the pages of a book or pictures on a screen. Children love to explore and interact with life. Take advantage of their curiosity and go places. Go to a zoo and see the monkeys and other animals that are difficult to locate. Make the decision to go to a lake. See a child dig in the sand and be amazed at the waves. Instead of describing something, try to show the child in person what is trying to be communicated. When this is done, it can excite and educate younger children more than learning how to write certain letters or numbers on a paper.
Run, Jump, Play
Children at young ages are not meant to sit in chairs for a very long time. It can be difficult for children to stay quiet for even an hour for an event, such as going to a restaurant, sitting in church or being quiet during a funeral. Instead of getting after a child, there are plenty of ways a child can work off some energy. One of the best ways this is done is with peers. There are early childhood environments that enable children to play and have a good time with others. Playground equipment continues to improve in terms of safety and design. Furthermore, playground equipment and other types play sets are being intentionally made for children who are quite young. This is a wonderful benefit to parents who want their younger children to have fun and be active.
Early childhood should be a fun and pleasing experience. Young children are still figuring out many things in life. Adults should be giving young children opportunities to be active while having fun.
I made banana loaf bread for the very first time.  It wasn't 100% successful because some of the part burned especially bottom part but happy because the bread didn't go to waste completely and besides it was my first baking experience.
Anyhow, I got banana loaf bread recipe in this site http://www.simplyrecipes.com/recipes/banana_bread/. All the ingredients are easy to find and some are already in the kitchen so I didn't think twice of baking banana loaf bread.
Ingredients
• 3 or 4 ripe bananas, smashed
• 1/3 cup melted butter
• 1 cup sugar (can easily reduce to 3/4 cup)
• 1 egg, beaten
• 1 teaspoon vanilla
• 1 teaspoon baking soda
• Pinch of salt
• 1 1/2 cups of all-purpose flour
Method
No need for a mixer for this recipe. Preheat the oven to 350°F (175°C). With a wooden spoon, mix butter into the mashed bananas in a large mixing bowl. Mix in the sugar, egg, and vanilla. Sprinkle the baking soda and salt over the mixture and mix in. Add the flour last, mix. Pour mixture into a buttered 4×8 inch loaf pan. Bake for 1 hour. Cool on a rack. Remove from pan and slice to serve.
Yield: Makes one loaf.
—–
I followed all the ingredients and baking procedure and patiently waiting for the outcome. After 30 mins I smelled something, my loaf is beginning to burn. I checked it and inserted a toothpick inside, just like the bakers said you will find your cake or bread done when the toothpick comes out clean. When I inserted the bread isn't cook yet.
So I continue baking and didn't mind the smell but instead of cooking it for one hour I only baked it for 50mins. The oven i used has function knob that allow to select heater setting. At first i selected lower setting and it took time before i changed it to upper setting. I think that's the reason why the bottom part burned completely.
Well after 50 mins it was done. I let it cool first and transferred to plate. As expected the bottom and top part burned, I wasn't surprised. The bottom part is burned completely sorry I didn't capture it. Just think of charcoal and it was like that. The top part is slightly burned but inside it was cooked properly see image below.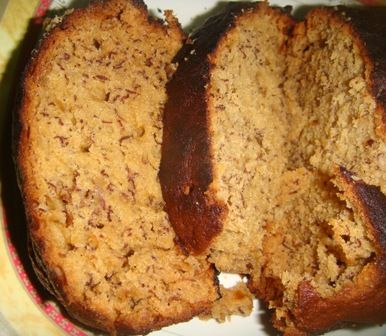 The family who tasted my banana loaf said it was good well not the burned part. I must say I'm 60% satisfied with my first baking experience. I'm using mini oven so I think the cooking time is different compared to big oven.
Anyhow, for sure this isn't the first and the last and definitely I will bake banana loaf bread again, I won't stop until I perfect it.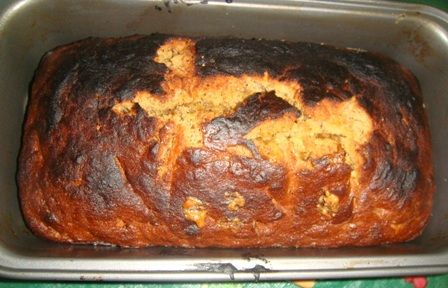 This post was created June 2013, copied from my deleted blog.
When you're leaving your canine friend in the hands of someone else, you want to know that they're being left in the lap of luxury. Paw Print Inn agrees with this premise, and they do everything they can to ensure your dog is positively pampered during their stay. With safety-focused amenities like back-up generators, air filtration systems, and smoke, fire, and security systems, you can drive away with complete confidence!
Boarding–Or a Veritable Canine Hotel?
Long gone are the days of cement flooring, chain link kennels, and threadbare blankets. Your pooch will have morning and afternoon play groups, plush bedding, four daily potty outings, and twice daily premium meals. With soothing background music and room service, your dog may never want to come home!
Service Add-Ons
Throw in some goodies with your pet's stay. You have the option to choose from an a la carte menu to make their stay even better. Private play sessions, bedtime stories with accompanying tuck ins, and a soothing brush-and-massage are just a handful of the goodies you can throw your dog's way.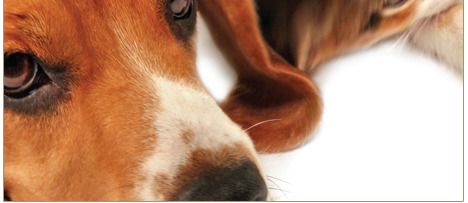 Doggie Daycare
If you just need your dog entertained for a few hours, they can have a blast at doggie daycare. They'll engage in supervised play with dogs that are all similar sizes. When the sun's out, they can play in the grassy, fenced in outdoor play yard. If it's cold or rainy, the cushioned indoor playrooms provide hours of entertainment for the most rambunctious of pups.
Dog boarding can be fun! Don't feel guilty leaving your dog at a stale, noisy kennel. Leave them where they'll be treated like family and you'll feel great about leaving your dog behind.
For sure everyone is excited because summer is almost here. So, have you booked your vacation places already? We can still feel the northeast monsoon in the morning but we can't deny the hot weather in the afternoon. So we can say summer is fast approaching. Anyway, before your summer getaway, make sure your home is safe and free of damages. Here are some maintenance checks and repairs during summer.
Dry season is the best time to do house maintenance checks and repairs as the repairs will not be hampered by the rains. And because its school ends, this is also the best time for the kids to help. So what are the home maintenance activities we can do?
Wash and clean exterior of the house – this is the best time to give good scrubs especially the walls.  Regular soap and water will do. If needs some repaint better do it today but be sure to use paint especially for exterior walls.  Based on what I read rains contain acid that can penetrate the walls and cause damage. So for sure too much rains from the last rainy season left something bad in our walls.
Clean gutters and catch basins  – simply to prevent clogging and dirty gutters would result to easy damaged.
Check roof for leaks – Of course it's not a good idea patching up holes during rainy season so better do it while its hot. You can check watermarks in ceiling, if there's spot for sure your roof is already damaged. Check roof paint if peeling or chipping already if so, this is the best time to repaint.
Check Air Conditioning Unit – this is the hardest working appliance during summer months so to make sure it is working fine do a regular cleaning.
Trim trees and bushes – untidy plants make home look dark and cluttered. Also branches of the trees might entangle in electric wires.
Septic tank maintenance  – I read that cleaning a septic tank can be done in 7 to 10 years but if you can't flush toilet anymore better check and clean the tank. Avoid flushing down tissue paper and other items such as sanitary napkin in bowl. For floor drains put strainer to catch hair and other wastes. Product like liquid sosa can be used to kitchen sinks to melt down oils dumped into it and prevent clogging.
Hire a pest control experts – need some actions to our household pests like flies, mosquitoes, cockroach, fleas, rodents and dread home destroyer termites. We don't want to live in a dirty house. Summer is also the breeding season for flies; use insecticides with green label or Eco-friendly and not hazardous.   (Read from magazine).
Who would think that indulging in your favorite foods could result in a slimmer waistline? These yummy tasting foods aren't necessarily healthy, but they're great alternatives to your normal indulgent treats and they won't thwart your weight loss efforts. If you're looking for Valentine's Day gifts for someone who's watching their weight, consider a basket with these treats.
Froot Loops are deliciously sweet and perfectly okay to eat once in a while while dieting. They're not a health food (despite the fruit on the box), but they don't have a horrible fiber-to-sugar ratio and they're not packed with calories, either. Froot Loops can be a great, low-cal dessert.
Need something to dip your baked potato chips or veggies into? Black bean dip is a great option that tastes indulgent while being pretty healthy. Look for one that's made with only beans and veggies. The fewer additives and extra ingredients, the better.
Bagel Bites by Ore-Ida only have 200 calories in a four-piece serving. There are far worse things that you could eat than pizza while dieting, and by having these bites, you avoid gobbling down a whole pie.
Thought you had to forgo French fries until you hit your ideal weight? No way! Ore-Ida's steak fries have less than half the calories you'd get in a regular order of fast food fries. Snack away!
There's no reason why you can't enjoy food and lose weight at the same time, too! Also, a healthy, balanced diet should always include good-for-you fats, fruits, veggies and whole grains.
Blogging has been my source of income for the past 5 years. There were years, I got many opportunities that, I was able to buy things that I never imagined to get through blogging. But there was also year that income in blogging wasn't good enough. I must say, last year wasn't fine because I received low income but still thankful despite of.
Few days ago, I let go one of my blogs. This blog was about home management. It was live only for a year and didn't receive much compensation. If you're into blogging, you should give time and update your blog as much as you can. I realized I neglected my home blog. For a year, I only made less than 20 posts.
For a year of running, my home blog received one task and I was happy for that. Well, to cut the story short, I said goodbye to this blog because as I said, income last year wasn't good at all. I don't have money to pay for the renewal of domain in godaddy. As we all know, godaddy already removed renewal coupon. If there is coupon available, it would be a great help. It's hard for me to let go any of my blogs but it would be shamed on my part if the blog is running but not able to manage it. I think better that way, and besides, I still have 5 blogs.I should focus on that If I really wanted to earn in this stuff.

I hope 2015 would be a great year not just for me but all the bloggers around the world. I'm praying for more opps because I consider blogging as my number 1 source of income.
Your home is a place where you want to stay comfortable whether it's hot or cold outside. One of the ways that you can make sure your home is as comfortable as possible is by keeping the thermostat at one temperature. You can adjust it slightly through the year as the seasons change, but try to keep it as constant as possible. This can help save money on your electric bill, especially if the heat or air isn't turning off and on at all times. 
If you suspect that there are problems with the thermostat, there are some ways that you can check it before calling a company to come to the home. One of the common problems that you might see with a thermostat is when it won't turn on or off. A fuse might be blown, or there might be something with the switch that won't let the unit come on like normal. Check all of the wires to make sure there isn't anything that is loose. Dust can build on the unit, making it not operate properly. Change the filters frequently to ensure that there is a proper airflow in the system. If you can't determine what is wrong with the unit, then consider changing the thermostat. Click here for other ideas on common issues.