I really like pasta, so I tried to cook different pasta dishes though I'm not a good cook, wink! The last pasta dish I cooked was baked macaroni or simply baked mac. Here are my ingredients; sorry I won't provide the exact amount of ingredients.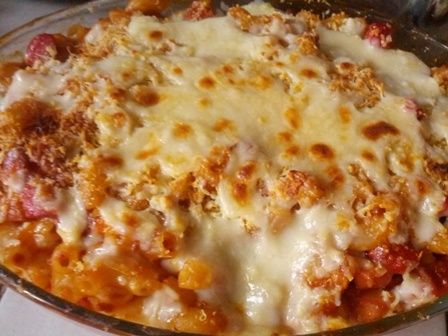 Macaroni shells
Oil, butter
Garlic
Onion
Lean ground beef
Hotdog
Jolly mushroom (pieces and stems)
Spaghetti sauce
Salt and pepper to taste
Eden cheese
Eden melted cheese
Directions
1. Cook macaroni shells according to package direction then set aside.
2. In a separate pan, sauté garlic and onion in oil and butter.
3. Put lean ground beef until slightly brown, add hotdog and jolly mushroom.
4. When cooked, put salt and pepper to taste, then spaghetti sauce and let it summer for about 30 minutes.
5. Put cooked macaroni shells in a casserole cover with cooked spaghetti sauce.
6. Add cheese on top.
7. Bake in 180 degrees celsius for 15-20 minutes or until cheese is melted.
It would taste even better if you put different kinds of cheese especially parmesan cheese. But because my budget is tight so, I just put eden cheese and eden melted cheese. Well, it tasted good but again baked macaroni is even tastier if you put different kinds of cheese on top.
Would you like to live more sustainably? It's easier than you think. Here are just four ways to embrace a more eco-friendly existence.
1. Shop Locally
Not only will you support the farmers, vendors and businesses of your own community, but you'll also reduce pollution and waste by cutting down on shipping costs through the big chains. The less demand for it, the less they'll do it.
2. Look for Eco-Friendly Businesses
The next time you're seeking, say, a jewelry refining group, take the extra time to find one like JRGInc.com. They're committed to the environment, so their actions won't cause harm to the earth like other companies of their type.
3. Start Recycling
Gone are the days when everything had to be meticulously sorted and physically carted to the recycling plant. In the 21st century, it's as easy as putting your garbage in a special bin and rolling it onto the street for the recycling trucks. There's no excuse not to recycle anymore!
4. Use Less Water
You waste gallons of water every day without even realizing it. Can you cut back on your shower time? Can you wash the dishes in a sink full of suds instead of individually under the stream? Simple cutbacks can make huge differences, so every little bit helps.
If you're serious about living a better, more sustainable life, follow these four tips to work for a brighter future. There's only one earth. It's time to do your part for it.
Last May 2, 2015 my niece (Hannah) gave birth to a healthy baby girl named Ellie. Congrats Hannah you are now a mother! I know you will be a great mom because you are indeed kind-hearted girl.
And to our precious blessing, the whole world welcomes you baby Ellie. You are really a blessing from God above. Enjoy your time being a baby and be a good girl. We love you and hope to see you very soon.
When your furnace goes bump in the night, the last thing you want to do is bring in an HVAC professional who doesn't know their stuff. But how can you be sure you're hiring the right people? What criteria should you use for selecting a repair company? Here are just three ideas for vetting them before allowing them access to your home.
1. Read Their Reviews
Start your search by reading the reviews of likely candidates. Not only will this ensure that you weed out the crooks, but you'll also get an inside scoop on the accuracy of their estimates and the professionalism of their teams.
2. Check Their Credentials
Are they licensed by the state? Are they affiliated with any professional organizations like the National Association of Journeymen Linemen or the Air Conditioning Contractors of America? Don't be afraid to ask for proof of paperwork if you doubt their qualifications.
3. Talk About Prices
Request a quote. Inquire about payment plans. Sit down with them and go through their contracts line by line. The money is coming directly out of your pocket, so if they're going to charge you for parts, labor and insurance, you should know about it in advance. You might also want to ask them about liability and job warranties.
These are just three things to keep in mind when searching for HVAC specialists. Take your time and do it right. A working heater can mean the difference between life and death in the winter!
Last time I shared how to vote in Asia's Got Talent. Last night was the last day of voting, I hope you voted, heheh. I'm not a contestant but I'm so excited to know the winner of the first Asia's Got Talent. I'm sure not only me but all the Filipinos who really supported this show. I enjoyed this show really and always make sure to watch every episode. I supported the show during audition time, semi-finals and grand finale. Surprisingly, 4 fellow Filipinos were included in the grand finals so it's really exciting.
The voting period was finished already and the result will be revealed on Thursday (May 14). I'm so excited and I hope one of the 4 Filipinos will be the first winner of this competition. If this happens, the whole Philippines will rejoice, hahah and for sure the whole Asia will get to know how talented Filipinos are. 
The winner of Asia's Got Talent will take home a huge prize of US$100,000 and an opportunity to perform at the Marina Bay Sands. Kudos to the staff and crew of the show, I really enjoyed it and look forward to the next season. The show is hosted by Marc Nelson and Rovilson Fernandez; while the judges are Anggun, David Foster, Melanie C and Vanness Wu.  
If you have a plumbing job that you need completed, one of the things to consider is flat rate plumbing pricing. This method of pricing has several benefits for both you and the company. When someone comes to the home to inspect the work that needs to be done, you will be given a set price for the supplies that will be used and the labor. You won't have to worry about the hourly rates and the plumbing company spending more time than is necessary doing the job. If the worker knows that there is already a set price, then the work will often be done faster since there won't be any room for extra time.
Another benefit of this kind of pricing is that no matter how long the job takes or if there are other issues that might arise, you will pay the quoted price. If there is something major that is seen on the job, then the company can discuss it with you in the event that there needs to be a slight increase, but most of the time, you will only pay that flat rate. Plumbing companies want to keep the business they establish, so they will likely be willing to work with you on the price as much as possible.
I believe on their talents, so Philippines let us continue our support to our fellow Filipinos 4 Grand Finalists to Asia's Got Talent. I'm so proud of your world-class acts and each of them got four standing ovations from the Judges.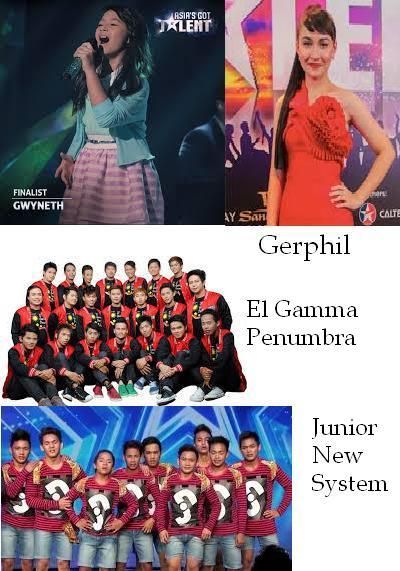 There are three ways to vote:
1. SMS Voting
AGT3 – Gwyneth Dorado
AGT7- El Gamma Penumbra
AGT8 – Gerphil Flores
AGT9 – Junior New System
Please do send to 2929 for Globe, TM, Smart and TnT subscribers only
(THIS IS FOR PHILIPPINE SMS VOTING ONLY.)
*You can vote via txt as many times as you want.
*P2.50/txt
If you are outside of the Philippines, send your votes to:
Singapore: 146073300
Thailand: 4541501
Indonesia: 95899
HongKong: 503230
Malaysia: 33200
Vietnam: 7587
Philippines: 2929
Taiwan: 55828
2. Facebook Voting
THIS IS FREE! You can vote using one account per contestant during the entire duration of voting period. THIS IS APPLICABLE IN ALL PARTS OF THE WORLD.
3. Asia's Got Talent App Voting
Download first the application in Google Play for Android users and APP Store for IOS users.
The Asia's Got Talent grand winner will be revealed at the end of the Results show next week. Voting is now open and viewers can vote for their favorite acts anytime before 11:59 Monday.
Sharing my experience getting money at M Lhuillier. My niece asked me to get the money at M Lhuillier, the money was under my name. She gave the reference number, country and the sender's name. I thought these were enough to get the money. When I was there, the guard approached me and gave piece of paper. This paper will be used to get the money. After I wrote the sender's name, my name, amount expected and reference number, the guard gave the paper to the cashier. Few minutes, the cashier called me and asked me if the sender provides the bank where the money was sent. I told her that the sender didn't tell me and reference number only. The cashier then told me it was needed. I have no choice but to stop the transaction and decided to come back.
Second day, the guard approached me again nicely. I told him that I already went in their store. I asked him if I could use the paper I had filled up. He agreed and gave it in the cashier. When my name was called, the cashier asked me the same question as the first day I went. So, I gave her the information she needed and asked me to wait for a while. After few minutes, she called me again and asked me if I have other identification ID. I provided my passport but it was expired last February of this year. She said this ID can't be accepted because it was already expired. Well, I agree but for me they should be considerate. I mean it's already expired but not so long ago in fact for only 2 months. And for me even it is expired still it is me. I am in the picture, well maybe I was wrong but still I was thinking if they can be kind enough to accept it. She then asked me for another ID, so I provided my Philhealth ID and the cashier said it can't be accepted. She said, if the money is below Php5,000 Philhealth ID is possible to use but more than this amount isn't.
I asked her what other identity I could provide. And told me if I have police clearance, wow police clearance! I don't have it and I think the last time I asked for police clearance was a decade ago. I'm totally pissed off but I have no choice but to get this thing. Well, it's not hard to get police clearance unlike before, the thing is I have other things to do and by the way before going to police; I need to get barangay clearance first because this is required in getting police clearance. It is fine if it is in the same location but not. I didn't expect and not even think I went to barangay hall and police station today. It was for the sake of Identification to M Lhuillier.
So this was my first experienced getting money at M Lhuillier. Actually it wasn't that hard to get the money if you have all the necessary information and proper identification. I just think they should be considerate. I mean my passport, I told them that I know it was already expired and I will renew it after my transaction with them. I just think to use it in my transaction with them before heading to DFA. Second thing, they accept Philhealth ID but it depends on the amount to be received. Why there is amount involved, I mean if they can accept it why not accept it whatever the amount. Well, in fairness to them, the guard and the cashier of M Lhuillier in my place were kind. I read some reviews of M Lhuillier and many mentioned of their bad experiences in many M Lhuillier branches that staff are not kind enough. I'm thankful i didn't experience it.

Diamonds are precious stones that have intrigued the world for thousands of years. Sought after by royalty, movie stars and everyday hopeful romantics, diamonds are purchased more than any other precious stone for their beauty and brilliance.
When mined from the ground, most diamonds appear rough and unevenly shaped. Many stones are colorless, while others appear in pale shades of yellow, red, orange, green, blue, brown, and even black in their raw form. Raw, uncut stones often appear quite ordinary without the brilliance found in polished gem stones. In the 18th century, many gold miners threw away a fortune in unrecognized diamonds while panning in the mines.
Diamonds are admired for their amazing brilliance, but what actually causes this? The answer is light and reflection. When diamonds are cut and faceted, they become the perfect object to reflect light. Light enters a faceted gemstone from all sides, then it bounces back and forth through the stone before it finds its way back out. As the light changes direction it creates a brilliant reflection of white light and color that gives diamonds their beautiful appearance. Colors like yellow, orange, red, green, blue and violet all bend and reflect inside the stone. If you examine a faceted diamond closely, you'll see that it soaks up light and breaks it apart like a prism, dispersing the light into a rainbow of colors. Other natural gemstones also reflect light to some degree, but no other stone even comes close to a diamond's ability to produce a brilliant rainbow of subtle colors and brilliance.
If you're interested in refining and removal services for precious stones, visit us at JRGInc.com