Archive for December, 2015
Congrats to our dear Miss Philippines Pia Alonzo Wurtzbach for winning 2015 Miss Universe. This was after the dramatic win because Miss Colombia was first called Miss Universe instead of the real winner Miss Philippines.  We are so proud of you Pia. This is the best Christmas gift for all the Filipinos. Thank you Pia Alonzo Wurtzbach for all your hard work, for holding your dreams and now you are the winner. All thanks to you Filipinos are really really happyy and finally we made it after so long time ago.
 Pia was the third Filipino who got the title. The first one was 1969 won by Gloria Diaz and 1973 won by Margie Moran. After so long exactly 42 years the crown was finally back to us.
Congratulations Miss Universe Pia Alonzo Wurtzbach with beauty and brain you deserved the title.

It's been raining here in my place since yesterday because of typhoon Nona (international name Melor). The sad thing is only few days to go before Christmas and we still experiencing typhoon. I heard another typhoon is coming after this typhoon Nona. Last night we were under signal 3 and as of today under signal 1. Despite of this, I'm still thankful because we are only experiencing rains and no power interruption. I hope this typhoon wouldn't cause harm for all the affected areas since Christmas is approaching. Same with the other typhoon that PAGASA is also monitoring. 
My daughter has no classes since yesterday. She wanted to go back in school because of their Christmas party this coming Friday. Aside from Christmas party, she was excited for Christmas cantata. This was their activity yesterday but since there were no classes until today, I don't know when this activity will push through.
I wanted to go out also to buy gifts for her classmates but I'm lazy to do it because of the rains.  So, I really really hope that this typhoon would leave our country and no casualty at all so we will have a merry merry Christmas.
I'm not updating my blog regularly because this laptop is acting poor already. Sometimes I visit internet café just to update my blogs and do other online stuff. Anyway, I should write this post when I received my Pringles speaker last September but I don't know why it took so long. I apologized if I wrote negative about Pringles party speaker promo last June. It's just I was waiting for my Pringles speaker since the month of May but I didn't receive any. To make the story short after so many months, my Pringles speaker finally arrived last September. I thought they were not true to their promo so I wrote negative. So sorry for that, I should extend my patience!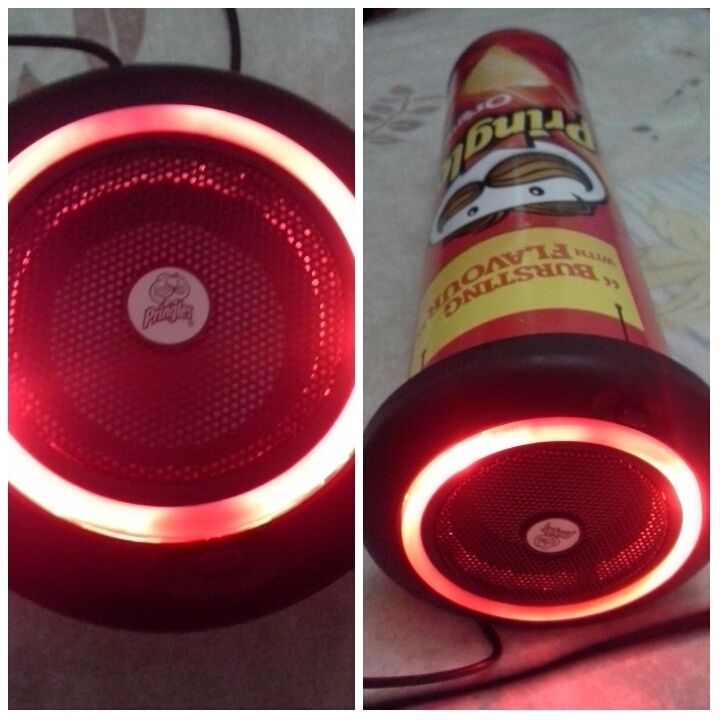 When I received my Pringles party speaker I immediately used it. The speaker is easy to use, you just need to insert 3 triple A batteries and connect directly to your mobile phone or other device. I only tried connecting it to my mobile phone and it works very well. Putting the speaker on an empty Pringles is helpful to get bigger sound. I like it but I will give more thumbs up if I can plug it in the socket, batteries don't last longer so I need to change frequently which is money consuming.
Clothing always makes a wonderful gift for the woman in your life. The vast majority of women are very passionate about the clothes that they wear. Because of this, a gift of clothing will rarely disappoint them. You will then need to decide what type of clothing to buy her if you have committed to the idea of buying her clothes. This can be an extremely tough task when you stop to consider how many styles of clothing there are in the world today. You should look at her wardrobe to get an idea of the type of clothes she likes. One great idea would be to give your loved one a saree. Here are some reasons why.
1. It is a gift she will appreciate
You have probably given gifts to people
in your life that they were less than enthusiastic about. It is always a bad feeling when you realize they do not like your gift. However, you will not need to worry about that happening when you give the gift of a saree. Women love to wear something beautiful. You just need to make sure that it has the colors and decorative design that she would like. Ask her if you are not sure about these details. Do not worry about the fact that your gift will no longer be a surprise. The most important thing is that you give her a gift that she will cherish and actually want to wear.
2. It will not bankrupt you
The price of some clothing items can be quite expensive. You will not need to worry about that when you go shopping for a saree. It is true that there are sarees made out of expensive materials like silk. However, you can buy something much cheaper than that if you are shopping on a tight budget. You can do some sarees online shopping at http://www.craftsvilla.com/sarees-sari.html. The massive selection you will find at this site will definitely impress you. There is no question you will find a saree that will be to your loved one's liking.
3. It will make her think of you
Ideally, you want to buy your loved one a gift that she will use often. She will certainly think of you every time she wears that particular saree. This is a nice benefit that you get from buying that particular gift. It is a good way for you to stay in her thoughts.