I cooked Tinolang Manok, it is a soup-based dish that is very common here in the Philippines. Usually, this dish is cooked with chicken, green papaya and leaves of the chili pepper (siling labuyo) in broth flavored with ginger, onions and fish sauce. An alternative for chicken is pork, chayote instead of green papaya and moringa leaves (malunggay leaves) instead of chili pepper.
Ingredients:
Oil

Onion

garlic

ginger

chicken

chayote

moringa leaves

water

fish sauce

chicken cube

Salt and Pepper to taste
How to Cook:
Heat oil in a pot over medium heat. Add onion, ginger, garlic and cook until aromatic.

Add chicken and cook while stirring occasionally for about 8-10 minutes or until chicken starts to change color. Add fish sauce.

Add water and chicken cube, bring to a boil. Remove scums that float on top. Lower heat, cover and simmer until chicken is cooked through.

Add chayote and cook until tender but don't overcook. Season with salt and pepper.

Lastly, add moringa leaves until just wilted. Serve hot with rice.
As you can see the soup was oily nevertheless it is good. I suggest removing the skin of chicken; I think it will help to make your tinolang manok less oily.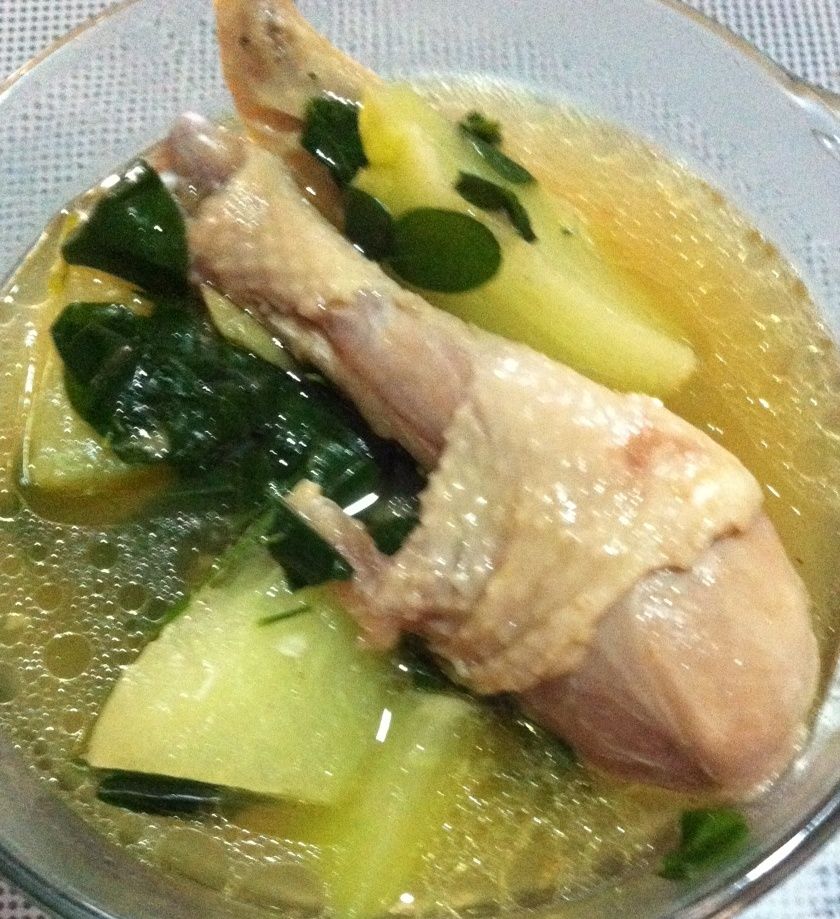 Patios can be both a blessing and a curse. On one hand, you have a space where you can relax in the great outdoors. On the other hand, you have to deal with annoying bugs and little to no privacy. This is where Jacksonville screen enclosures come to the rescue. Privacy screen patios provide a wide array of benefits to not only your home but to all members of your family.
Increase the Value of your Home
Privacy screen will transform the area into a shaded and comfortable area that increases the amount of space your home has. This added outdoor living area will cause the value of your home to rise, which means you will see a higher return when you sale your home. In fact, Zillow states that you could see up an 80-percent return in your investment by simply installing privacy screens on your patio. They will be an attractive selling point for the future.
Perfect for Hot Days
Try sitting on a patio that isn't screen in during a hot summer day. With the sun beating down on you, you probably won't last long and end up retreating back inside. Privacy screens, however, eliminate this problem by providing shade against that burning sun, and without those harsh rays, you and your family can enjoy the patio for longer periods of time.
Increase Relaxation
A privacy screened patio gives you and wonderful location where you can sit back and relax while still being close to nature. Think about how great it would be if you could sip some tea and nap without worrying about nosey neighbors or annoying insects.
Make a Safe Place
Screened in patios create a safe place where your children and pets can play. They will still get fresh air, but will be enclosed and closer for you to keep an eye on them. You will also be able to keep them out of the sun during the times where the rays are harsher and more prone to cause sunburns and skin problems.
Have Personal Space
While you may have control over your property, you don't always have control over the surrounding areas. I privacy screen will help to block out sights that you find are a visual disturbance or eyesore. Furthermore, your activities conducted on the patio will be blocked from those outside the patio.
I cooked Ginisang Upo at Sardinas (sautéed bottle gourd with sardines) few days ago. Before I used to cook bottle gourd (upo) with meat and not sardines. I learned adding sardines through my co-parent in school. I didn't cook it right away but when I watched a video cooking this bottle gourd with sardines, I decided to cook it for our lunch. The main two ingredients are available in our kitchen so, I didn't think twice of cooking it.
After just a short cooking, my sautéed bottle gourd (aka white squash, upo in tagalog) with sardines was ready to eat. My co-parent said it's a simple food but healthy and yummy. Well, she was right and it is tasty with sardines. My daughter ate this food with me so I was very happy.
Ingredients:
Bottle gourd (upo)

1 Mega Sardine

Garlic

Onion

Tomato

Oil

Water

Salt and Pepper to taste
How to cook?
Heat the pan then add little oil. Sautee onion, garlic and tomato.

When it's done, add bottle gourd and little water. Season with salt and pepper. Cover

When the gourd is cooked, add a can of sardine. Wait for 1-2 minutes and it is done.

Serve hot with rice.
Bottle gourd (Upo) with sardines is a simple food. It is easy to cook and ingredients are already in your kitchen. So it is not expensive to cook this menu. This viand is a simple one but it is healthy and affordable. Try it!

You never know when a storm is going to hit. A powerful enough storm could knock out power and leave you and your family in the dark. When you want to be able to go on with some semblance of your normal life until the power comes back on, you can achieve this goal with mechanical options like Kohler home generators and other machinery. You can keep your main electrical systems powered up and also keep your food in the fridge cold by using one of these machines as a backup source of electricity.
Choosing the Model that is Right for You
The generator that you buy should depend to some extent on how big your house is and what kind of systems you want to keep running during an outage. You can view the types of generators for sale on the website. Each model comes with a full description of what it is capable of and what advantages it can offer you as a homeowner. You can also partner with the online business to have it properly installed.
Installing a generator properly is important if you want to avoid carbon monoxide and fire risks. Because it operates on fuels like gasoline, you need to have it properly installed so that you and your family remain safe. When you purchase the generator online, you can request that it be professionally installed in your home. The installation process is outlined on the website.
You can also find out about services like sales and maintenance. Maintenance is important when you want to avoid mechanical failures that result from lack of care and faulty components. The website allows you to click on the appropriate link or service that you need to keep your generator in good shape.
Getting a Quote Online
You may wonder how much these machines will cost you. Before you spend the money, you can get a free quote online. The free quote can be obtained by filling out the online form and then submitting it to the business. The form allows someone to contact you promptly.
You can also use the contact options outlined on the website. The company has representatives who can answer your questions and get you started on owning a generator today.
Your home's power is important to your life. You can stay powered up during an outage with generators.
There were vegetables and fruits in the fridge for days. I decided to make juice out of carrot and apple. I prepared the carrots and apple to be used. Then I got my juicer that hid from the cabinet for a long time. When I about to start the juicer I saw the cord was not in good form. So I decided not to use it. So instead of having fresh juice, I think of making smoothie and I will use my Shake N Go to make quick smoothie. I purchased this online and used one time only last summer. Now, that I will be using it again, I was shocked because it didn't work. When I clicked the power button nothing happened. I was sad not because I can't make smoothie but my Shake N Go was broken already and to think I only used it once since I bought it. Good thing we have blender so I used it to make shake/smoothie. I made two; carrot-apple smoothie and banana-apple smoothie.
These refreshing smoothies are my best companion this summer. It's not complicated to make and just put all the ingredients (choice of fruits, ice, milk and some water) inside the blender, shake it and it's done. Enjoy refreshing drinks and I believed it is healthy =).
As a homeowner, the idea of another repair can be enough to just about make you lose it. If you're like most, it can seem like the house you fell in love with feels a bit like a big pit where all your money goes from time to time.
While there's no way to escape home repairs if you want to keep your value up, you do have some options when it comes to how you repair your home. To spend your money well, you need to be smart about repairs.
Use this guide to help you figure out if you need a new driveway and how you should go about takin care of it. Your driveway is one of the first things people see when they visit your home, so it really does matter if appearances are at all important to you.
Determine Your Condition
Putting in a new driveway probably sounds expensive to you. With all of the other things going on at the average person's home, it can seem like an expense that's just not worth it. However, if you let it get too far, the overall expense will be much greater.
Start by surveying your driveway and trying to figure out what kind of condition it is in. Do you have big cracks or holes in your driveway? Are parts torn up and oil or water are getting into these areas?
You also need to consider the kind of damage that a badly damaged driveway can do to your car. Driving into a big pothole every single day doesn't make a lot of sense if you're trying to maintain a decent vehicle.
Do Repairs Early
Putting of repairs, especially on something like a driveway, is easy to do. Unfortunately, doing it for too long can result in some serious problems and major expenses.
Having a damaged driveway repaired is obviously much cheaper than putting a new one in. Don't wait when you see cracks and rough spots to get a professional to look at doing the repair work for you.
Get an Estimate
There are a lot of asphalt driveway contractors out there, and while many of them do good work, they aren't all reputable. Paying the right price is also important.
Get estimates and do your homework on any company before you hire them for a home improvement job.