Browsing Category: "Blogging"
Godaddy sent me an email regarding the domain renewal of this blog, I think last October. I don't know why I always forget to do so. Finally today I did it. So this blog is safe until January 2015. Well, I have to renew my hosting next month or early January for this blog to continue working.
Renewal code is really helpful because I got 50% off. Supposed to be my payment is 670 pesos but paid only half. If hosting has renewal code also it would be great heheh but I think it's impossible.
I can't believe this blog is alive since January 2011. Almost 3 years already. This was my very first owned domain and got it from a contest. Before this blog, I have one from blogspot and the latter is still working though I haven't posted regularly.
I heard from other bloggers that owned domain is preferred by advertisers so aside on this blog I'm managing five other bogs with owned domains. It's hard to manage all my blogs and some of them are not updated but I'm glad they still received tasks from advertiser.
Well, I will continue working in all my blogs as long as I am happy and receiving bucks, lol. Happy blogging and don't forget your domain renewal and hosting so your hard work here won't go to waste.
There are a number of services that we can offer to promote and market your business effectively. These services range from innovative SEO search engine optimization campaigns to PPC pay per click services which are aimed at getting more traffic sent to your website.
Building a site presence has become increasingly difficult for companies over the years when competition is rife and there are more and more companies offering the same products and services. However, with the proper marketing and strategic planning you can ensure that your company stays on top of the rankings by having the edge over your competition.
Broadplace offer innovative SEO services which cost effective and enable your company to stand out from the rest. Content creation may be difficult to come by but with our team of specialist SEO copywriters we can help you to boost your website presence and drive more traffic to your site. There are a number of happy customers who have given a positive Broadplace review of our services that has helped the company to succeed in realizing your plans for your company.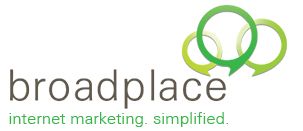 Broadplace aims to help you with the growth of your business and offers a range of solutions and features to ensure that your company is on the right track for significant growth from strength to strength. SEO solutions are primarily about obtaining results and achieving success from noticeable changes to your traffic which can happen over time if provided with the relevant services. Many companies spend a considerable amount of money on building traffic but they may not see the results they want if they do not consult with a professional SEO company.
We can offer professional and cost-effective services which can boost your company profile so that you can see significant results after the delivery of your services. In addition to SEO there are also invaluable pay-per-click advertising solutions which can help to develop your individual advertising campaign in an effective way. Your advertising campaign and brand should stand out from the crowd and you would want to get results which help to attract your target audience. PPC services can help to market your product effectively through efficient online marketing strategies.
The experts at Broadplace can offer dedicated account managers, regular reports and bespoke content creation for your individual website. If it's unique content you're looking for, we can offer a variety of copywriting services from articles to packages suited to your business so that you get the content you want and on time. Content creation is an important part of driving traffic to your website as an updated website is more likely to get more hits than one that has been left with the same content over a period of time. It is always helpful to have a social marketing campaign which utilizes social media to promote your content effectively and also gain a number of fans for your website. We offer social marketing services which help you to plan and strategize your social media campaign effectively. Some of the most effective marketing strategies are to utilize social media to promote your business effectively – our experts are ready to assist you every step of the way.
When I first started my website I admit that I was clueless how it works. A friend online persuaded me to try this thing and she said there's money in blogging. Since I was looking for job online I gave it a try. Without knowledge I started my very first blog/website. I started on posting anything but it wasn't enough. Later on I learned that for a website to be noticeable you have to work on it. Not only for personal website but for any business that requires marketing.   That was the time I learned about different terms and things like search engine optimization or SEO. They said the latter is important especially if you want your website or business to be popular. Based on what I read there are many things to consider before your website or business becomes acceptable and choosing the right keyword is one important thing to consider making your website visible in search engines. Well, I'm not newbie in making my own website but still considered myself as a newbie. I still have many things to learn and I should read more especially about this SEO thing and find out why this is important.

www.google-chart.com
Hello, I'm back again. I can't access this blog for almost a week because this blog got virus alert, its trojan something like that. Every time I view this blog it gives me error and the trojan virus appears. Well, I got busy with offline things so I haven't visited this blog that much and I only have the chance to open today. When I opened earlier I'm happy because I didn't see any trojan virus appear and to my excitement I clicked log in details but it gave me blank page. I thought it's because of my connection but to make sure I asked favor to my friends to see if they can view my log in details but same thing, log in page appears blank to them.
I asked help to my web hosting and glad the problem was resolved immediately. So here I am writing this post. I hope this blog will run smoothly again because for more than 3 years, this is the only dilemma I encountered. Anyhow, I just wanted to share the good news and I hope more opportunities online  this month of September and the coming months.

I'm so happy and feeling blessed. I saw tasks from one of my paid post sites when I checked my email this afternoon. And the good thing is that I have an option whether to write an original post or just copy the provided article. Of course I will select the latter. They already gave me some tasks few days ago so I'm really surprised with the new tasks they provided. I think I'm working in this site for a year already and so far today's month receives mostly tasks from them.  Anyhow, I'm really happy because so far the month of August has been good to me. If He will bless me with more tasks before this month say goodbye it would be much appreciated.
Before, I jump to my work online; I will help my daughter in her Assignment first. I will be back again later and hope to finish all my tasks today or before this month ends so I can get payout in the coming days. Feeling blessed!

When I opened one of my blogs I saw this message Bandwidth Limit Exceeded. The server is temporarily unable to service your request due to the site owner reaching his/her bandwidth limit. Please try again later. It's sad because I wasn't online for 2-3 days because daughter and I got busy with her first examination and Buwan ng Wika celebration in school yesterday.
Now, that I'm back online and ready to update all my blogs, I saw the above problem. So for now it's really impossible to open or see my blogs. I have 6 self hosted blogs. This blog is under 1 hosting and not affected, the other 5 blogs are under one hosting and affected by this bandwidth. I can't open the 5 blogs, sigh!
I hope my hosting provider can do something about this problem. I heard if this problem occurred in one blog the bandwidth will return next month or better ask for higher server not sure though. Anyway, I hope everything would be fixed as soon as possible. I really need to update all my blogs because some of them are being neglected. I'm thinking also the tasks I will be getting in one of my advertisers.
It took almost two hours before I finally shared the previous post. Its only a short post but its hard for me to publish it. For sure my PLDT wifi connection is not the reason but the laptop I'm using. This one is old already almost 7 years so I guess that's one of the reasons. If only I have extra money I will buy new one and replace this laptop. My work depends on this laptop and my connection so it's important to have fast connection at the same time good quality of laptop. Sigh, when to buy new one that is the question. I hope more opportunity online so getting new laptop is possible.
For now its really impossible to buy laptop because of my financial status. The better option is to bring this one to computer technicians maybe they can do something to make this laptop works fast. Been trying to post this for more than 30 mins, this simple post but the laptop stopped again. Whew, backed again after i restarted it works fine now. Hope to publish this one because i'm really sleepy. I thought I will enjoy the bed by 11pm but I'm still here past 12midnight. Anyway, goodnight for now.  I don't have the guts of updating my other blogs. This laptop gives me headache!