Browsing Category: "Beauty Product"
There are many types of makeup and many techniques for applying them. Sponges, brushes, fingers, and airbrushes are some of the methods that are used to apply makeup. Using an airbrush for makeup has been done for decades, however, until fairly recently it was a technique used primarily in show business. Consumers can now have makeup airbrushes in their homes, and they are remarkably reasonably priced.
An airbrush applies makeup quickly, easily, and evenly. Other methods tend to cause the makeup to settle into pores and lines, where makeup applied with an airbrush sits on top of the skin providing a smooth, more natural, and younger look. Makeup can be applied to the face or body using an airbrush. This is a fantastic option for those who want to look tanned for an evening out and did not have time to get to the tanning salon.
Makeup that is airbrushed onto the skin is hygienic and safe. There are no brushes, sponges, or other items that may carry bacteria coming in contact with the skin.
Makeup that is formulated and packaged to be used with airbrush systems comes in a wide variety of types and colors. Foundations for any skin tone are available. Blush to add a healthy glow is super easy to evenly apply with an airbrush. Airbrush kits are lightweight and portable making them perfect for vacations and business trips. Airbrushes for applying makeup are likely to become the number one method used in all households.
Last week SM City Lucena featured different crafts especially those hands made in Quezon, Province. One of the crafts featured is the soap farm. I was far when I saw some of their products; I got interest so I went to their stall. I was amazed because in front of me are delicious sweets like cake, cupcakes, donuts, and other yummy sweets. My first time to see all these sweet soaps creation and I never imagined that those delicious sweets are made of soap.
Here are some of their creations. The store keeper didn't give additional information but she said just like the other soap the materials used in their soap is similar to regular soap. They differ only because the soap is not the regular square soap but they come up with these tempting sweet soaps.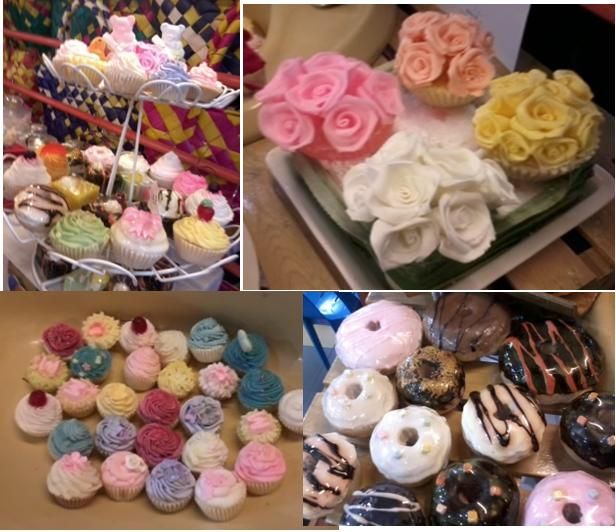 Your skin is an amazing thing. It's a living organ, constantly mending and regenerating itself. With just a little bit of work, you can help it out with that task, improving its shine and elasticity! The first thing is to know what type of skin you have: oily, dry, normal, or a combination. With any of these, your skin can also be sensitive and require softer skin products. For softer, less chemical-filled products, try organic skin care at EnviroProductsWorld.com.
Once you know what skin type you are, you can plan your skin routine accordingly. Dry Skin If your skin has very few breakouts and is often dehydrated, it's considered to be dry skin. To help moisten your skin, wash it once a day with a creamy cleanser and warm water. Keep your skin hydrated throughout the day with cream-based lotion. Avoid alcohol-based makeup, as that can dry your skin out further. Oily Skin Oily skin often looks very shiny shortly after being cleaned and is more susceptible to acne and other breakouts. Wash your face twice daily with warm water and a gentle cleanser that isn't foamy. Throughout the day, you can use oil blotting sheets to help keep your shine under control. Normal Skin "Normal" skin is skin that is somewhat oily on your forehead and nose while remaining dry on the cheeks. It may also change with the seasons and the moisture in the air, while those with oily and dry skin will encounter that all year round. Seek out cleansers designed for normal skin type. Combination Skin If you have a great deal of oil in one area of your skin, but other parts of your skin are extremely dry, you have combination skin. You will have to use a combination of cleansers recommended for oily and dry skin, applying them to individual areas.
I wonder if all the famous celebrities have undergone cosmetic and plastic surgery. There's no doubt they already have beauty from the start but sometimes they are not contented on what they have. So for sure plastic or cosmetic surgery is their companion. Here in the country we have famous cosmetic surgeons who work well but if you are in other place like Montreal in Quebec you can find many plastic surgeons as well. One of them is plastic surgeon westmount in the named of Dr. Sandra McGill. The latter is famous for doing breast enlargement, breast lift, breast reconstruction, tummy tuck, and liposuction. The said surgeon also does body contouring or non-surgical procedures. According to what I read this female surgeon embraces new methods and techniques and offer the best care for her patients.
So are you willing to try plastic and cosmetic surgery to look better? If yes, better check plastic surgery montreal specially those in Canada. Just visit their official site to know more about the different surgeries they are offering. Before and after photos of those people who underwent the different procedures were also provided.
Anyway, if you have other questions or queries in all the procedures, you can send them email or just simply call them. Just visit their site and make a schedule consultation with them. Enjoy life and be beautiful!

For the past days or should I say months I forgot to pamper myself. And now that school year is started it makes me busy everyday. My daily routine is sending and fetching my daughter at school and while at home I'm working online. I forgot already how to beautify myself. I realized still its important to make myself beautiful and I should not forget it even on a busy days. I have so many things in mind in order to pamper myself but I will do it one at a time. Maybe I will first go in a salon and have nail colors. Gosh, I can't remember the last time I did this thing. 
Anyway, to pamper myself is good to hear but of course this is not easy to do if I have no money to use. Going in a salon weekly or monthly is money consuming. So I think I should learn how to put nail colors and just do it by myself. With this I can save more money. My friend told me about Julep, it is a boutique nail salon that is selling huge collection of nail colors and hand and foot products. So, whatever the personality of a girl whether stylish, strong, witty, gorgeous or diverse, Julep has something to offer. Their nail colors are non toxic so we can never be wrong with their products. I am thinking of trying one of their products and see for myself how good their nail polish products.
I'm sure you will agree with me that every woman's dream is to look appealing all the time. And because of this we wish to try different beauty products in order to achieve the beauty we longing for. This is not a dilemma in some people who were blessed with good looks but for those who need a little change or sometimes a total make over a beauty expert is what we could do with. But don't you worry more because The Skin Shop is finally here to answer about our beauty concerns.
Wonder what is The Skin Shop? Well it was introduced by IFMANET Co., Ltd. in the year 2007. One year after they started exporting their product in Hong Kong in about 100 Bonjour stores. Afterward they brought their products in China, Japan and in Thailand, Taiwan, USA, Malaysia and Australia. From the year it was introduced until this date it was proven a good beauty regimen.
The Skin Shop is specialized in BB Cream and Snail Cream it has moisturizing effect, works as Sun Block and a foundation as well. Aside from that it has advantages like skin whitening, wrinkle prevention and UV Rays Protection as approved by Korea Food & Drug Administration's. These three things are needed to have smoother and younger look. For me this company has Beauty Magician, The Skin Shop is what we really needed to achieve the beauty we are aiming for.
Good thing we can reach them easily if they have new products or special promotion just visits their sites at http://theskinshop.en.ecplaza.net or http://www.the-skinshop.com.
Aside from that you can follow them in their Twitter account – http://www.twitter.com/Global_Ifmanet.
Visit them in their official Facebook Fan Page Account – http://www.facebook.com/pages/The-Skin-Shop/221296321229718.
Don't let this opportunity to sweep away.