Browsing Category: "Asian Series"
Last week I bought DVD of Lie to me. It is a South Korean romantic, comedy drama starring Yoon Eun-hye and Kang-Ji-hwan. This is not new because it was aired last year in South Korea and I think it has been tagalized on GMA 7 (not sure though). Back to the DVD, the one I bought isn't original. I know it's not right to buy or support pirated CD or DVD. But I'm just being practical =). For the price of Php 35, I can now enjoy watching this hit Korean series. The price is very reasonable and the quality of the DVD is good just like I'm watching the original copy. The only problem is my TV because it's acting weird lately. Most of the time it's only black and white (just like watching the old-time). And there are times it has color but only red and blue. Well, it doesn't matter as long as the quality is good. Forget about the color of my television, hahah.
Lie to me has 16 episodes. I already watched 9 episodes and still 7 more episode to finish. 8 or 9 episode made me cry earlier. I'm so excited what will happen to Yoon Eun-hye and Kang-Ji-hwan. Will they continue lying or acting like they were married?
Here is the synopsis of Lie to Me.
The series revolves around a civil servant named Gong Ah-jung (played by Yoon) who pretends to be the wife of the wealthy hotel heir, Hyun Ki-joon (played by Kang) in order to impress her former friend. Gong Ah-jung (Yoon Eun-hye) is a fifth-level government employee of the Ministry of Culture, Sports and Tourism. At the beginning of the series, Ah-jung lies to an antagonistic friend about being married as a form of revenge. The lie quickly snowballs (due to several misunderstandings) until Ah-jung realizes that everyone is gossiping about her supposed, secret marriage to Hyun Ki-joon (Kang Ji-hwan), the very wealthy president of World Hotel. As the rumor spreads, a miserable Ki-joon is forced to combat the rumors to his friends as he decides a plan of action in getting Ah-jung to correct her lie. Ki-joon and Ah-jung decide to take action to squash the rumors, with Ah-jung agreeing to call together her friends so she can confess her discretion. When this doesn't go as planned, Ki-joon decides to take legal action against Ah-jung. However, after a series of events that bond the pair together, they both agree that pretending to be married for a short while would be mutually beneficial though Ki-joon promises that Ah-jung's lie is not forgiven and that he will eventually go ahead and follow through with his lawsuit. Things become even more complicated when Ki-joon's ex-fiance, and a close friend of his brother Oh Yoon-joo, returns from France. After a friend of Ah-jung sees Ki-joon and Yoon-joo togeher and raises suspicious of infidelity to Ah-jung (and leaves Ah-jung embarrassed), Ah-jung forces Ki-joon to promise that he will not be caught with any women for the duration of their sham marriage. Ki-joon and Ah-jung grow closer and more fond of one another over the duration of their marriage and Ki-joon finds himself questioning his commitment to his former fiance Yoon-joo. Eventually, however, Ki-joon makes the decision to be with Ah-jung despite the heartache he is sure to cause his ex lover.
Source: Wikipedia
I love Korean series but I don't have the chance to watch any of them lately. I guess, it's because my TV is acting weird already. I don't want to watch Korean series online because for me its time consuming especially waiting for an episode to download. I'd rather buy DVD and watch all they long. 
Anyway, soon A Gentlemen's Dignity will be airing on ABS-CBN. I heard the story of this Korean series is nice so hopefully I will have a chance to watch this.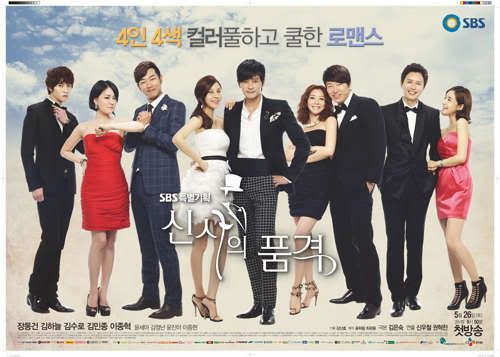 Here is the synopsis of A Gentlemen's Dignity from Wikipedia
Billed as a male version of Sex and the City, A Gentlemen's Dignity is about the careers and love lives of urban professionals. It tells the story of four men in their forties who have been friends since they were eighteen, as they go through love, breakup, success and failure. 
Kim Do-jin is a ladies man who meets Seo Yi-soo and begins a one-sided love. He discovers that she has a crush on his best friend Im Tae-san. Tae-san is dating Hong Se-ra but troubles arise when she reveals she doesn't want to get married. Choi Yoon is a lawyer who is still recovering from his wife's death four years ago but begins to have feelings for Tae-sans much younger sister, Im Meari. Lee Jung-rok is married to a rich woman, Park Min-sook, but constantly flirts with other women which causes problems in their marriage. Meanwhile a teenager named Colin comes toKorealooking for his biological father…
City Hunter on ABS-CBN is the newest and biggest Korean action-drama series. This is long waited because it was announced since last year. Finally this series will starts today on Primetime Bida. Honestly, I don't normally watch Korean drama or series in television because there are many cut scenes. I prefer to buy DVD and its more comfortable watching it anytime of the day. Anyway, I heard about City Hunter long time ago before it was introduced on ABS-CBN but haven't watched it. But I will surely watch the premiere today and later buy DVD. Lee Min Ho stars in City Hunter so I will truly watch it because I like him ever since I saw him in Boys over Flowers.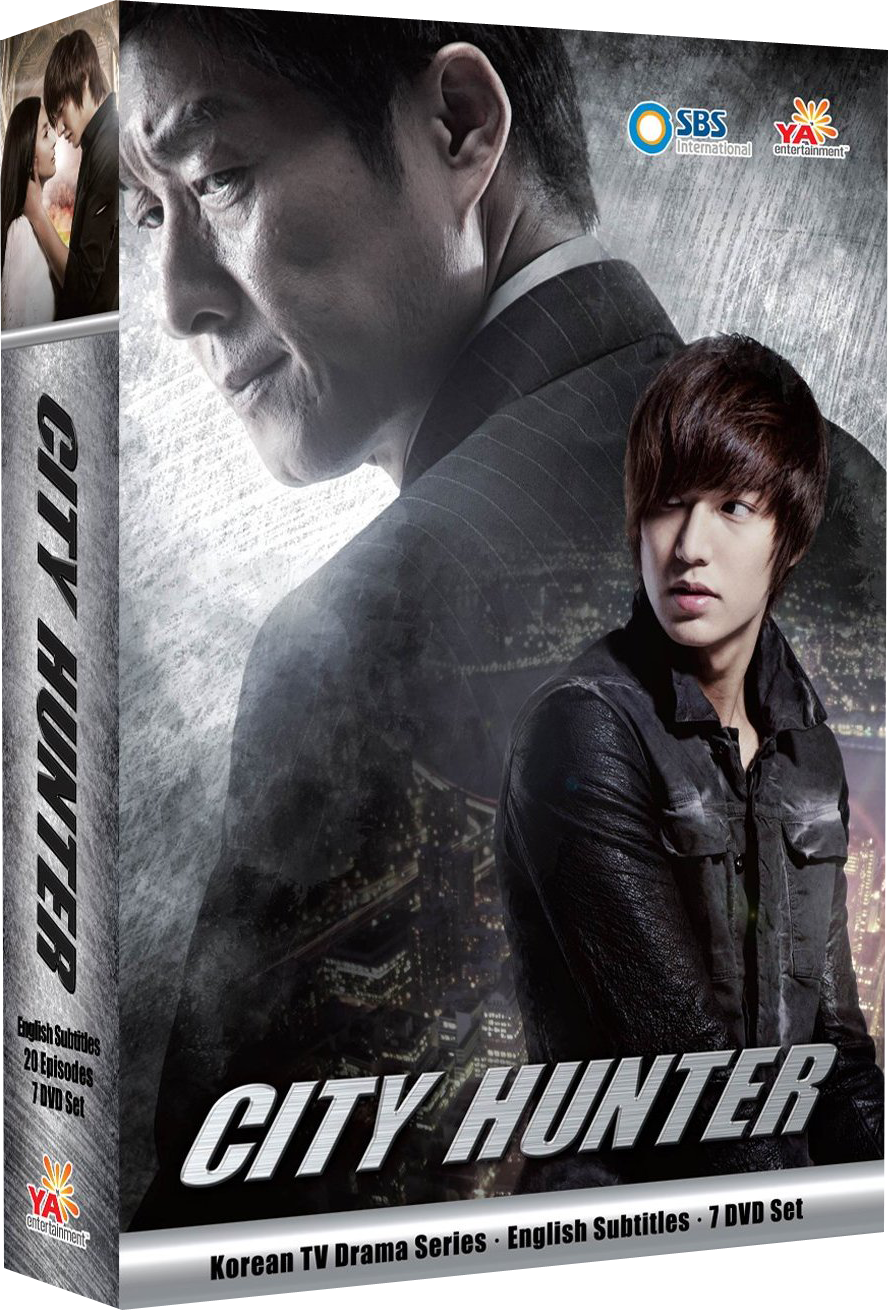 Synopsis: (source: ABS-CBN)
City Hunter" tells the story of Johnny Lee (Min Ho), a charming and smart young man who works at the Presidential residence called the Blue House.
But behind his massive appeal to women, intelligence and pleasing personality lies a son trained to kill and seek revenge for his father. His mission is to make five politicians responsible for killing his father pay with their own lives
Despite being a skilled assassin, the task wouldn't be that easy for Johnny because he has to follow three rules on his mission— he can't trust anyone, he can't reveal his true identity, and he can't fall in love. All of these will be put to test when he meets Kim Na Na (Min Young), a body guard at the Blue House. As Johnny unintentionally falls in love with Na Na, he must also choose which path to take.
Another Korean drama series will be airing this month on ABS-CBN. Its called Helena's Promise in the Philippines but its actually named as Scent of a Woman. I am excited to watch it because of the outline of the story.
Here is the synopsis of the story. ((from wikipedia).
As a single, unmarried woman in her mid-thirties, Lee Yeon Jae (Kim Sun Ah) is meek and timid, considered a spinster by society. After spending ten years working for the same travel company owned by Kang Chul Man, she is falsely accused of stealing from a client. In addition to enduring the accusations of her superiors, she is diagnosed with gallbladder cancer with approximately six months left to live. Mustering up her courage, Yeon Jae resigns and embraces her remaining six months of life.
Embarking on her first vacation alone, she splurges on clothes and flies first-class to Okinawa, Japan, where she runs into her dream man, Kang Ji Wook (Lee Dong Wook), the son of her former boss. Ji Wook is a young rich man, cynical and lifeless, until he falls in love with Yeon Jae. Together they live out a series of misadventures, both comical and bittersweet, as Yeon Jae completes each dream in her Bucket List.
I confessed that I loved to watch Asian series whether it's Japanese, Taiwanese or Korean series. I love how the story delivers it's not so complicated unlike here in the Philippines (sorry for that). I said complicated because sometimes series here runs for a long time. They always added characters which made the story complicated. Anyway, for sure I will watch Helena's Promise. Watching Asian series is my passion right now. For me watching them make me feel relax and forget worries while watching.  
My Fair Lady also known as Take Care of Agasshi / Take Care of My Lady / Take Care of the Young Lady is the newest Korean series in ABS CBN airing time is on Kapamilya Gold. It was started last Monday but hasn't watched it. But for sure as an Asian fanatic I will surely watch this either online or dvd when i'm not busy. And besides i'm still watching My Fierce Wife. Maybe i should finish this one first before jumping to another one, wink!
Here is the synopsis of My Fair Lady
Kang Hye Na, the only successor of Kang-san Group, is the owner of the 'LadyCastle' and lives a 'princess-like' life with her servants. Hye-na's parents died from a plane accident and her grandfather brought her up. Hye-na is strong-headed, selfish and world revolves around her; it is because she could not experience the warmth of family when she grew up.
One day, she comes across Dong-chan. He makes Hye-na to do community service, kidnaps her, and now appears in front of her as the new household manager! Hye-na makes every effort to throw him out from the Castle, but this guy has tenacity in him!
I haven't finished watching Korean series Pure love a.ka. 49 Days but now I have another Taiwanese series that I'm eager to watch. I'm talking about "My Fierce Wife" that will be aired in ABS-CBN next week. The story is about a girl who was happily married with one daughter until her husband cheated on her with her own cousin. The ensuing divorce became a battle of love and wits. This kind of story is interesting for me so definitely I will watch it but will finish first Pure Love I'm on my half way now =) … the Asian series obsessed strikes again.
I confessed to you last time that I'm addicted to Asian series. Now another successful Korean series will be aired in ABS-CBN.  Pure love also known as 49 days will be seen on Philippine TV this coming July 11.
Here is the synopsis of this series  – Shin Ji Hyun was enjoying absolute bliss as she was about to marry her fiancé, Kang Min Ho, but her perfect life is shattered when she gets into a car accident that leaves her in a coma. She is given a second chance at life by a reaper, but it comes with a condition: she has to find three people outside of her family who would cry genuine tears for her. In order to do this, she borrows the body of Yi Kyung, a part-time employee at a convenience store for 49 days.
Sounds interesting to watch, right? Anyway, I don't normally watch Asian series/tagalized on TV because it has cut already. I usually upload all the episodes first then transfer it in Kyla's mp5.