Browsing Category: "Celebration"
Hello September, time flies. For sure i will be seeing Christmas decors in the mall, selling lanterns in the street and hearing Christmas songs. Here in the Philippines has the longest celebration and it is start when "ber" month comes. I don't really watch TV shows but if I could, I watch, Its Showtime. It is a noontime show on ABS CBN.  Earlier, in their opening number, the theme was Christmas. They sang different Christmas songs. So, it is really true Christmas here starts when September comes. We are always excited and look forward to holiday celebration but we can't deny that it's also means expenses. Oh well, Christmas only happens once a year so we need to embrace it and be happy for we are celebrating this yearly. God is good all the time.
This is my all-time favorite Christmas song, Christmas in our Hearts by Jose Mari Chan. The video is not mine. Thanks to the owner.

Hello December, why time is running so fast? So, unlike the previous years, we set our Christmas tree this year just few days ago. Before we did it right after All Souls Day but this year is different. It is not we don't feel Christmas yet but I think we are just lazy to do it. Our christmas tree is huge, not sure though if it is 10 feet tall, but ours almost reach the ceiling.     
So, last Dec. 3 we finally set it. Just like last year, the colors were combination of red and gold. We used the old ornaments but we add more balls. My mother bought bigger balls this time. As i said our xmas tree is tall so i think bigger ornaments are better. Last year we put big star on top but for this year we changed it just like what we saw in one of the malls here. 
So this is it, our christmas tree for this year's Christmas 2016. How about you? Have u set your christmas tree already? I bet the answer is yes. Advance Christmas greetings from my family to yours. May we all have a  merry and joyous Christmas celebration.       
Save
Save
Save
Ber is here, it is only mean that starting from this month, September to December we will be celebrating Christmas already. We Filipinos celebrate Christmas the longest time than any other countries. As early as September, Filipinos are already starting the preparations for this special celebration. Some are already doing early Christmas shopping and planning. I saw Christmas tree and ornaments selling in the mall as early as August. I heard Christmas songs start playing on radio and everywhere. Indeed, it is in the air, time flies!
Last year, I didn't plan the holiday ahead of time so ended up rushing everything. I don't want this thing to happen again so as early as today I was thinking on what to give especially to my loved ones.
Anyway, here are my top 2 Christmas songs that I always love to hear because of the message of the songs. How about you any favorite Christmas songs?

Christmas in our Hearts by Jose Mari Chan
Sa Araw ng Pasko by All Star Cast
I give credits to the owners of these videos.
Every year, on the last Friday in April, we celebrate the majesty and importance of trees to our community and our planet with Arbor Day. There are many ways you can celebrate this important holiday, including throwing an Arbor Day party, volunteering for a planting event, or spreading the news at a charity function. While it's important to make a practical difference and help the environment, you can also do it in style. Here are some tips to making your next arbor day both useful and enjoyable. The earth will thank you for it!
First, look for planting events in your area and attend those events with your trusty shovel. You can easily help transplant saplings to a protected area with little to no tree-planting experience. It really is as easy as digging a big hole, placing the root ball in the hole, refilling the hole, and adding some water. Mulch will keep down on weeding, but someone should plan to water the new tree regularly until it is established. Unless you can find room to plant a tree on your own property, work with a charity group to find your planting opportunity.
Next, consider campaigning for trees at a charity event or political occasion. Lobbying for more natural areas and parks or agitating for more green space in urban areas are all good ways to celebrate the value of trees. Again, nonprofit organizations are the best way for you to find out how to help. Let your voice be heard in your community by speaking out on the importance of trees.
Finally, consider throwing a party to celebrate Arbor Day, either to raise awareness or to raise money for a tree-related cause. Get an ecologically-minded band to play, or hold contests with appropriate prizes like the willow tree figures by Coppin's. You can even get a tree-themed mascot or entertainer to keep your guests amused. You'd be surprised how much money and attention you can raise with an exciting event. Tell the world about the importance of trees on the holiday dedicated to their importance.
The world needs its trees, especially with the current environmental crisis that is looming. Trees clean our air, prevent erosion, and feed us. Arbor day is the perfect opportunity to spread the word about how trees make the earth habitable. You too can make a real difference for trees.
It might be the beginning of the year, but big businesses are already looking forward to next Christmas season. They might be planning employee hires and organizing their inventory costs for those busiest days of the year. Consider some of the preparations that businesses employ early in the year for Christmas and how consumers ultimately benefit.
Big Stores Contemplating Decorations
You may not think much about big Christmas ornaments purchased by big retailers, but it's a good indication of a strong, holiday-season preparation plan. Businesses that cater toward consumers during the holidays need an impressive Christmas display to draw people into a building or store. Huge Christmas trees and towering toy soldiers are just a few of the items that you can find at these specialty holiday-material stores. If you see a big store accepting a shipment of reindeer into their back door around June or July, you'll probably see those items on display in a few short months.
The Bottom Line
If you're wondering why the holiday season is such an important time for businesses, it's because of the final year-end profits. In many cases, businesses tend to operate with some losses throughout the year. Shoppers don't steadily buy toys, perfume or other nonessential items. The holiday season presents retailers with several occasions to sell items. With the influx of customers and buying power, retailers will finally see profits as the year ends. The promise of a strong year-end prompts retailers to deck out their stores with ample decorations that make shoppers smile as they check out.
Great Shopping News For Consumers
The holiday shopping season used to start after Thanksgiving, but retailers quickly learned that sales are possible before that date. Black Friday doesn't have to be the
only day for discounted shopping. In fact, retailers are creating these deep discounts for shoppers in September and October too. When one item is discounted, the shopper might buy another product at normal cost. In the end, the retailer turns over its stock and provides a strong service to the customer.
Get in the spirit of Christmas early in the year by looking for those limited edition ornaments. Almost every retailer has some ornaments for sale year-round that allow you to deck out your tree in grand style. When you're prepared for the holiday season, you can enjoy it even more without any stress involved.
Last November 7, SM City Lucena launched their Christmas centerpiece called "Merry Ferris Wheel". After a short program (I think less than 30 mins.) all the lights lighted up  and was opened to the public afterwards.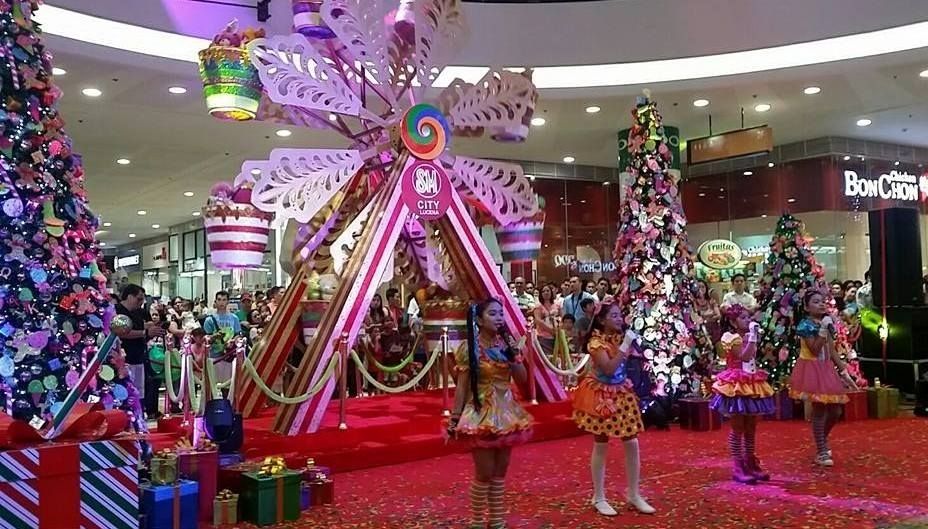 Kapuso actress "Kris Bernal" was spotted doing posing in the SM City Lucena Christmas centerpiece the day after it was launched. I think she was there to promote a shoe brand and made picture taking in this Merry Ferris Wheel after her duty. I didn't see her but we were there yesterday, maybe I was a little bit late because we went to the church before going to the mall.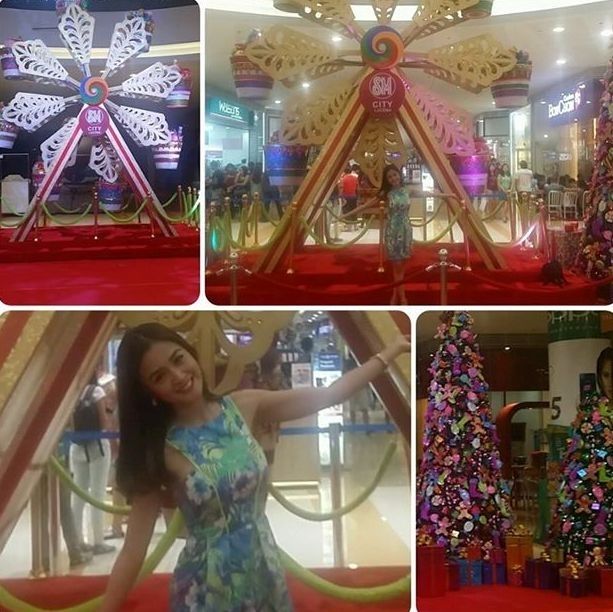 My daughter with her cousins. Christmas trees ornaments are colorful candies all made of styrofoam (i think).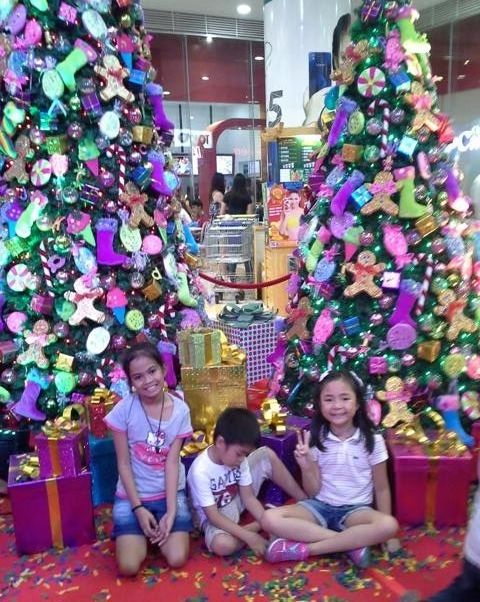 Crazy with falling confetti, they were crazy playing confetti's for a long time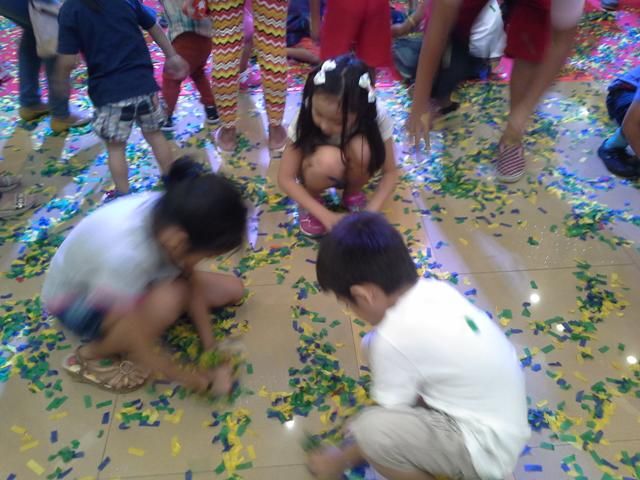 Kids were happy seeing these three Christmas characters especially Santa Claus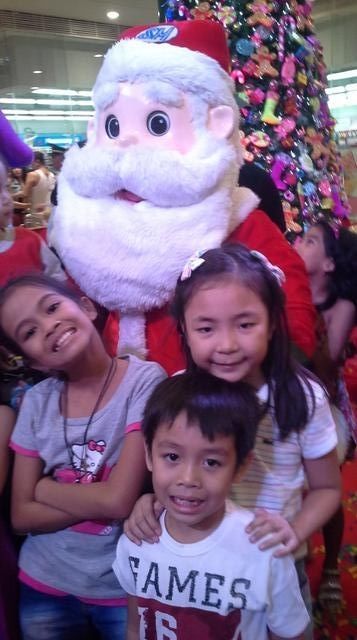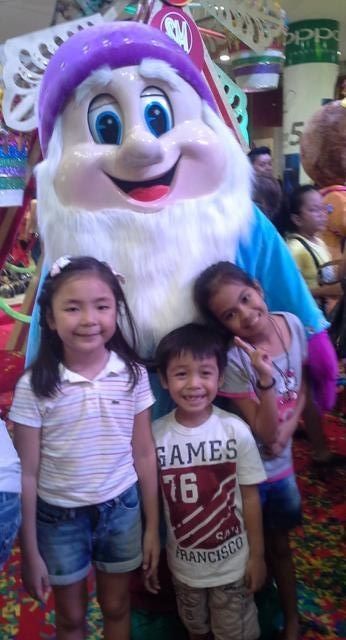 Disclaimer: First two photos are not mine.
Christmas is in the air, I can feel Christmas already in the house because of the huge Christmas tree in our simple abode. Well, 45 days to go before Christmas and we know that time flies. I'm sure many are already doing their Christmas shopping and putting Christmas ornaments in the house as early as September. We have Christmas tree already, thanks to my nieces and my daughter who set out tree for this year. This wasn't new in fact we used this last year and we just made little changes like adding additional ornaments and Christmas lights. My mother wasn't happy with the height of our tree because it almost reaches our ceiling. I'm not sure if this is 8 or 9 ft. but it's really high. Well, we can't do anything about it and beside its pleasing and the first to see in the house if there are visitors.

Late post. Last Sunday was Grandparents day. Sadly, my daughter didn't celebrate it with her grandmother. We invited her to attend mass but she refused. Sometimes, she has this lazy day and it happened that day, lol.
Anyway, my daughter and I attended the mass in the mall. I was happy because she was chosen to participate in the offertory. She brought one of the candles. This wasn't her first time but I always grateful. Not all the kids are giving opportunity to do the task and I always telling my daughter that being chosen is a blessing from God.
So back to grandparents' day celeb, before going home we purchased this small chocolate cake. My daughter gave it to my mother when we came home while greeting. I think my mother didn't know it was her day, hahah!
As a way of celebrating the day of lolo's and lola's, the supermarket treated them by giving free coffee and bread.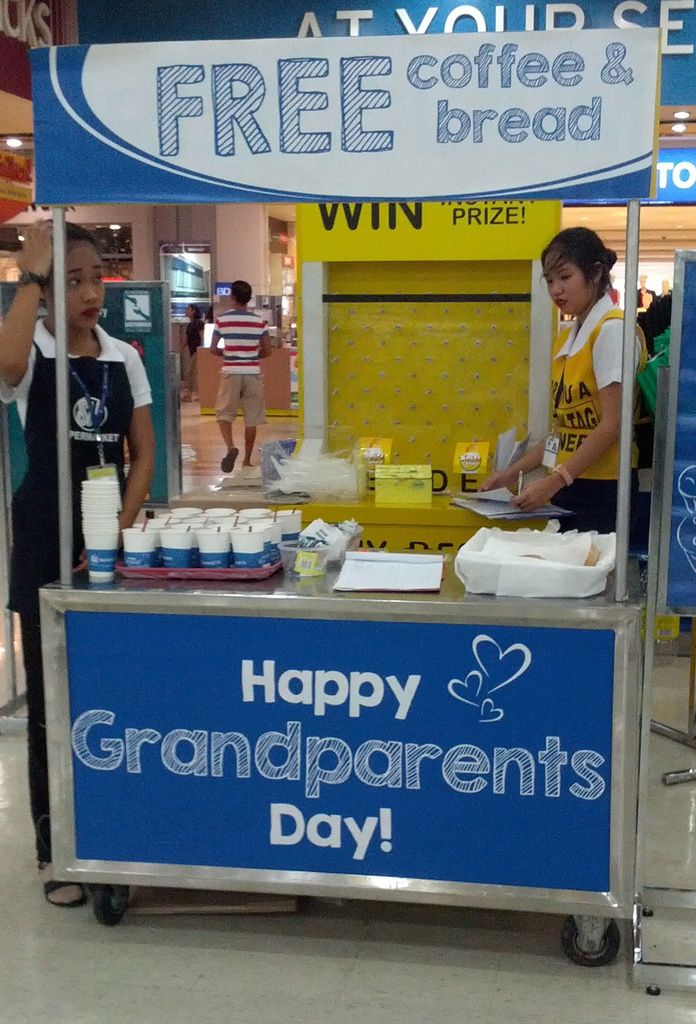 I know this post is late already but still I want to greet them and extend my sincere thanks most especially to my mother who has been there for my daughter ever since. Thank you for all your help and guidance. Next time do celebrate your day with your grandchildren.
I wouldn't n want this day pass without greeting our dearest Mama Mary. Happy happy birthday to you, our mother. Thank you for taking care of your children. I know it's too much to ask on your birthday but please do help your children all over the world, especially those in Syria.
"Always stay close to this Heavenly Mother, because she is the sea to be crossed to reach the shores of Eternal Splendour."
–Saint Padre Pio