Browsing Category: "Entertainment"
I have decided not to renew my travel blog. It will expire in October. I haven't updated the blog for a year. I don't want to go to waste some of my posts. I will post many of my travel posts here so I can still read and see the places we have already visited.
This is the start 🙂 I saw this post while browsing my travel post. The photo of Yassi and my daughter was taken in Baluarte, Ilocos Sur.
Yassi Pressman will be here for Niyogyugan Festival 2018. She will join Niyogyugan Grand Parade with JM de Guzman happening on August 19.
Yassi Pressman is a Filipino-British model, actress, television personality, occasional singer, persistent dancer and VJ for MTV Pinoy. Some of her popular movies were Diary ng Panget, Talk Back and You're Dead and Girlfriend for Hire. She portrayed the lead role in the latter movie. For me she is kind-hearted because when I approached her to have photo with my daughter she smiled and say yes to me. Aside from that she is also pretty even without make-up but I think she is not that tall. Anyway, so glad to see her in Baluarte when we visited Vigan last Holy Week.
Update on Yassi, you can watch her in "FPJ's Ang Probinsyano on ABS-CBN Primetime Bida.
Korean addict like me always find a way to watch Korean drama whenever and wherever you are. I used to watch Kdrama on dramacool but their site had issues so I searched other sites. There are many apps that you could watch Korean and other Asian series online and most of them are free. But you need to get premium account to enjoy full access.
I decided to get this K drama app by X-Reve because the app is very easy to use. You don't need to register and use the app right away after you download in your mobile device. They have wide selection of Korean drama but you need internet or wifi connection in order to watch. I just hope they will have the option to download episode so I could watch even offline.
Viu is another app but unlike the app above you need to register. You can also download episode but limited to one episode. You need to delete after you watch it and download another episode which I don't like. Two episodes would be fine but as I said limited to one. But you have the option to get premium account and download multiple episodes and watch them even offline.
Well, I prefer the app that I am currently using because it is free. We have good internet connection so watching is not a dilemma. I still hope that they will update the app and come up with the option to download episode so I could watch offline.
My Korean drama addiction started when I first watched Taiwanese Meteor Garden way back 2003 aired on ABS CBN.  Everyone was hooked with this drama. Because of Meteor Garden I got to know Kdrama, Meteor Garden wasn't Kdrama but this drama introduced me to Asian drama.
Last night while watching ABS CBN program, they showed teaser of the remake of Meteor Garden. Good to know ABS CBN will air the remake of Meteor Garden anyway they are the one who opened us to Asian drama. There's no release date yet but for sure I will watch this drama. I just hope I will meet my expectation because even 15 years had passed I still love the original Meteor Garden. I have watched this for many times without being  bored.
I'm looking forward to the new cast led by  Shen Yue as Shan Cai. Playing the iconic F4 this time around are Dylan Wang as Dao Ming Si, Darren Chen as Hua Ze Lei, Connor Leong as Mei Zuo and Caesar Wu as Xi Men.  I heard the show was already airing in China. My niece said they already watching it in Netflix.
This Chinese version is being produced by the original creator of "Meteor Garden," Angie Chai. As with previous iterations, it will be based off the Japanese manga, "Hana Yori Dango."
As I said in my old post, my niece recommended this Kdrama "She was Pretty". It has 16 episodes; I already finished watching this kdrama. Good thing I watched it because I do like it. It is light drama and comedy at the same time. I laughed a lot especially with the lead actress, Hwang Jung-Eum and Choi Si-Won who played as Kim Shin-Hyuk. I do like the lead actor as well. Park Seo-Joon. I watched some of his drama and he has drama airing now under TVN which os Whats Wrong with Secretary Kim with Park Min-Young.
Back to She was Pretty , i cried and laughed in this drama.  I cry easily if there are sad scenes sometimes its not really something to cry on but i see myself crying while watching.  Anyway, i didn't know that She was Pretty was old kdrama already in fact it was aired 2015 but i just watched it, thanks to my niece for the recommendation because i enjoyed this drama. 
Synopsis
When Sung-Joon (Park Seo-Joon) was young, he was ugly and fat. He also didn't have any friends, but popular and pretty Hye-Jin (Hwang Jung-Eum) became his friend. She gave him comfort on rainy days when Sung-Jung feels traumatised. They held a special connection with each other, but Sung-Joon and his father moved to the United States.   15 years later, Sung-Joon returns to South Korea. He and Hye-Jin are set to meet again for the first time in many years, but Hye-Jin is unable to show herself in front of Sung-Joon who is looking for her. Both of their appearances have completely changed. Sung-Joon is now handsome and perfect in his appearance, while Hye-Jin looks nothing like her former pretty self. Hye-Jin is also unemployed and looking for a job.
Hye-Jin then asks her best friend Ha-Ri (Koh Joon-Hee) for help. Ha-Ri is to pretend she is Hye-Jin and go meet Sung-Joon. At their meeting, Ha-Ra pretends to be Hye-Jin and tells Sung-Joon that she is leaving for England the next day to study. Later, Hye-Jin, as an intern at a fashion magazine, meets Sung-Joon who is an editor at the fashion magazine. (Asianwiki)

I recommend watching this Kdrama, I hope the story will meet your expectation just like what i like. What to watch next, any suggestion?

I'm back in watching Korean drama. I can't remember what the last Kdrama I have watched. So, I started watching Kdrama again and just finished watching Go Back Couple. This one is currently airing on ABS-CBN in the afternoon.
Synopsis
Choi Ban-Do (Son Ho-Jun) and Ma Jin-Joo (
/Jang_Na-Ra">Jang Na-Ra) are both 38-years-old and a married couple. Choi Ban-Do has been burdened with being the breadwinner and Ma Jin-Joo is a housewife with low self-esteem. Even though they loved each other when they married, they now hate each other. They both regret marrying at such a young age. The couple travel through time and find themselves as 20-year-old university students, when they met for the first time. (source – http://asianwiki.com/Go_Back_Couple)
I like this drama, the story is not complicated at all. It has only 12 episodes. I finished this drama after three days because I only watching during my free time. I'm not familiar with the lead actor but I know the lead actress, Jang Na-ra. Well, if you are looking for light Kdrama this one is recommended. Light drama, romance and shows funny side as well. Now, that I have done watching this I need to check "She was Pretty", this Kdrama was recommended by my niece who also loves watching Kdrama. Another niece recommended me to watch "Whats Wrong with Secretary Kim" so these two will be in my list and will surely watch them. My daughter is still in vacation so I have free time to watch Kdrama.

We were all shocked by the sudden death of Ms. Isabel Granada. I'm not a fan but I admired her beautiful face especially her pretty eyelashes. Her looks didn't change since That's Entertainment days. Sadly, after Isabel, I heard sad news again, this morning; I was surprised that Franco, one of the members of Hashtags died due to drowning. The incident happened last November 11, and I only heard the news today.
Franco's Its Showtime family was in New Zealand to attend Anne Curtis wedding. Based on what I read online, they heard the news already and Anne gave respect to Franco by giving a minute of silence for this young boy.
Sorry, but i just want to share this thing, here in my blog. I know, its a sad thing but I'm a fan of Its Showtime and i know how they feel.  What happened to Franco was really shocking and I can't believe this happened to him. Well, we may not understand why these things happened, but I guess God has another plan for the two of you. Ms. Isabel and Franco may both of you rest in peace
Sigh… I just realized, in reality, we don't know what will happen tomorrow so we should live life to the fullest because we only get to live once.
Who doesn't love korean drama? I have youtube channel that shares korean drama. I was surprised to know that many are hooked in kdrama all over the world based on the visitors checking on my posts. I forgot when was the first time and what was the first Kdrama I watched. If my memory is right, it was Autumn in my Heart. I cried a lot on this one. Sadly, Song Hye Kyo died in the said drama but overall I liked the story. From then on, I started to watch Kdrama so its been a decade.  
 Before in order to watch Kdrama, I had to rent a DVD but this time it is easy to watch korean drama. You can even watch the latest kdrama airing in Korea. I have favorite site that I watch korean drama and the nice thing about this site, i can download it first and watch later during my free time.
Anyway, why I suddenly talk about korean? I watched Its Showtime and heard Anne Curtis mentioned Gong Yoo. If you doesn't know him, he was the lead actor in the movie "Train to Busan" and also he was from the kdrama "Goblin" last aired January 2017. So, Anne is watching korean drama as well. Even celebrity like her in love with korean drama. Anne Curtis is watching Goblin which I just finished few days ago.  Oh by the way, Vice Ganda was also a fan of korean drama. He is watching Love in the Moonlight,  this one is currently airing on abscbn. I watched Vice Ganda's celebration of his birthday in GGV and Jin Young one of the casts of Love in the Moonlight greeted Vice Ganda. Wow!   
I have to admit that I'm enjoying korean drama than our own series. Sorry to say that but I really love their stories whether it is comedy, drama, fictional or whatever, hahah!. And also the charm and looks of the actors and actresses. I also like the scenery and their foods. I really like them so I hope one day I will have a chance to visit Korea. Saranghae :>

ABS-CBN sets to air 7 Korea's biggest hit series. As a big fan of Kdrama I'm happy hearing the news. Finally ABS-CBN is back airing Kdrama. For this year they announced to air this 7 kdrama series  including "Love in the Moonlight," "Legend of the Blue Sea," "Hwarang," "Goblin," "Weightlifting Fairy Kim Bok-joo," "W" and "Doctors."
I believed the first to be aired will be Love in the Moonlight replacing Pinoy Big Brother (PBB). Love in the Moonlight stars Park Bo-gum and Kim Joo-yung is a romantic comedy about a young prince who falls in love with a woman disguised as a eunuch.
Lee Min-ho will be back on Philippine television along with Jun Ji-hyun in Legend of the Blue Sea, a love story between a man and a mermaid.
"Train to Busan" star Gong Yoo will also make his television comeback as an immortal protector of souls in the fantasy series Goblin.
Weightlifting Fairy Kim Bok-joo is about the coming-of-age series about a group of college athletes. Next  is Hwarang about a group of young, handsome men devoted to defending the king.
Fall in love with W (two worlds) starring Lee Jong-suk and Han Hyo-joo. "W" tells the story of a woman pulled inside the parallel world of a webtoon created by his father. Finally Doctors  starring Park Shin-hye and Kim Rae-won. It is about medical drama which features the love story between a rebel turned neurosurgeon and her mentor.
I already watched Love in the Moonlight, Legend of the Blue Sea, W and currently watching Doctors. I will watch the other three especially Weightlifting Fairy Kim Bok-joo. Although I prefer watching in Korean language, I will definitely see them also in tagalized version.
The new show of ABS-CBN "Your Face Sounds Familiar (kids edition) started last week. I watched all the episodes of season 1&2. Now, I'm excited to watch it again because talented kids' will be the contestant. I look forward to watch McNeal Briguela better known as Awra, an internet sensation. Aside from him, I support Justin Alva he is from Lucena city, my place. He was one of the finalists of The Voice Kids season 3.
Your Face Sounds Familiar is a singing and impersonation competition for celebrities; it is based on the Spanish version of the same name. Last week first episode Awra won the first challenge and took home 50k. He performed as Mommy D (Manny Pacquiao's mother).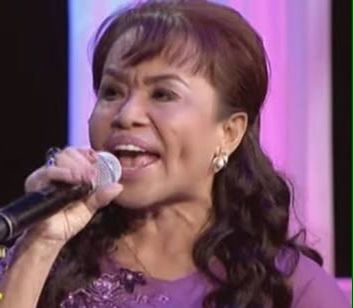 Mommy D
Awra as Mommy D
Wow, I was impressed on his performance and he really looks like Mommy D. I agreed to the three judges; Sharon Cuneta, Gary Valenciano and Ogie Alcasid for making Awra as the first weekly winner. By the way, the first two judges were also the judges in season 1 and 2 while Ogie Alcasid replaced Jed Madela. I'm excited for tonight and tomorrow's episode. These kids are really adorable so I'm really excited to watch all their performances in the coming weeks.
Save
Save
Save
Save
ABS-CBN finally announced their first Korean drama this 2016. My Love Eun-Dong, ABS-CBN named as My Love, Donna will be airing this coming Monday, March 14 on Kapamilya Gold, after Tubig at Langis.
The story is about Eun-Ho (Joo Jin-Mo) who is a popular actor. He has loved Eun-Dong for the past 20 years but hasn't seen Eun-Dong for a long time. Would the two be together in the end?
The lead casts are Joo Jin-Mo, Kim Sa-Rang and Kim Tae-Hoon. It has 16 episodes, released last year, May 29 – July 18, 2015. The writer was Baek Mi-Kyeong and Directed by Lee Tae-Gon.
So have you watched this kdrama already? I haven't watched this kdrama but the synopsis and trailer released by ABS-CBN looks appealing. I will find time to watch this not sure though if tagalized or stick with the original language. Sometimes I prefer Korean language because tagalog version do cut many scenes. Anyway, I made photo compilation of some of the scenes of My Love Eun-Dong or My Love, Donna on youtube.