Browsing Category: "Entertainment"
We were all shocked by the sudden death of Ms. Isabel Granada. I'm not a fan but I admired her beautiful face especially her pretty eyelashes. Her looks didn't change since That's Entertainment days. Sadly, after Isabel, I heard sad news again, this morning; I was surprised that Franco, one of the members of Hashtags died due to drowning. The incident happened last November 11, and I only heard the news today.
Franco's Its Showtime family was in New Zealand to attend Anne Curtis wedding. Based on what I read online, they heard the news already and Anne gave respect to Franco by giving a minute of silence for this young boy.
Sorry, but i just want to share this thing, here in my blog. I know, its a sad thing but I'm a fan of Its Showtime and i know how they feel.  What happened to Franco was really shocking and I can't believe this happened to him. Well, we may not understand why these things happened, but I guess God has another plan for the two of you. Ms. Isabel and Franco may both of you rest in peace
Sigh… I just realized, in reality, we don't know what will happen tomorrow so we should live life to the fullest because we only get to live once.
Who doesn't love korean drama? I have youtube channel that shares korean drama. I was surprised to know that many are hooked in kdrama all over the world based on the visitors checking on my posts. I forgot when was the first time and what was the first Kdrama I watched. If my memory is right, it was Autumn in my Heart. I cried a lot on this one. Sadly, Song Hye Kyo died in the said drama but overall I liked the story. From then on, I started to watch Kdrama so its been a decade.  
 Before in order to watch Kdrama, I had to rent a DVD but this time it is easy to watch korean drama. You can even watch the latest kdrama airing in Korea. I have favorite site that I watch korean drama and the nice thing about this site, i can download it first and watch later during my free time.
Anyway, why I suddenly talk about korean? I watched Its Showtime and heard Anne Curtis mentioned Gong Yoo. If you doesn't know him, he was the lead actor in the movie "Train to Busan" and also he was from the kdrama "Goblin" last aired January 2017. So, Anne is watching korean drama as well. Even celebrity like her in love with korean drama. Anne Curtis is watching Goblin which I just finished few days ago.  Oh by the way, Vice Ganda was also a fan of korean drama. He is watching Love in the Moonlight,  this one is currently airing on abscbn. I watched Vice Ganda's celebration of his birthday in GGV and Jin Young one of the casts of Love in the Moonlight greeted Vice Ganda. Wow!   
I have to admit that I'm enjoying korean drama than our own series. Sorry to say that but I really love their stories whether it is comedy, drama, fictional or whatever, hahah!. And also the charm and looks of the actors and actresses. I also like the scenery and their foods. I really like them so I hope one day I will have a chance to visit Korea. Saranghae :>

ABS-CBN sets to air 7 Korea's biggest hit series. As a big fan of Kdrama I'm happy hearing the news. Finally ABS-CBN is back airing Kdrama. For this year they announced to air this 7 kdrama series  including "Love in the Moonlight," "Legend of the Blue Sea," "Hwarang," "Goblin," "Weightlifting Fairy Kim Bok-joo," "W" and "Doctors."
I believed the first to be aired will be Love in the Moonlight replacing Pinoy Big Brother (PBB). Love in the Moonlight stars Park Bo-gum and Kim Joo-yung is a romantic comedy about a young prince who falls in love with a woman disguised as a eunuch.
Lee Min-ho will be back on Philippine television along with Jun Ji-hyun in Legend of the Blue Sea, a love story between a man and a mermaid.
"Train to Busan" star Gong Yoo will also make his television comeback as an immortal protector of souls in the fantasy series Goblin.
Weightlifting Fairy Kim Bok-joo is about the coming-of-age series about a group of college athletes. Next  is Hwarang about a group of young, handsome men devoted to defending the king.
Fall in love with W (two worlds) starring Lee Jong-suk and Han Hyo-joo. "W" tells the story of a woman pulled inside the parallel world of a webtoon created by his father. Finally Doctors  starring Park Shin-hye and Kim Rae-won. It is about medical drama which features the love story between a rebel turned neurosurgeon and her mentor.
I already watched Love in the Moonlight, Legend of the Blue Sea, W and currently watching Doctors. I will watch the other three especially Weightlifting Fairy Kim Bok-joo. Although I prefer watching in Korean language, I will definitely see them also in tagalized version.
The new show of ABS-CBN "Your Face Sounds Familiar (kids edition) started last week. I watched all the episodes of season 1&2. Now, I'm excited to watch it again because talented kids' will be the contestant. I look forward to watch McNeal Briguela better known as Awra, an internet sensation. Aside from him, I support Justin Alva he is from Lucena city, my place. He was one of the finalists of The Voice Kids season 3.
Your Face Sounds Familiar is a singing and impersonation competition for celebrities; it is based on the Spanish version of the same name. Last week first episode Awra won the first challenge and took home 50k. He performed as Mommy D (Manny Pacquiao's mother).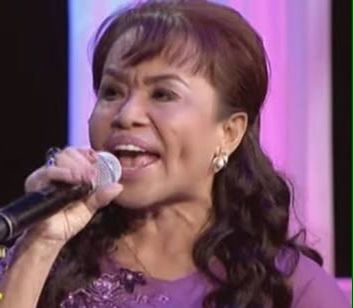 Mommy D
Awra as Mommy D
Wow, I was impressed on his performance and he really looks like Mommy D. I agreed to the three judges; Sharon Cuneta, Gary Valenciano and Ogie Alcasid for making Awra as the first weekly winner. By the way, the first two judges were also the judges in season 1 and 2 while Ogie Alcasid replaced Jed Madela. I'm excited for tonight and tomorrow's episode. These kids are really adorable so I'm really excited to watch all their performances in the coming weeks.
Save
Save
Save
Save
ABS-CBN finally announced their first Korean drama this 2016. My Love Eun-Dong, ABS-CBN named as My Love, Donna will be airing this coming Monday, March 14 on Kapamilya Gold, after Tubig at Langis.
The story is about Eun-Ho (Joo Jin-Mo) who is a popular actor. He has loved Eun-Dong for the past 20 years but hasn't seen Eun-Dong for a long time. Would the two be together in the end?
The lead casts are Joo Jin-Mo, Kim Sa-Rang and Kim Tae-Hoon. It has 16 episodes, released last year, May 29 – July 18, 2015. The writer was Baek Mi-Kyeong and Directed by Lee Tae-Gon.
So have you watched this kdrama already? I haven't watched this kdrama but the synopsis and trailer released by ABS-CBN looks appealing. I will find time to watch this not sure though if tagalized or stick with the original language. Sometimes I prefer Korean language because tagalog version do cut many scenes. Anyway, I made photo compilation of some of the scenes of My Love Eun-Dong or My Love, Donna on youtube.
Not so long ago, I shared here that I'm busy uploading videos on my Youtube account. I've been a member 4 years ago but not really active. Before the end of 2015 (last week of December) that I thought of sharing stuff about Korean drama through Youtube. I'm a big fan of kdrama compared to Filipino series. I don't know but I really like Kdrama whether comedy, drama and fantasy.
On youtube I have 3 subscribers for more than 3 years but when I started uploading stuff about Kdrama my subscriber increases. The last time I checked I have more than 800 subscribers that I gained for 2 months only.  My shared videos have many viewers all over the world though it just compilation of photos. I will continue making Kdrama stuff and share it on youtube. I'm glad also because I get something from the video I am sharing. I can monetize my videos and in return I get some bucks. I don't say it is huge but already a big help. I will continue sharing and making Kdrama stuff and as long as there are Kdrama fanatic just like me, I'm pretty sure I won't get zero viewer in any of my video. If you like, check my channel pigrabbit1 got the name from You're Beautiful, Park Shin Hye's drama.

I'm currently watching The Legendary Witch. It is a South Korean television series aired October 25, 2014 to March 8, 2015. It has 40 episodes, so far the longest Korean television series I have ever watched. Usually 16 episodes per series but this one is different. Currently, I'm episode on 23 and I would say the story is nice. I don't mind if it is long because each episode is not boring at all.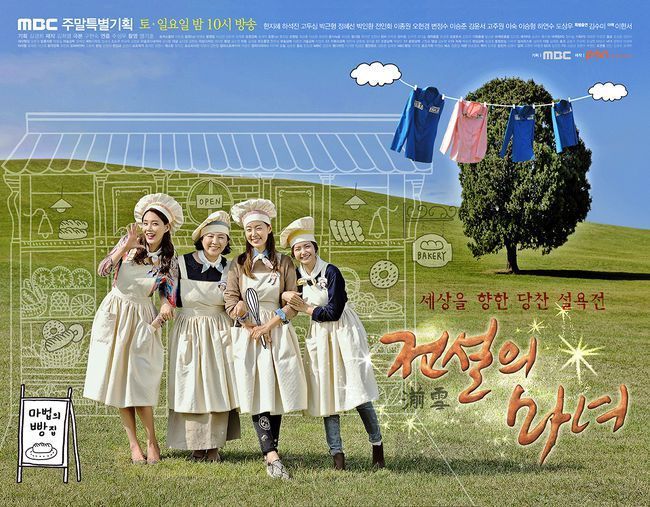 Here is the plot I got from Wikipedia.
Orphan Moon Soo-in (Han Ji-Hye) marries Ma Do-hyun, the eldest son of the chaebol family who owns bakery corporation Shinhwa Group. But when Do-hyun dies unexpectedly, the Ma family makes Soo-in take the fall for their illegal business practices and she ends up in jail for stock manipulation that she didn't commit.
At Cheongju's Penitentiary for Women, her cellmates are kind-hearted Shim Bok-nyeo (Ko Du-Shim) who was falsely accused of killing her husband and son; tough-as-nails, foul-mouthed Son Poong-geum(Oh Hyun-Kyung)  who was convicted of fraud; and former model Seo Mi-oh (Ha Yeon-Soo) who's been charged with attempted murder of her boyfriend, Shinhwa Group's youngest son.
The four women bond and become friends, particularly when they join the baking classes being taught by Nam Woo-suk, (Ha Seok-Jin) a hotel chef. Woo-suk is a widower who is raising his daughter alone after the death of his wife six years ago. At his father-in-law's suggestion, he became a volunteer at the local prison's vocational training center, where he meets Soo-in and begins to fall for her.
Upon their discharge, the four women put the baking skills they learned in prison to use, opening up a bakery together. But they face stiff competition from the Shinhwa Group.
I really love Bryan White song's God Gave Me You. This is my song to my daughter. I thank God for giving my daughter to me. It has been my favorite song and one of the songs aired when my daughter celebrated her 7th birthday.
This song wasn't new in fact it was released in 1999 under the album "How Lucky I Am". Now, this song is very popular because of Aldub. It has been a national anthem for the glowing romance between actor Alden Richards and dubsmash queen Maine Mendoza, popular as Yaya Dub. They are the main stars of Eat Bulaga's Kalye Serye.
The song is really popular because of Aldub, I read that Bryan White the one who sang the song God Gave Me You was very thankful to all the Filipino fans and thinking of coming for a tour in Manila.
Of well, this song is really my fave song and my forever song to my daughter.
This song Nothing's Gonna Stop Us Now was also a song in Kalye Serye. I also like this song and happy to hear those songs from the 90's.
Disclaimer: Both Videos are not mine.
For a long time I haven't watching korean series. I think the last time was September last year. There was problem with the app I used in watching korean drama. Well, good to know dramacool.com, because of this site I can watch korean drama again. Not just Korean but they offer other Asian series/movies like Chinese, Hong Kong, Japanese and Taiwanese. Dramacool is easy to use and I can watch the series even offline. Unlike the previous site I used I don't need to download any app. I just need to visit dramacool.com, search for the drama then watch it directly or download the episodes. I prefer to download first all the episodes and watch them later. So even without internet I am able to watch my favorite korean series anywhere I go. Usually, while waiting for my daughter at school, before going to bed and during my free time. Haist, good to learn about dramacool.com, I'm really missing Korean drama. The first korean I have watched in this site was The Thorn Birds, not a new drama (2011) but this one is nice to watch. One woman forsakes her love and family for her ambition while another woman embraces with love all that the former had left behind. Recommended this drama if you are looking for a melodrama and romance. Anyway, after this series, second to the list is Love Story in Harvard. A friend recommended this drama; I already downloaded 3 episodes but haven't started watching them. I will do it as soon as I have free time. Thanks to dramacool.com recommended website if you are looking for a site to watch Asian series.
I can't remember the last time I watched Korean series. I'm an avid fan of Korean whether series or movies. I used to watch on tablet but I think the application isn't working already. In the app that I used before I normally downloaded first the episodes and watch them later. Now, I don't think it's possible already. Well, I haven't tried it for a long time because the tablet I had was broken. I made a post of this app long time ago and I received comments that the app isn't performing well but I'm not sure because I can't open the tablet and I have the app there.
Aside from tablet I also watch Korean series on television. I like to watch it on big screen and besides I need to read the translation so I need a bigger one. I have DVD's but the player wasn't working for a long time. It gave me CD error or no CD inserted something like that. The tablet was broken and dilemma in DVD player, oh my why o why not working at the same time. If not on tablet or TV, I don't think I will see K series in other gadgets. I'm late already what's hot and new K series, should find time to bring DVD player in the technician because I'm really missing Korean series.