Browsing Category: "Family"
As seniors age, many struggle to retain their independence. They may have difficulty with performing hygiene tasks, tending to medical conditions, or keeping their home in order. If your senior loved one is struggling, consider hiring a professional home care service. Home care providers can assist seniors with many types of tasks, ranging from personal care to homemaking, allowing seniors to remain independent for longer.
Personal Care Assistance
Personal care assistance includes various hygiene tasks, including bathing, oral hygiene, dressing, and hair care. Many seniors struggle with basic grooming tasks, due to limited mobility or motor skills. Some seniors may no longer be able to use the shower or bathtub on their own, while seniors with conditions like arthritis may have a hard time gripping their toothbrush or buttoning their clothes. Home care aids can help seniors perform these tasks. Because they're specially trained to assist seniors with sensitive daily activities, they know how to help seniors without infringing upon their dignity. If you're a family caregiver, assisting with these kinds of tasks may be uncomfortable for you and your senior loved one. Personal care aids know how to approach these issues with sensitivity and compassion.
Companionship
While many seniors prefer to live in familiar environments for as long as possible, seniors who continue to live at home can become isolated. Socialization is essential for seniors, as isolation can lead to depression and anxiety. Hiring a home care companion can provide seniors with the socialization they crave.
Taking Care of the Home
Many seniors are in good health; they just need a little extra help with labor-intensive tasks, like grocery shopping and vacuuming. These seniors would benefit from hiring home care services, which include meal preparation, laundry, housekeeping, errands, and more. This type of service is very helpful for seniors who can no longer drive and for seniors who have limited mobility.
If your senior loved one could use come extra help, don't hesitate to search for a home care agency Darien CT. With an extra pair of hands, their quality of life will immediately improve.
My mother celebrated her 77th birthday last March 29. I thank God for this. They said, if you reached this number, it's already a bonus. Well, my mother is suffering from illness and from time to time she needs to have blood transfusion.  As I write this, she is confined in the hospital for three days already.  Last January 2018, she was confined in Manila, February, March and now April in the hospital again. I hope it won't happen again. We don't want to send her in the hospital monthly.
Please God, let me see her smile once again. She is already old and the family only wants to see her smiling everyday without thinking her health condition. Please HEAL my mother Lord God, this I asked in Jesus name. Amen.

In Illinois, new laws may have an impact on your children's college expenses. In 2016, changes were made to the Illinois Marriage and Dissolution of Marriage Act that affect college expenses for all non-minor children of divorced parents.
Under the Illinois Marriage and Dissolution of Marriage Act, child support terminates when a child graduates from high school or reaches age 18, whichever comes later. When a child turns 19, child support terminates even if he/she is still attending high school. According to Illinois laws, courts have the power to allocate college expenses for children of divorced parents. Such expenses include school fees and tuition, housing costs, meal plans, books and supplies, and medical and dental costs, including insurance fees. Courts can also allocate expenses incurred during college breaks. If a child resides at home with a parent while going to college, courts will take living expenses into account and allocate them between both parents. Revisions made in 2016 make significant changes to previous laws. Courts look at financial obligations for both parents and the child who is attending college. Recent revisions include:
* Parental financial obligations for college expenses terminate at age 23, unless good cause can be shown for continuing support. If additional financial support is awarded, it will automatically terminate at age 25, regardless of educational needs and circumstances.
* Financial obligations for college expenses now include the costs for up to five college applications, one college prep course, and up to two standardized college entrance exams. These expenses are in addition to previous obligations for college expenses.
* New revisions require the child attending college to sign consent papers that give parents the rights to review school transcripts and academic records at any time. If the child refuses to sign, parental financial obligations for college expenses may be modified or terminated by the court. The child is required to maintain at least a "C or higher" cumulative grade point average.
* If a child graduates from college or marries while attending college, the court can terminate parental support for college expenses. For more information on new laws, contact an Illinois divorce attorney.
Last May 2, 2015 my niece (Hannah) gave birth to a healthy baby girl named Ellie. Congrats Hannah you are now a mother! I know you will be a great mom because you are indeed kind-hearted girl.
And to our precious blessing, the whole world welcomes you baby Ellie. You are really a blessing from God above. Enjoy your time being a baby and be a good girl. We love you and hope to see you very soon.
Two hours ago my sister called, she informed us that they already arrived in Calgary, Canada. Thanks God because they were at home safely. My sister with her husband and children were here for a short vacation. Their planned was going here by July but because my mother's condition wasn't better for the past months they decided to come over as soon as possible. Everyone is excited for their comeback after 3 years but time flies because their vacation was over and though it was only for less than a month, I'm sure they were very happy reunited with us after long years of staying in Canada.
Their family is the best. They have been very generous ever since. I pray that God will continue shower many blessings to my sister's family. I don't know how to express my thankfulness for all the things they did and bestowed especially to me and my daughter.
I won't think of my daughter's school bag this coming school year. My sister already bought. I hope it would last for three years or more because it was pricey. One my nieces bought her two pairs of shoes and I got new bag. Another niece left to me her old Samsung MV800 digicam. I told her that I have planned of buying digicam and hearing my words she said hurriedly  that she will give her used camera. Another niece gave me an old Samsung nexus. They provided our foods everyday and even before going back to Canada, my sister went to market to buy our foods for a week. Actually, there are many things they gave to us and they didn't ask for anything in exchange. They are such a bighearted family. Truly we are blessed to have them in our family. I pray that God will guide and bless their family abundantly.
My sister and her family from Canada are here in the Philippines for three weeks vacation. The initial planned was going here in July because its vacation in Canada but it was changed. They decided to come here now because of my mother's illness.
Last January they sent us package and arrived first week of March. We didn't open the package because we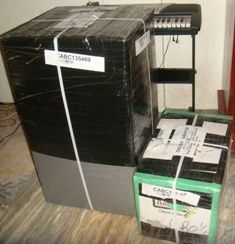 were waiting for my mother's discharge from the hospital. We never thought her confinement will last more than two weeks. This is the reason why my sister and her family decided to come home for a short vacation.
We were happy and blessed because my mother has been discharged from long days hospital confinement two days before my sister and family arrive. March 28, they were here and we hurriedly opened the two boxes of package. Thanks to my sister and her family for all the stuff for me and my daughter. Your family is the best and I know God will bless you more for being so generous and helpful.
Grandparents are super spoilers when it comes to their grand children. In many cases, they show love and care for their little ones more than they have for their own children. Some say that these is their way of giving all those kept feelings they had when being firm with their own children is more important. Despite feeling sore about these situations, you adore your parents and actually love having them around to spoil the little ones. If not for the back problems that they frequently complain about, everything would have been perfect especially during special occasions. Fortunately, there are simple yet effective ways to help them oldies especially grandma with her distress.
Looking at Parentgiving's bedding products, I found the Good 'N Bed Adjustable Wedge just right for her needs. Using the adjustable foam wedge helps relieve back pains while it assists patients breathe normally and get better sleep every night. While our parents spoil the kids to pieces, the only way we can show our appreciation to them is to take care of them and spoil them in every way we can even if it comes to their beddings! Parentgiving's website is full of products especially made for our aging parents. Our parents may not be very vocal about their needs but some signs of discomfort and pain are easily noticeable.
Giving them simple solutions to help ease their issues may come as a surprise to them but admit it or not, they will be touched and your thoughtfulness will be greatly appreciated. You too can start spoiling your parents with all your love, Parentgiving has more than comfortable beddings to offer. See their lists of products and you might just find something that will ease your parent's discomfort and make everyday living easier and convenient for them too.
We received package from my sister. She is living in Paris, France with her family for more than 20 years now. She was worried because she assumed the package will arrive last month (May). Well, finally her package arrived safely and still well-packed. I heard rumors that some of the packages are not arrived in safe condition and sometimes one or more contents are missing.
Anyway, just like the previous packaged we got. Delivery man took a photo of my mother together with the package as proof of delivery. My mother asked why the package arrived so late. Delivery man said it's not easy to pull out something in the customs and need proper documentation. When the delivery man left, my mother opened it right away. Inside the box are used and new clothes, chocolates, shoes and more. My daughter is very happy seeing her new toy doll with accessories.
Well, this is one of the advantages of having relatives abroad. I know my sister worked hard just to send us all those stuffs in the package. I am thankful because I have sister like her who is kind and generous. Just like my other sister who is residing in Canada with her family too.
Prayers and love are the only things we can repay them.
Almost everyday gasoline has price hike so instead of using the car my brother prefers to use his motorcycle. In this way he can save a lot because motorcycle doesn't consume much gasoline. Aside from that he can avoid traffic. He loves his motorcycle and been using it for almost 7 years now. I am thinking of giving him an Alpinestars Boots this coming Father's day celebration as a gift so he can partner it with his motorcycle. I'm sure he will love it because it's comfy and durable.