Browsing Category: "Food"
My sister brought this Belly Crocker ready-made blueberry muffin mix from Canada when they visited us last Christmas.

I just baked it today after 7 months hiding in the closet. This is small pack so I only got 6 muffins. This one is easy to bake I wonder why I didn't bake it before. I said easy to bake because you only need a cup of water or milk. Simply add water or milk (I used fresh milk) to this blueberry flavoured muffin mix and you're ready to go.
I preheated oven to 200 degrees Celsius and baked for 20 minutes. It turned out delicious although they are using artificial flavor but the smell was good while baking. My daughter ate this when she came back from school. It became soft after few more hours. 
Few days ago, I bought tahong (mussels) before the only dish I could cook using tahong was making soup with ginger, water and mustasa (mustard) as main ingredients. Now, I made three dishes out of 1kilo of tahong. So first, I cooked soup. Simply, sautée ginger and onion first and then add water. Wait for it to boil and then add your tahong. Wait for tahong to open then season with salt and pepper. Finally add mustasa, cover and wait for few minutes about 1-2 minutes. Turn off the fire. Serve while it is hot.
Second dish was Sauteed Mussels in Garlic and Butter. Here's how heat 1 tbsp of oil in a pan. Put 1-2 tbsp butter, melt. Sauté minced garlic until lightly browned. Saute chopped onions, until translucent. Add in the cleaned mussels. Add salt and pepper to taste and sprinkle with chili flakes, I used chili powder. Stir fry until mussels starts to render juice and opens.
We have left over tahong from the soup I made, so I decided to bake it. Here's how Baked mussels is done

Clean mussels thoroughly. Boil until the shells open in
a pot with 2 cups of water. Drain and remove the top shell. arrange in a baking sheet. Melt ½ cup of butter in a sauce pan. Put in ¼ cup minced garlic and ¼ cup finely chopped flat parsley. (I don't have parsley). Stir cook for 3 minutes. Turn off the heat. Scoop the butter mixture and put on top of each mussels. Top with grated cheese. Oven baked for 20 minutes.
Recipe adapted from #themommyiscooking instagram.
In the coming days, many of my post will be about foods. I'm now the cook in the house. My mother was the one who cooked for us but because of her health condition, she can't do it unless she's feeling better. She easily gets tired even just standing for few minutes.  
I'm not born with cooking ability so I need to watch cooking tutorials online. I am not the only one who will eat my food but my mother, daughter and sister so I need to do it right to satisfy their tummies. Before I don't have courage to cook for the family but if I will not who will do it. Sometimes my sister cooks but it happens once in a blue moon. Oh well, I'm happy because I can cook different dishes now. Simple dishes but surely makes our tummy full.
Anyway, here is my first food post … When it comes to chicken soup, chicken tinola is always the dish I can cook. I grew up eating this especially during rainy days. It is best to eat chicken soup everytime it is cold and rainy.
Here's how I cook my Chicken Tinola. In little oil sautee ginger first wait till aromatic then add garlic and onions. Add chicken (I remove skin) season with fish sauce. Cook chicken for few minutes or wait until slightly brown. Add water, chicken cube and add fish sauce, let it boil. Add papaya or chayote with this dish I put papaya. Don't over cook papaya or chayote. If chicken becomes tender add in chili leaves. You can add malunggay leaves if no chili leaves. You now have chicken tinola so for a twist after your tinola is done cooking,  add cup of gata (coconut milk), season with salt and pepper, let it boil then turn off the heat. I learned this Tinolang May Gata through Instagram of #themommyiscooking.
Ingredients:
Butter/olive oil ,Onion, Garlic
Ground pork,
Hotdogs
Mushrooms, Spaghetti sauce
Banana ketchup, Water
Cheese Whiz, Cheese
Salt and pepper
Preparations:
1. Cook macaroni shells according to package directions.
2. In a separate pan,  saute garlic and onion in butter and olive oil.
2. Add ground pork and wait till it becomes brown in color.
3. Put hotdog and mushroom, cook for few minutes.
4. When cooked add spaghetti sauce,  ketchup and water. Simmer for few minutes. 
5.. Add cheese whiz and grated cheese. Season with  salt and pepper.
6. Mix cooked macaroni shells in the sauce. Be sure to mix everything so all the shells are tasty. 
7. Put in an oven container then top with cheese. 
8. Baked in 175 degrees Celsius for 10 minutes or until cheese melted.
9. Remove from the oven and let it cool before serving. 
This is delicious.  I only used ordinary cheese but i know if i use expensive cheese like Parmesan,  cheddar and other similar cheese will enhance and level up the taste nonetheless still yummy.
My breakfast earlier was typical Filipino food. I cooked garlic fried rice, sunny side up egg and longanisa from Lucban, Quezon. We went there last Sunday so we bought longanisa, one of their famous foods. Breakfast won't be complete without fruit. We have leftover watermelon but surprisingly it wasn't fresh already. Well, because watermelon was in the refrigerator for three days already. We ate the half when we bought it but half was left. Well, I still ate some portion so lesson learned eat watermelon right away after you slice it. Oh well, my tummy was  happy  this morning. This only happens if I cook in the morning and if there are available food to cook.  For the record, i'm not really good in cooking but i can cook few dishes. I love to cook garlic fried rice. My ingredients for this is really simple all i need are oil, garlic, leftover rice, turmeric powder and salt and pepper. I like putting turmeric powder because of the benefits given of this powder. The health benefits of turmeric include an improved ability to digest fats, reducing gas and bloating, decreased congestion, and improved skin conditions such as eczema, psoriasis, and acne. Turmeric has been used as a powerful anti-inflammatory in Chinese and Indian medicine for millennia.

source (google.com)
We called this fish tinapa. It is the tagalog term that means fish cooked or preserved through the process of smoking. We have lots of tinapa here in our place so I eat this fish from time to time. Honestly, before I didn't eat this kind of fish but when I tasted it, I like it. Tinapa is best to eat when it is hot, with fried rice and cup of coffee or hot chocolate.
This was my breakfast early this morning. Fried rice and tinapa. I put turmeric powder to my fried rice and just one tinapa solved my breakfast. Well, it will be good if I have one egg but we run out of egg.
What is your typical breakfast? Do you eat tinapa?
I"m not a baker but i bake sometimes. We have small oven but if we have big oven i will bake more and make it as a business.  Anyway, if there are available ingredients, i enjoy baking.  The other day i was searching for oatmeal cookie recipe. I bought oatmeal for a long time but didn't use even once.  I decided to make cookies out of oatmeal. So i searched for the recipe.  There are different recipes available online but i chose three- ingredient banana oatmeal cookies. 
Just like the title of the video I watched  in youtube,  only three ingredients are needed to make banana oatmeal cookies. So one is oatmeal, second ingredient is banana and third is raisin. To make, all you have to do is mash bananas. After mashing,  put oatmeal in mashed banana, mix together and lastly,  raisin.  Just mix these three ingredients. After the three ingredients are well incorporated, get tablespoon and form a round shape with the dough and put on a baking sheet. Then you are ready to bake this healthy cookies.  Be sure to preheat your oven to 170 degrees celcius.  Bake for 12-15 minutes or until golden brown. Let it cool and enjoy your oatmeal cookies.  
I used two small bananas, half cup of oatmeal and 1/4 cup of raisin to make five banana oatmeal cookies. This oatmeal cookie is different from the cookies i have tasted because it used oatmeal and not flour.  If you prefer healthy cookies then this one is a good alternative.  
If you don't like raisin no worries because you can put chocolate chips,  walnuts, peanut butter and more. We don't have banana now but i will make this cookie again and use peanut butter instead of raisin, will see which one is better.  I will also put more bananas, maybe three instead of two small bananas or two is fine if banana is big.
So do I like the banana oatmeal cookies I baked, the answer is yes. It is healthy than the regular cookies and for only three ingredients you can enjoy delicious and healthy cookies.. Even if you are not a professional baker like me it is fine because it is really easy to make. I enjoy my banana oatmeal cookies with hot chocolate.  Try it!

I cooked Tinolang Manok, it is a soup-based dish that is very common here in the Philippines. Usually, this dish is cooked with chicken, green papaya and leaves of the chili pepper (siling labuyo) in broth flavored with ginger, onions and fish sauce. An alternative for chicken is pork, chayote instead of green papaya and moringa leaves (malunggay leaves) instead of chili pepper.
Ingredients:
Oil

Onion

garlic

ginger

chicken

chayote

moringa leaves

water

fish sauce

chicken cube

Salt and Pepper to taste
How to Cook:
Heat oil in a pot over medium heat. Add onion, ginger, garlic and cook until aromatic.

Add chicken and cook while stirring occasionally for about 8-10 minutes or until chicken starts to change color. Add fish sauce.

Add water and chicken cube, bring to a boil. Remove scums that float on top. Lower heat, cover and simmer until chicken is cooked through.

Add chayote and cook until tender but don't overcook. Season with salt and pepper.

Lastly, add moringa leaves until just wilted. Serve hot with rice.
As you can see the soup was oily nevertheless it is good. I suggest removing the skin of chicken; I think it will help to make your tinolang manok less oily.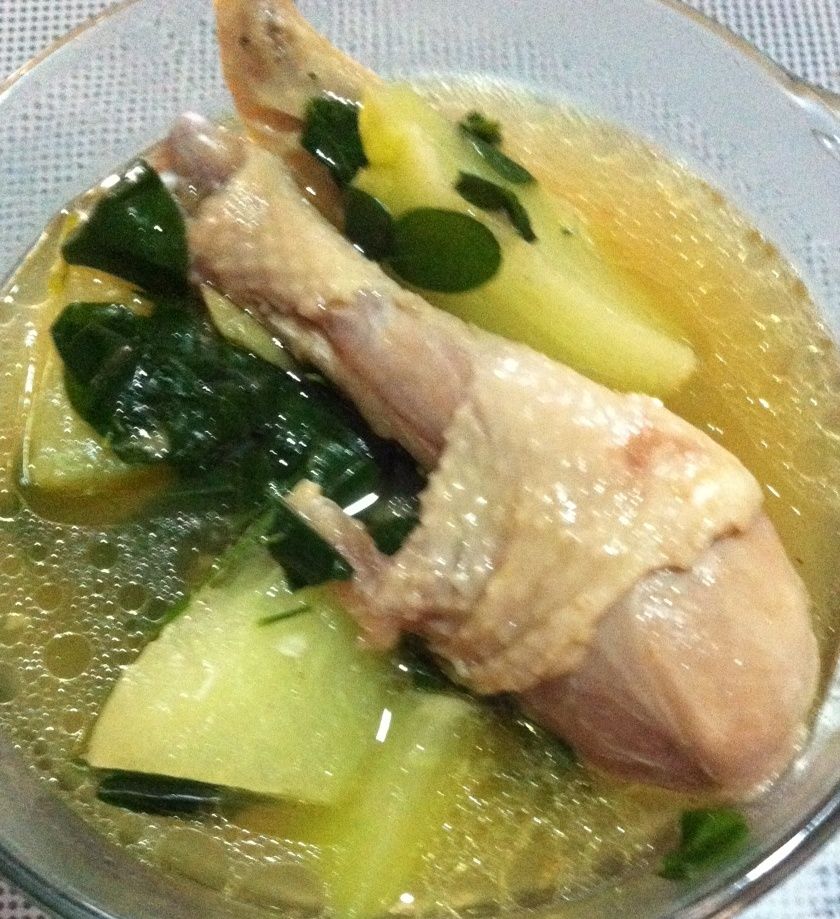 I cooked Ginisang Upo at Sardinas (sautéed bottle gourd with sardines) few days ago. Before I used to cook bottle gourd (upo) with meat and not sardines. I learned adding sardines through my co-parent in school. I didn't cook it right away but when I watched a video cooking this bottle gourd with sardines, I decided to cook it for our lunch. The main two ingredients are available in our kitchen so, I didn't think twice of cooking it.
After just a short cooking, my sautéed bottle gourd (aka white squash, upo in tagalog) with sardines was ready to eat. My co-parent said it's a simple food but healthy and yummy. Well, she was right and it is tasty with sardines. My daughter ate this food with me so I was very happy.
Ingredients:
Bottle gourd (upo)

1 Mega Sardine

Garlic

Onion

Tomato

Oil

Water

Salt and Pepper to taste
How to cook?
Heat the pan then add little oil. Sautee onion, garlic and tomato.

When it's done, add bottle gourd and little water. Season with salt and pepper. Cover

When the gourd is cooked, add a can of sardine. Wait for 1-2 minutes and it is done.

Serve hot with rice.
Bottle gourd (Upo) with sardines is a simple food. It is easy to cook and ingredients are already in your kitchen. So it is not expensive to cook this menu. This viand is a simple one but it is healthy and affordable. Try it!

Dairy Queen (DQ) finally opened a month ago here at SM City Lucena. I was so excited that I wrote a post  even the store isn't yet opened. Finally Lucenahin can enjoy the delicious taste of DQ products. Too bad I didn't see the opening of the store and really clueless when will it happen. Well, the store opened last September 25 and I went to the mall after that day. I thought it was the opening day but the staff informed me that it was already their second day. It's been a month and I hope DQ will stay as long as SM City Lucena is here, hahah! Hope many will patronize the store because of their luscious soft-served ice cream and with the way they served up side down is different from other ice cream stores. Looks like I have big loved for DQ, lol!.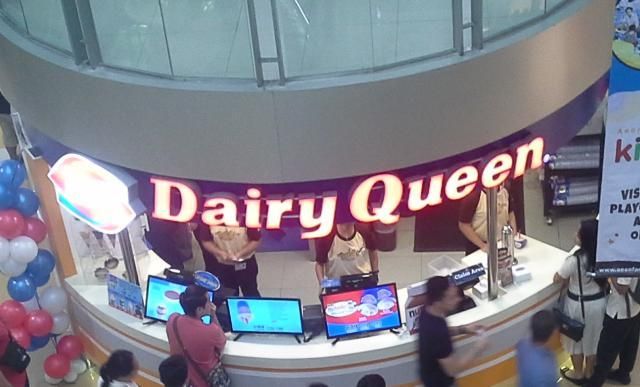 The store is not big in fact it is located under the stair but
I think better place because many are passing in that area of the mall.
I saw my sister-in-law in one of the banks at the mall and asked her to taste DQ if haven't tried. She was too kind to treat me a strawberry banana blizzard. This was the second purchased from DQ. The first was with my daughter and if I remember right she ordered chocolate with kitkat (hope I'm right). It's important to bring camera all the time so nothing will be missed, hahah!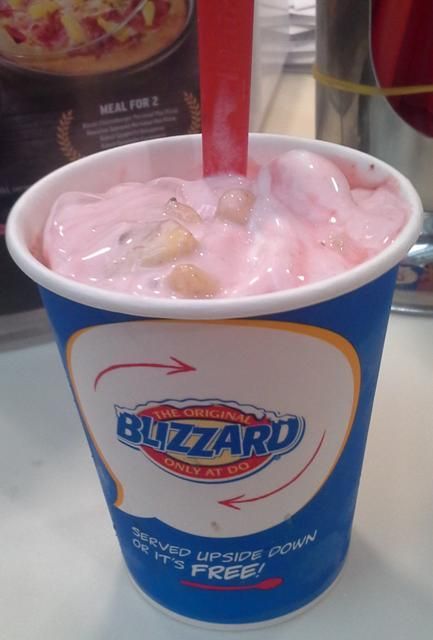 The blizzard served upside down or it's FREE,
Php 69 for smaller size