Browsing Category: "Food"
We called this fish tinapa. It is the tagalog term that means fish cooked or preserved through the process of smoking. We have lots of tinapa here in our place so I eat this fish from time to time. Honestly, before I didn't eat this kind of fish but when I tasted it, I like it. Tinapa is best to eat when it is hot, with fried rice and cup of coffee or hot chocolate.
This was my breakfast early this morning. Fried rice and tinapa. I put turmeric powder to my fried rice and just one tinapa solved my breakfast. Well, it will be good if I have one egg but we run out of egg.
What is your typical breakfast? Do you eat tinapa?
I"m not a baker but i bake sometimes. We have small oven but if we have big oven i will bake more and make it as a business.  Anyway, if there are available ingredients, i enjoy baking.  The other day i was searching for oatmeal cookie recipe. I bought oatmeal for a long time but didn't use even once.  I decided to make cookies out of oatmeal. So i searched for the recipe.  There are different recipes available online but i chose three- ingredient banana oatmeal cookies. 
Just like the title of the video I watched  in youtube,  only three ingredients are needed to make banana oatmeal cookies. So one is oatmeal, second ingredient is banana and third is raisin. To make, all you have to do is mash bananas. After mashing,  put oatmeal in mashed banana, mix together and lastly,  raisin.  Just mix these three ingredients. After the three ingredients are well incorporated, get tablespoon and form a round shape with the dough and put on a baking sheet. Then you are ready to bake this healthy cookies.  Be sure to preheat your oven to 170 degrees celcius.  Bake for 12-15 minutes or until golden brown. Let it cool and enjoy your oatmeal cookies.  
I used two small bananas, half cup of oatmeal and 1/4 cup of raisin to make five banana oatmeal cookies. This oatmeal cookie is different from the cookies i have tasted because it used oatmeal and not flour.  If you prefer healthy cookies then this one is a good alternative.  
If you don't like raisin no worries because you can put chocolate chips,  walnuts, peanut butter and more. We don't have banana now but i will make this cookie again and use peanut butter instead of raisin, will see which one is better.  I will also put more bananas, maybe three instead of two small bananas or two is fine if banana is big.
So do I like the banana oatmeal cookies I baked, the answer is yes. It is healthy than the regular cookies and for only three ingredients you can enjoy delicious and healthy cookies.. Even if you are not a professional baker like me it is fine because it is really easy to make. I enjoy my banana oatmeal cookies with hot chocolate.  Try it!

I cooked Tinolang Manok, it is a soup-based dish that is very common here in the Philippines. Usually, this dish is cooked with chicken, green papaya and leaves of the chili pepper (siling labuyo) in broth flavored with ginger, onions and fish sauce. An alternative for chicken is pork, chayote instead of green papaya and moringa leaves (malunggay leaves) instead of chili pepper.
Ingredients:
Oil

Onion

garlic

ginger

chicken

chayote

moringa leaves

water

fish sauce

chicken cube

Salt and Pepper to taste
How to Cook:
Heat oil in a pot over medium heat. Add onion, ginger, garlic and cook until aromatic.

Add chicken and cook while stirring occasionally for about 8-10 minutes or until chicken starts to change color. Add fish sauce.

Add water and chicken cube, bring to a boil. Remove scums that float on top. Lower heat, cover and simmer until chicken is cooked through.

Add chayote and cook until tender but don't overcook. Season with salt and pepper.

Lastly, add moringa leaves until just wilted. Serve hot with rice.
As you can see the soup was oily nevertheless it is good. I suggest removing the skin of chicken; I think it will help to make your tinolang manok less oily.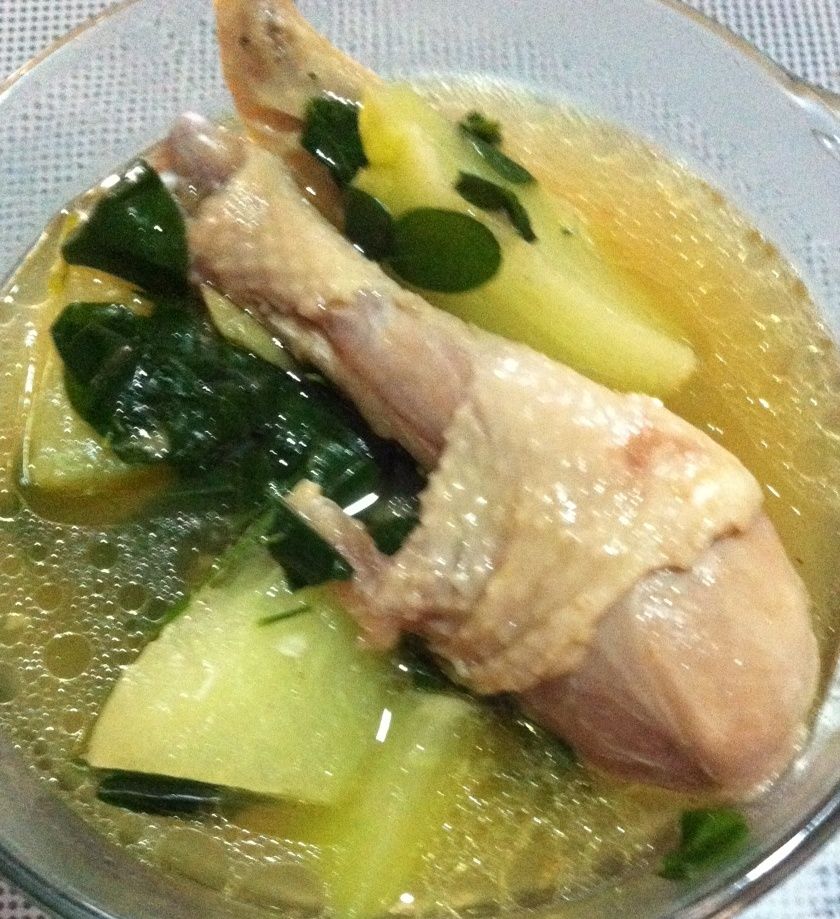 I cooked Ginisang Upo at Sardinas (sautéed bottle gourd with sardines) few days ago. Before I used to cook bottle gourd (upo) with meat and not sardines. I learned adding sardines through my co-parent in school. I didn't cook it right away but when I watched a video cooking this bottle gourd with sardines, I decided to cook it for our lunch. The main two ingredients are available in our kitchen so, I didn't think twice of cooking it.
After just a short cooking, my sautéed bottle gourd (aka white squash, upo in tagalog) with sardines was ready to eat. My co-parent said it's a simple food but healthy and yummy. Well, she was right and it is tasty with sardines. My daughter ate this food with me so I was very happy.
Ingredients:
Bottle gourd (upo)

1 Mega Sardine

Garlic

Onion

Tomato

Oil

Water

Salt and Pepper to taste
How to cook?
Heat the pan then add little oil. Sautee onion, garlic and tomato.

When it's done, add bottle gourd and little water. Season with salt and pepper. Cover

When the gourd is cooked, add a can of sardine. Wait for 1-2 minutes and it is done.

Serve hot with rice.
Bottle gourd (Upo) with sardines is a simple food. It is easy to cook and ingredients are already in your kitchen. So it is not expensive to cook this menu. This viand is a simple one but it is healthy and affordable. Try it!

Dairy Queen (DQ) finally opened a month ago here at SM City Lucena. I was so excited that I wrote a post  even the store isn't yet opened. Finally Lucenahin can enjoy the delicious taste of DQ products. Too bad I didn't see the opening of the store and really clueless when will it happen. Well, the store opened last September 25 and I went to the mall after that day. I thought it was the opening day but the staff informed me that it was already their second day. It's been a month and I hope DQ will stay as long as SM City Lucena is here, hahah! Hope many will patronize the store because of their luscious soft-served ice cream and with the way they served up side down is different from other ice cream stores. Looks like I have big loved for DQ, lol!.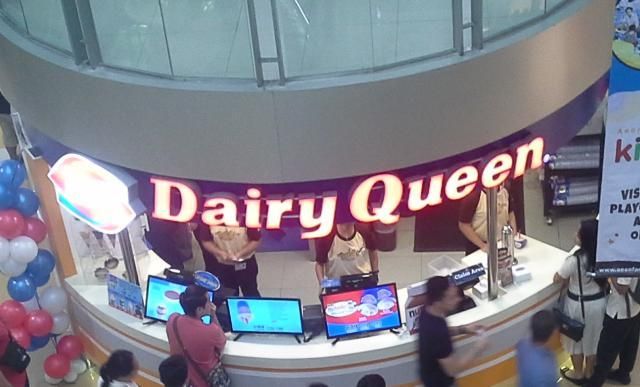 The store is not big in fact it is located under the stair but
I think better place because many are passing in that area of the mall.
I saw my sister-in-law in one of the banks at the mall and asked her to taste DQ if haven't tried. She was too kind to treat me a strawberry banana blizzard. This was the second purchased from DQ. The first was with my daughter and if I remember right she ordered chocolate with kitkat (hope I'm right). It's important to bring camera all the time so nothing will be missed, hahah!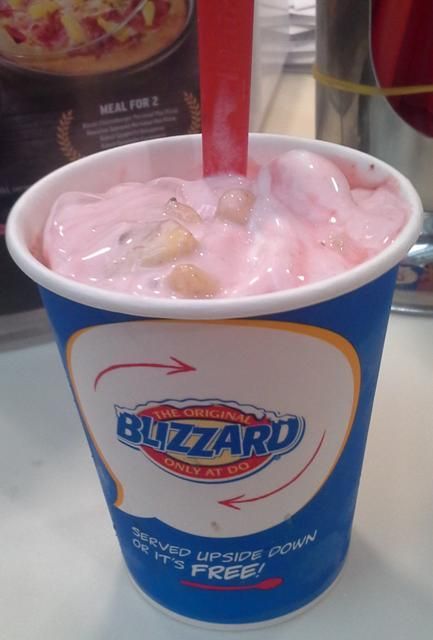 The blizzard served upside down or it's FREE,
Php 69 for smaller size
I missed baking. I'm not an expert when it comes to baking but have tried cupcakes, loaf bread, cookies, macaroon and other breads. December was the last time I baked. So it has been months. I really missing and if I only have ingredients here, possibly I will be in the kitchen. Sadly, I don't have ingredients now, but I hope to do baking as soon as possible. Probably will do banana loaf because this was the first I baked. I remember it wasn't 100% successful but didn't stop me of doing it again. I'm thinking also banana choco chips muffin because this recipe didn't fail me. I like the taste and for me after 1 or 2 days the muffin becomes tastier.
My sister once asked me if I want to enroll in TESDA. I don't have formal baking lessons and I only watch youtube or read online for the recipes. My sister said TESDA offers baking. I was thinking of doing it but of course I need extra money to do this. And for sure with formal lessons I will learn a lot. I want to know more about icing stuff. I have tried putting icing on top of my cupcake but not satisfied with the result. Oh well, I need to save extra bucks and might enroll. I think I have future on this (think optimistic) hahah!
One of my favorite Filipino salads is Chicken Macaroni Salad. This salad is best served in any occasions but you can enjoy this everyday as an appetizer or food for merienda. Recently, I made my own version of chicken macaroni salad; here are the ingredients and how to make it.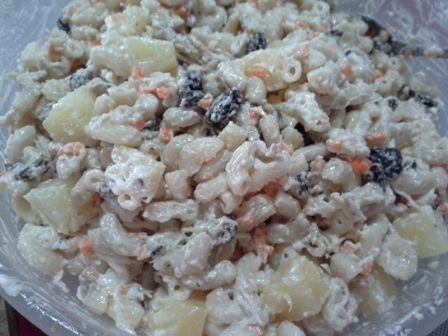 Ingredients
Elbow Macaroni
Mayonnaise
Chicken
Carrot
Raisin
Pineapple tidbits
Onion
Salt and pepper to taste
How to make:
1. Cook elbow macaroni according to package directions. Drain and set aside.
2. Bring water to a boil. Once boiling, add salt and chicken. Cook the chicken until done. Drain the water and let the chicken cool. Discard the bone from the chicken and then shred the chicken meat using hands.
3. In a large mixing bowl combine all the ingredients; elbow macaroni, shredded chicken and the rest of the ingredients. Season with salt and pepper to taste. Mix well.
4. Cover the mixing bowl, refrigerate for at least an hour before serving.
5. Transfer to a plate and enjoy
I saw in other chicken macaroni salad recipe that they add cheese, I didn't put but will try to add next time. I will see if cheese would make the salad delicious. I have tasted other macaroni salad and instead of chicken, they add ham, tomatoes, lettuce, pineapple tidbits, mayonnaise and salt and pepper to taste. I must say macaroni salad is best if you choose the right mayonnaise, so add the best mayonnaise that you could find. I add the leading mayonnaise available in the market but it didn't taste good for me so I add other mayonnaise brand.
For our dinner I cooked sinigang na manok (sinigang is very popular Filipino soup). I think I already cooked this dish but for sure with the help of my mother. Earlier, I made all by myself. For me it's a big accomplishment, hahah! I do bake but not professional and sometimes cook dishes but always have this negative thinking that whoever eats won't like it. Anyway, back to sinigang, I'm happy because my daughter was the one to taste it and she liked it. We all know that sinigang has sour taste; my daughter likes it and even singing asim kilig, commercial of knorr sinigang. Sorry I don't have the photo of my sinigang na manok but indeed tasted good.
Here's what I used: onion, tomatoes, chicken, salt (I like to put fish sauce but not available), pepper, water, string beans, radish, kangkong (river spinach), siling haba (long chili) and knorr sinigang mix.
First sauté onion and when translucent add tomatoes until cooked. Add chicken and let it cook for awhile until it changed color to slightly brown. Add water and season with salt and pepper. Put knorr sinigang mix as well and let it simmer. When the chicken is cooked, its time to add the vegetables; string beans, radish, siling haba and put kangkong last maybe a minute before you turn off the fire.
For sure this is not the last time I will be cooking sinigang since my daughter likes it. And the next time I will make sure to take photo of my sinigang.
Coffee Jelly is so easy to prepare and you don't need many ingredients to make this delicious dessert. The best thing is it is delicious. This is one of my daughter's favorite desserts.
Ingredients
1 pack Mr Gulaman (White) Unflavored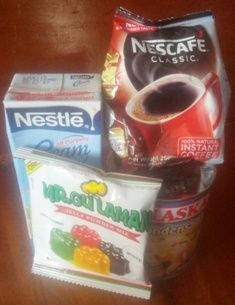 1 condensed milk
1 Nestle All Purpose Cream
2 tbsp Instant Coffee
Directions
1.    Cook Mr Gulaman according to package direction.
2.    Once cooked put in a container and set aside. Wait till it set.
3.    In a separate bowl combine nestle all purpose cream and condensed milk.
4.    Cut cooked gulaman into small pieces (cubes) and add in the cream mixture.
5.    Mix together then refrigerate.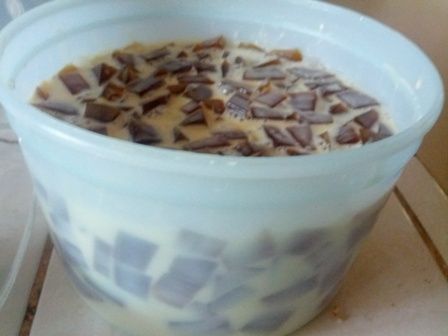 I really like pasta, so I tried to cook different pasta dishes though I'm not a good cook, wink! The last pasta dish I cooked was baked macaroni or simply baked mac. Here are my ingredients; sorry I won't provide the exact amount of ingredients.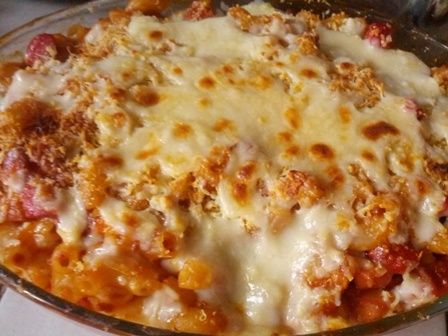 Macaroni shells
Oil, butter
Garlic
Onion
Lean ground beef
Hotdog
Jolly mushroom (pieces and stems)
Spaghetti sauce
Salt and pepper to taste
Eden cheese
Eden melted cheese
Directions
1. Cook macaroni shells according to package direction then set aside.
2. In a separate pan, sauté garlic and onion in oil and butter.
3. Put lean ground beef until slightly brown, add hotdog and jolly mushroom.
4. When cooked, put salt and pepper to taste, then spaghetti sauce and let it summer for about 30 minutes.
5. Put cooked macaroni shells in a casserole cover with cooked spaghetti sauce.
6. Add cheese on top.
7. Bake in 180 degrees celsius for 15-20 minutes or until cheese is melted.
It would taste even better if you put different kinds of cheese especially parmesan cheese. But because my budget is tight so, I just put eden cheese and eden melted cheese. Well, it tasted good but again baked macaroni is even tastier if you put different kinds of cheese on top.