Browsing Category: "Meme"
It's been a long time since the last time I joined Orange Tuesday. So I'm joining today before the 34th Edition will close. I bought this juice maker couple of months ago. When Kyla first saw this juice maker she said that she will make her own juice. She said she knows how to make juice because she learned it in one of the episodes in Oso of Disney Junior.
So here is Kyla making her own juice.
 Now she is drinking orange juice, her fruit of labor.
I'm linking this post in Orange Tuesday, click the badge for more orange entries.

I was surprised when a postman came in the house asking me to visit post office because there is something waiting for me to get. Since its Friday already we don't waste the time and went to Post office. Honestly, I was clueless and thinking the possible person who sent it while on our way to Post office. Anyway, the person in charge asked me to pay Php40 to get my package. When I handed the package I checked who sent it and saw the address only. It's from Texas so the only person I think is Dhemz.
Thank you sis, this is unexpected gift from you. Kyla was happy with the chocolate and the magic towel. Actually we liked all the things you gave especially the letter, will surely keep it. Thank you, thank you and God bless your family.
My share for this week's Color Connection.
Kyla needs to bring shoebox to put their grooming stuff in school. So instead of getting a new one or buy a box I used her old shoebox and just wrapped it. I'm looking for some design in the bookstore when Kyla suddenly told me that she saw Dora's wrapper. So that's what we got and here is the finished product :).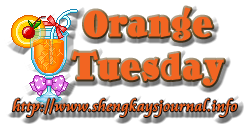 I can't believe that my little girl is growing so fast. I remember the time I knew that I was pregnant with her I'm not that excited because it was an unexpected. But it didn't take long and realized how blessed I am to be a mother. So that time I observed the foods I intake and just enjoy the day that she's still in my womb.
It was November 10, 2007 when she finally saw the beauty of this world. She was delivered through caesarian section and it only took less than 15 minutes. The joy I have that day was really priceless.
This photo was taken when she was still months old. Look how serious the little baby, she's watching a dvd that time but forgot what it is.
And this photo was taken after her first birthday. It's her outfit when she celebrates her first birthday. She is still using teether at that time.
Now, this baby is already attending school time flies isn't it? Look at her smile in her photo wearing uniform. She was excited that time looking at her new school accessories. But on her first day at school she cried which was expected already. It's her third day today and still crying everytime I left their school room. Other mommies said that it's normal and sooner or later she will love and adopt the new environment, hoping for that really.
Anyway, my share for Nostalgia happening every Thursday.
Back again here … I'm sorry for not posting frequently. Id' been busy with Kyla's stuff because I said before that she will be attending her first school. So the other days were busy on buying and preparing things that she will be needed. Today she already started her first class and guess what she cried. Though I haven't seen how she cried but the teacher told me when I asked her performance after the class.
Parents/guardian is not allowed to stay in the room 15 minutes before their time. So few minutes when I left the room Teacher said that Kyla cried. But teacher said that Kyla stopped crying after awhile. While some of her classmates were crying longer. And regards with her performance, teacher said that she was quietly sitting on her chair. And sometimes doesn't participate in the activity. Well I told you before that she is a shy person and that's one thing that I wanted her to overcome. Just hoping and praying for that. Well, this is just the first day of school so I hope everything will be fine and Kyla will love her new environment. By the way she showed me very good stamped on her hand. She said that it's because she participated in art activity. Nice one Kyla more to go 🙂
Anyway, last Sunday (June 12) Philippines celebrated the 113th Independence Day. So when I saw the decoration in the mall I asked Kyla to give me a nice pose.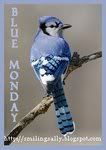 I'm transferring the photos from the cam to laptop when I saw these photos. For sure I haven't showed it because still it's in the memory of the camera. I keep on smiling looking how messy Kyla was.

I'm not sure when I took these photos but what I remember is that her Ninang Ate (cousin at the same time Godmother) gave her chocolates. I was surprised when she faced me few minutes after.
She thought that I'm mad of her but I laughed and said its fine. Many times that Kyla was really messy while eating. But I guess this is because she is still young and for sure when time comes she will able to know how to eat properly. That's part of growing Kyla.
By the way, I received comments that I can share these photos in Messy Go Round meme. So now I'm linking this post my first time to join and hope its not the last 🙂
These photos were taken last April, if I remembered it right it was taken last 3 Day Sale in SM Mall in our place. So, while strolling at the mall we saw this mascot of Wonder Park. Kyla ran on the mascot and I saw the mascot gave something to Kyla. When I handed it, it's a plastic with lollipop and one coloring picture of the mascot. Good thing I have the camera on me so had the chanced to take a souvenir photo.
This photo was taken outside the cinema. I don't know why they had this decoration. But I find it nice so I asked Kyla to pose for a souvenir photo. Good thing she agreed with me. She even rode in a boat after. See the coconuts? It is one of the products in our place.
Lastly, we saw Hetty dancing in front of Jollibee store. So we headed in the store. After her dance, she started to wave goodbye but I asked the crew if I can take a souvenir photo. Good thing the crew let me take one photo. You're lucky Kyla because the crew remembered you as one of their students in Jollibee workshop.

I'm looking for some photos that I can share for today's meme but can't find newly one. It will take time if I will upload new photos from the camera. So I just chose these photos stored in the laptop. Kyla, playing with her barbie doll, I'm not sure but I think these photos were taken last November.
My share for Mellow Yellow Monday and Blue Monday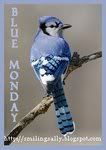 While browsing what pictures are stored in this laptop I saw this cute picture of Kyla. This was taken last June of 2010, (so exactly one year after). Kyla attended birthday party of our neighborhood. I am counting how old Kyla was in this photo and based on my calculation she's exactly 2 and 7 months. At this age Kyla was still feeding on a bottle. I'm not sure but I guess one month after she was already bottle free. And have begun drinking milk on a glass but its not easy at first. But after I talked to her that her bottles were having trouble. I mean I said that it has unpleasant smell already so Mama needs to throw it. I'm glad that she understood easily.
Anyway, this is the first time also that she had this paint on her face. When I asked her if she likes to have the paint on her face she agreed immediately without any hesitation.
Well, time flies really now she is 3 and 7 months already and in less than two weeks she will start her first schooling. So, good luck little girl … Mama is here at your side always.