Browsing Category: "Mother Earth"
I've been busy watching tutorials in Youtube for the past days. First was tutu skirt and now I'm interested in  doing crafts from old magazines. I'm not good in any arts and crafts but watching the tutorials I'm seeing it easy and looking simple to do. I've learned doing garbage bin, shoebox storage, bag, and other things out of old magazines. The tutorials are easy to follow so I will try to create my own. I have many magazines that are just hid in the cabinet. So I think this is the time to do something with all these old magazines. I started doing shoe box storage already and very soon I will share it here. I just have to finish it first and see the outcome. I don't want to share it if not successful, hahah!
I thought it's easy to make. Well, it's easy but it needs time, effort, and patient. Anyway, this thing makes me busy every time I'm offline. I hope my first craft will be finished very soon. I'm excited already with the outcome and hoping the result is good because it's really a tiring thing to do but happy while doing it.
Google Celebrated Earth day 2012 with an animated Doodle on its home page. Honestly, I am not aware that we have an earth day (silly me). Or maybe I know about it but I don't give more attention.  Awhile ago I was watching variety show and mentioned that today is Earth Day, haist! So I searched on google and found out that indeed Earth Day celebrates every 22 day of April so that is today. Big part of United States of America take part of this celebration yearly that was initiated by Gaylord Nelson way back April 22, 1970. 
Well, for me wherever we are we should take part of this celebration for a green healthy environment. The earth is our home so let us protect it and act now before it's too late. Happy Earth Day 2012!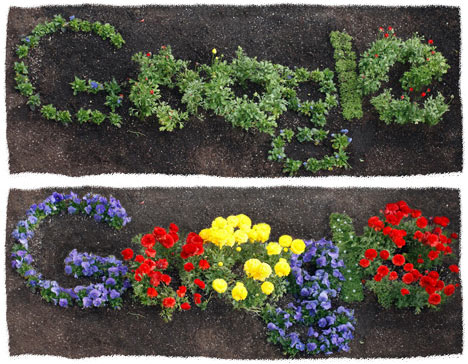 Last night on our way going home my daughter Kyla saw an inexplicable/irregular or strange view on moon. There is a huge circle around the moon. I don't know what the meaning of that big circle is but I felt strange because of the many terrible things happened around the world. I think it has connection on it. Anyway, just wanted to share this photo of strange moon and wanted to link it also in ABC-Wednesday. This photo is NOT mine I just grabbed it online. I tried to picture it out but the camera I used doesn't give me a better result.
Explanation (from Facebook)
The ring around the Moon is caused by the refraction of Moonlight (which of course is reflected sunlight) from ice crystals in the upper atmosphere. The shape of the ice crystals results in a focusing of the light into a ring. Since the ice crystals typically have the same shape, namely a hexagonal shape, the Moon ring is almost always the same size.