Browsing Category: "News and Current Events"
So the batte of Marawi is still ongoing. I seldom watched news lately. We sleep early ever since classes started. Earlier I had a chance to watch news and saw report on Marawi siege or Marawi crisis. This was started last May 23, 2017 and now it's already August. It is just sad that no one knows when this crisis will stop. Marawi residents are affected and their lives changes since this battle started.
I salute those soldiers doing their job and fighting for the sake of Marawi people and Marawi itself. Sadly many soldiers lost their lives and even civilians. Huge numbers of soldiers were wounded; I admire them for showing their bravery. They even said that they are willing to comeback in the battle field because they wanted to finish the crisis and bring back the old Marawi City.
My prayers are for Marawi City, Mindanao and our country. That He will continue to bless our courageous soldiers and all the people who are working so hard just to end the crisis. I hope this will last anytime soon and all the people of this city will get the freedom and peace which they are hoped-for, for the longest time.
For a commuter like me one peso fare reduction is something to thankful. I ride on a jeepney everyday and it's my main mode of transportation. The minimum fare was Php8 for a long time but Land Transportation Franchising and Regulatory Board (LTFRB) issued for 1 peso decrease and 20% discount for senior citizens, students and people with disability (PWD). This applies for those in NCR, Region 3 and Region 4.  I think for every first 4 kilometers and additional fee if beyond. LTFRB implemented this fare decrease because of the continuous rollback of oil price in the world market. I think started since October last year and until now despite the ongoing tension between Saudia Arabia and Iran.
It's really helpful on my part and I feel 1 peso discount is a huge thing for me who valued money a lot. I hope this fare decrease is for a long because this is helpful not just for me but to all the commuters. Since I heard the news, I give only Php7 but I noticed many are still paying the previous fare. The driver doesn't say or mind giving back 1 peso. Even the students are giving Php7 which I think 6 pesos is enough. Oh well, I will stick to the right fare. We all wanted to get discount in everything and have to grab this until it is applicable. This is how I give value to my money because it's not easy to earn a single cent =).
Congrats to our dear Miss Philippines Pia Alonzo Wurtzbach for winning 2015 Miss Universe. This was after the dramatic win because Miss Colombia was first called Miss Universe instead of the real winner Miss Philippines.  We are so proud of you Pia. This is the best Christmas gift for all the Filipinos. Thank you Pia Alonzo Wurtzbach for all your hard work, for holding your dreams and now you are the winner. All thanks to you Filipinos are really really happyy and finally we made it after so long time ago.
 Pia was the third Filipino who got the title. The first one was 1969 won by Gloria Diaz and 1973 won by Margie Moran. After so long exactly 42 years the crown was finally back to us.
Congratulations Miss Universe Pia Alonzo Wurtzbach with beauty and brain you deserved the title.

It's been raining here in my place since yesterday because of typhoon Nona (international name Melor). The sad thing is only few days to go before Christmas and we still experiencing typhoon. I heard another typhoon is coming after this typhoon Nona. Last night we were under signal 3 and as of today under signal 1. Despite of this, I'm still thankful because we are only experiencing rains and no power interruption. I hope this typhoon wouldn't cause harm for all the affected areas since Christmas is approaching. Same with the other typhoon that PAGASA is also monitoring. 
My daughter has no classes since yesterday. She wanted to go back in school because of their Christmas party this coming Friday. Aside from Christmas party, she was excited for Christmas cantata. This was their activity yesterday but since there were no classes until today, I don't know when this activity will push through.
I wanted to go out also to buy gifts for her classmates but I'm lazy to do it because of the rains.  So, I really really hope that this typhoon would leave our country and no casualty at all so we will have a merry merry Christmas.
More and more states are opening power allocation up to private industry. This helps the market become competitive, with various providers offering incentives that are very attractive to consumers. In addition to choice and flexibility, one of the benefits to you, the customer, is the affect that opening the market has on green energy.
Conservation is becoming increasingly important, but personal conservation efforts alone won't save the planet and its resources. It takes all of us working together to make a real difference. Businesses are rising to the challenge of providing safer, cleaning energy and passing the benefit on to current customers and future generations alike.
How Green is Your Provider?
Due to consumer demand, almost every energy broker has an eco-friendly option of some sort in the service plans. Some companies offer a total green package, and others offer a hybrid package, which is a combination of traditional fuel sources and alternate, renewable sources, like wind or solar power. If you're a private resident, these measures will make it easier for you to become part of the green movement. For commercial enterprises, letting your customers know that you're going green is good for customer relations; it lets the public know that you're a company that cares about the community.
Power suppliers don't directly provide clean energy to homes or businesses. They provide you with the necessary infrastructure to convert to green energy sources, which helps off-set the initial cost. Awareness of your options is important, and companies are working harder to educate the public about the benefits of energy choice. Every company should give you detailed information, including a service by service breakdown, in order to help educate their current customers and attract new ones. If you can't find information on details of their energy plan, or the company's current capabilities or future plans for going green, it's a sign that you should look for another provider.
How to Learn More
You can learn if a power provider offers green energy options by reviewing their website. Since competition for customers is fierce, companies are more than happy to explain the benefits of doing business with them, and they know that consumers demand safer, cleaner power sources. Putting energy into the hands of private corporations also helps fund research into more responsible ways of doing business.
Not all states offer energy choice, but as they see how successful these measures are in the states where deregulation is the business model, they're also becoming converts to the idea. Watch your local news to find out if energy choice is coming to your region.
It's nice to wake up hearing the good news that Mary Jane Veloso was spared from execution.  God is good! Thank you Lord for hearing our prayers indeed answered prayers. I don't know Mary Jane personally but when I heard this execution I included her in my prayers for the past days. And last night my only prayers were for her to be spared in this execution and it happened.

We Filipinos are grateful, thank you to the president of Indonesia for giving Mary Jane another chance to prove her innocence, thank you President Pnoy and the whole government for helping Mary Jane. Above all I think the prayers of all the Filipinos made this thing possible.

The battle is not yet over and Mary Jane still needs to prove her innocence on drug trafficking. But giving her temporary reprieve is a good sign that there is a chance for her to live a normal life again. In time, I know she will go back in the Philippines where she belongs and live freely with her family. I believe she was a victim of human trafficking so let us continue our prayers for Mary Jane Veloso, she deserves our prayers.

Veloso was born to a poor family in Cabanatuan, Nueva Ecija, Philippines. She is the youngest of five siblings. She and her husband married when she was 17 but separated later. They have two sons, aged 12 and 6.
Mary Jane Veloso was arrested and sentenced to death in Indonesia in April 2010 for allegedly smuggling 2.6 kilograms of heroin in a suitcase.
Justice for SAF 44 Fallen Heroes! Today is the National Day of Mourning for the 44 Special Action Forces. They were died during the fighting with Muslim rebels in Mamasapano, Maguindanao last January 25, 2015.

SAF group, were in the mission of getting/arresting the two terrorists; Zulkifli bin Hir, alias "Marwan", who is the most wanted terrorists list of the US Federal Bureau Investigation. He has a US$ 5 million reward on his head. And the other terrorist named Basit Usman who is a Filipino. The two belong to the Southeast Asian terrorist group Jemaah Islamiyah, which is linked to al-Qaeda's global terror network. There was a report that Marwan killed during the battle while Basit Usman still on the run.
It was a saddened day, not only for their immediate families but the whole nation is in tears. I was crying earlier when I watched Necrological services for the braved 44SAF. News said, it was a misencounter but for me it was completely massacre. They were brutally killed. How come this thing happened when there was peace negotiations between the government and Moro Islamic Liberation Front (MILF).

Sadly, we cannot bring their lives back. I hope Marwan was dead already. I hope the other terrorist, Usman will be captured very soon. Also, MILF and BIFF members participated in the clashes will be responsible on their action and bring to jail. If these happened, justice for the braved SAF44 members will be served.
I don't know personally any of the 44 SAF members but I'm extending my deepest sympathy to their surviving families on this day of mourning. Thank you all "Fallen44" for doing your job, for defending and for serving our country with all your heart.
I'm sure everyone is excited; today 88 contestants from around the world will compete for Miss Universe title. This is the 63rd Annual Miss Universe Pageant happening from the FIU Arena in Doral-Miami.
I hope our very own Mary Jean Lastimosa will get the crown. She is 27 from North Cotabato. With her height of 5'9", beauty and intellectual, I'm praying the Philippines will win this time.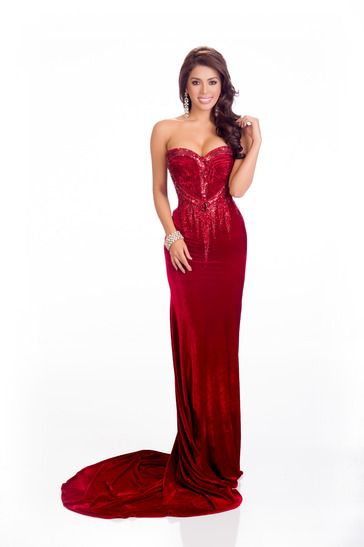 About Mary Jean (MJ) Lastimosa
 – a beauty queen with solid obsession for charity and public service. Born in a war-torn province with political insurgencies, she learned the values of bravery and became determined to excel in school. Her surroundings did not stop her from pursuing her passion for dancing, music and performance arts. This also encouraged her to work under the city government to work on education and child welfare projects. She took on the challenging course of Computer Engineering with the help of three scholarships and graduated with flying colors. Faith brought her to a different path and led her to be a successful entrepreneur and a beauty queen.
About the crown: Designed by Diamonds International Corporation
                                                                                    – Total weight – 411 grams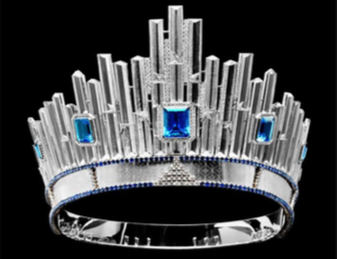 – An estimated value of $300,000
– 33 natural, translucent and colorless Bohemian crystals, cut, polished and metalized on the
rear side to enhance light reflection
– 5 large light blue topaz stones, symbolizing strength and loyalty, each weighing 18.6 karats
– 198 dark blue sapphire stones, symbolizing faith and wisdom weighing a total of 29.7 karats
– Encrusted with 311 small polished diamonds, weighing a total of 10.37 karats
– Base consists of 18-karat white gold strip that is 2 cm tall, 0.5 mm thick weighing 220 grams
– Case made from the highest quality Italian leather
Info and photos credit – Miss Universe
Here in the Philippines, everyone is excited because of Pope Francis coming. He is expected to arrive in PH, tomorrow at around 5:45 in the afternoon and will stay in the country until January 19 (Monday). How I wish to see him in person but I'm away in Manila. There are different activities and masses to be held in different places.
Aside from Manila, he will go to Tacloban on Saturday to meet those people affected of Typhoon Yolanda way back November 2013. Pope Francis will have a lunch with selected 30 victims of Typhoon and earthquake in Bohol.
I really wanted to be part of any of his itinerary. It would be a blessing but it's impossible for me and daughter to see the pope in person. My daughter took a chance to have a picture with his standee, which we saw in her school. How I desire this is real and my daughter is actually holding Pope Francis.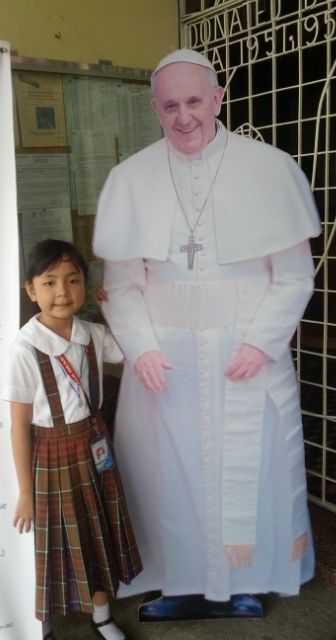 Let us pray that the visit of Pope Francis in the PH will be a successful and peaceful one. I heard first typhoon for this year is coming tomorrow so I'm praying it won't affect papal visit. Let us pray for the safety of Pope Francis. I hope after the visit we will all embody mercy and compassion in our day to day living.
I watched news earlier and one of the headlines was the fight of Manny Pacquaio and Chris Algieri. Everyone is excited for this fight that will be happening on November 22, Saturday in Macau. In General Santos (Gensan) the province of Pacquaio, the city Government offers free live telecast and other places in Manila. Some of the restaurants and cinemas are offering pay-per-view as well. Here in our place one of the cable providers is offering pay-per-view (not sure for the price). My brother-in-law usually gets one for our family and some of the neighborhoods are also coming to watch the fight of Pacquaio. This man is really the pride of the Philippines and all his battles in the ring, you can be sure that the Filipinos are watching his fight. And because many Filipinos are working in Macau, I'm pretty sure they will support Pacquaio all the way. I'm a fan of this man when it comes to boxing and if there's a chance to see his fight live I will not think twice and witness how he fights in the ring. Also in the news I heard that many big names in Hollywood are excited to see the fight and some of them include Arnold Schwarzenegger and Sylvester Stallone.
Manny in his previous interview wanted to win the fight and still hungry to win. His coach saw his determination and the moves of old Pacquaio in the ring. Good luck to your fight Pacquaio and make us proud again.