Browsing Category: "Parenting"
Oft-times, kids have varied reactions to the news of being switched from public school to homeschool. Some are elated and excited to begin this new chapter in their educations. While others are confused, and even upset, at the prospect of leaving the traditional classroom and their friends. However, if homeschool is something you absolutely think is best for your kids, this article outlines methods to ease your kids into being homeschooled.
Change Up the Schedule to Accommodate Late Sleepers and Morning Routines
With homeschool, you can create your own times, so you can accommodate late sleepers. If you allow your kids to wake up naturally, they are sure to be more refreshed and ready for the few hours of at-home curriculum you have planned for them.
Create an Interactive Curriculum that Mixes Knowledge and Interests
One downer about public school is that children rarely get to study what truly interests them. Arts and music, for example, are the most common banished subjects when budget cuts are made. Ergo, you should create a curriculum that mixes must-have knowledge, like math and science, with extras that your children have interest in, like cooking and sports.
Relent to Weekly Get-Togethers for Children with Public School Friends
If your child has been in public school for a while, they have probably accumulated a few close friends. Instead of cutting them off completely from at-school pals, encourage them to invite those friends over on a weekly basis. Encourage them to bring those friendships home, to the real world outside of public school. You could even invest in indoor playground equipment for those rainy days.
Start with Two or Three Days of the Week
Most children need an adjustment period to ease into homeschool curriculum and the concept of learning from home at all. Hence, you should start slow. Give the kids a week of rest from public school, then integrate two to three days the following week. Keep adding a day until you have a good schedule that works for you and your kiddos.
Homeschool is a personal choice, and one that has proven to have great educational results for parents and children alike. So, if your youngster has problems easing into the idea of being homeschooled, you should implement the aforementioned methods in hopes of creating excitement, elation, and anticipation for the new routines to come.
It is always fun to decorate the nursery with personalized baby room decor. You are adding a vibe that cannot be found in other nurseries. There are many online retailers that offer personalized decor, such as Purple Pumpkin Gifts. The items make great keepsakes and can be used as your little one grows older. Here are several personalized items to consider for their nursery.
1. Personalized Wall Clock
A wall clock is an important piece of decor for both you and your child, and your child is sure to love seeing their name on the clock as they grow older. Their initial and first name can be found around the edge of the clock. The clock itself is big enough to display the numbers and personalization to all visitors.
2. Personalized Photo Frame
Decorate the nursery and celebrate your bundle of joy with a personalized photo frame. The frame is personalized with their name, birthdate or a special message. You can also have it personalized for their gender reveal, birthday or first holiday.
3. Personalized Growth Chart
Children love to check their height and find their names on decor, and your little one will be thrilled to find their name on a growth chart. The growth chart is adorned with an adorable graphic or bright pattern to match their nursery. You can have it personalized with their initials, first name or full name.
4. Personalized Artwork for Kids
There is nothing like decorating their nursery with personalized artwork. Imagine their name on the center of stretched canvas and surrounded by the alphabet, or imagine their initials engraved on a metal wall plaque in your choice of color. The artwork comes in bright colors and fun graphics to match the decor of their nursery.
5. Personalized Names and Monograms
Names and monograms come in single letters, connected letters and full room signs. Use the letters to spell out their name or initials on their door or wall. The letters come in different sizes and styles to fit the theme of the nursery, but the patterns and colors can be customized to match the rest of the decor.
You can have most of the personalized decor customized to match the theme of the nursery. Using personalized decor is a great way to dress up the nursery and create a special keepsake for your child.
Time flies, my daughter is already in grade 3. In less than a week it is school time once again. It only means I need to wake up early morning again because her school time is 7:15 in the morning. My daily errands during school day is preparing her breakfast and assist her in everything including bathing, wearing uniform, while eating and sending her in school. I need to wake up early in the morning because I need to cook her breakfast. Before my mother was the one who prepared breakfast but because of her health condition, I'm the one preparing my daughter's breakfast. Well, this is the right thing to do because I'm the mother and responsible for my daughter. I should not let other do things for my daughter but asking for help is fine.
Anyway, I'm not ready to go back in school. I'm still thinking of summer, why time is flying? Just like me, my daughter is not yet ready to go back in school and still sleeping late. Oh well, whether we like it or not, school year 2016-2017 will start in few days.
She was enrolled already but I haven't bought school supplies. I need to get up and buy her school stuff. I'm planning to recycle her school materials last year to lessen our expenses. Ok, good luck to me and my daughter. I hope this school year would be a better one for her.
Book parade is happening at my daughter's school once a year. Last year it happened after my daughter's 7th birthday. I didn't think twice but let her wore Sofia the First gown. It was her themed on her birthday. I think book parade happens during November so I really need to think of a costume. It's already second week of October and time flies really.
My daughter and I are thinking of a tooth fairy costume. She always wear princess costume so I'm thinking of something new. I have always seen fairy costumes but not always a tooth fairy.   I will research more of this costume and consider it as my daughter's book parade costume. Stores already selling costumes for Halloween and I don't see tooth fairy costume, most of the time fairy costumes only.  I haven't seen any tooth fairy costume selling near my place so I think I need to be created on this thing. If not tooth fairy costume, I'm also thinking of just simply a fairy costume or daughter's old snow white costume back to princess, hahah!
You are about to have your first child and you have decided to breastfeed. You know you will need to purchase a breast pump for the times when you will not be able to breast feed your child yourself. Pumping your breast milk in advance and keeping it ready in a bottle is the best course of action and should be introduced to your little one within the first couple of months that you are nursing. Getting him used to drinking from a bottle will help to let you continue breast feeding while giving you a little more freedom.
When it comes to choosing which type of breast pump will work best for you and your little one, you have a number of pumps to select from. There are heavy duty pumps that are hospital-grade, and smaller, portable pumps that are battery operated. There are single pumps as well as double pumps so you can pump both breasts at the same time. You may even opt for a hands-free model so you can multi-task while gathering up breast milk for your baby.
A baby's sucking cycle is around 40 to 60
per minute so you will want to find a pump that is as close to that as you can get. Many of the hospital-grade or automatic pumps work at 30 to 50 cycles every minute so they may work best for you. If you aren't sure which one to get you might want to see if you can rent a hospital-grade pump to try out. If you plan on pumping a greater quantity of milk you should check out at mid-sized portable pump that is automatic and either uses electricity or batteries. If you are not going to need to pump more than once a day you can probably get away with using a manual breast pump.
If you always seem to have a great deal of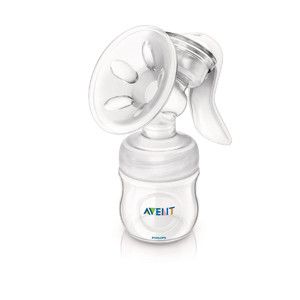 things to do you may want to either pick up a hands-free pump or a double pump. The hands-free model will let you do other things while you are preparing your breast milk for baby bottles. Some of these models have breast shields that can easily work with your nursing bra to provide you with a little privacy while you are doing more than one thing at a time. If you want to speed things up you can try out a double pump. This means exactly what it sounds like – you can actually pump both breasts at the same time making for a quicker and more efficient process.
A manual breast pump is less expensive and will fit the bill if you are not going to need to use it very often. You won't need to find a power source as most of the manual pumps use good old fashions mom power. Once you find a breast pump you are happy with, you will quickly become used to pumping and it will feel like second nature to you. Our advice – find one that you are most comfortable with.
Early childhood is a precious time in the life of a child. It is a time for children to develop as they begin to age towards becoming an adult. Numerous studies have confirmed that early childhood is very important for each child. While it can be easy to focus on educating a child, there are other ways to develop a child that are safe and fun.
Going Out Exploring
It can be one thing to tell a child about animals that may be exotic or unique. It can be another thing to show children animals that are wild and different. Parents, relatives
and other adults can do a great disservice to children by only showing them life through the pages of a book or pictures on a screen. Children love to explore and interact with life. Take advantage of their curiosity and go places. Go to a zoo and see the monkeys and other animals that are difficult to locate. Make the decision to go to a lake. See a child dig in the sand and be amazed at the waves. Instead of describing something, try to show the child in person what is trying to be communicated. When this is done, it can excite and educate younger children more than learning how to write certain letters or numbers on a paper.
Run, Jump, Play
Children at young ages are not meant to sit in chairs for a very long time. It can be difficult for children to stay quiet for even an hour for an event, such as going to a restaurant, sitting in church or being quiet during a funeral. Instead of getting after a child, there are plenty of ways a child can work off some energy. One of the best ways this is done is with peers. There are early childhood environments that enable children to play and have a good time with others. Playground equipment continues to improve in terms of safety and design. Furthermore, playground equipment and other types play sets are being intentionally made for children who are quite young. This is a wonderful benefit to parents who want their younger children to have fun and be active.
Early childhood should be a fun and pleasing experience. Young children are still figuring out many things in life. Adults should be giving young children opportunities to be active while having fun.
Its December. Time flies. 24 days to go and we will be celebrating Christmas. I'm not really excited for this celebration. I'm always looking forward for New Year but not Christmas. My daughter is the one who is excited; I think Christmas is really for kids.
I'm happy that my daughter will be having 2 weeks school vacation. This only means that there's no reason to wake up early in the morning. It's so nice to have a break from sending and fetching in school. Thinking of what she's going to eat for her lunch. Well, I'm blissful because she's not choosy when it comes to her foods. Whatever I have in her lunch bag, she eats them. Sometimes if she has a request food, I make sure to prepare it for her. That's my every day routine during school days and having a break would be great.
I think the start of the Christmas vacation would be on December 19. December 18 is their Christmas party. Before the party and vacation they will be having their 3rd Quarterly examination. Wow, time is really running. One more quarter to go and school for 2014-2015 would be ending very soon. I can't believe her time in grade 1 would be that fast. Anyway, I have to end here and start making her reviewer. Its better to do it in advance to make sure she's prepare on her examination. Good luck to both of us.
I heard from a news channel that a 7-year-old girl was raped and died due to 20 stabbed. I have daughter that will be turning 7 this year so, I know the feeling of the mother. I admit there were times I scolded my daughter but it doesn't mean I don't love her. And if something happened to my daughter I don't know what I'm going to do. I'm really sad to what happened to the innocent child. This child could have better future but the evil people made everything stopped for this girl. I pray for the soul of this child and rest in peace besides our God. Anyway, it's good to hear that the suspects were arrested but I don't think this is enough. They got the life of the innocent child so they should pay for it by giving their lives too. Sorry, but the thing they did was a serious crime and they should suffer a lot. It's so sad that we give the best to protect our child but other people would make everything to harm them. We don't know accident or incident would occur so taking care and protecting our children 24/7 is a must.
I'm glad this blog is working again. I was alarmed yesterday when I checked my blog and got error message. This afternoon I checked again and still error. I thought it wouldn't be fixed this day but I'm glad it's working already. I was worried because I have pending task that I need to do right away. Aside from that my earning depends on this blog so really important to access this blog. Thanks to my hosting carrier for the quick solution and hoping no more dilemmas occur.
Anyway, I'm busy tutoring my daughter everyday. Elementary level is really different compared to preschooler. Now, I'm teaching her lesson everyday because if not, she might not get her lesson clearly.
Her first long examination will start on Friday and the following week. I hope we wouldn't have any problem reviewing all her subjects. Sometimes it's hard to teach her because she doesn't listen when not in the mood. I need to make or create ways on how to make our review fun and enjoyable. In that way i'm sure she wouldn't be bored. Haist, I need patience haha. Well, good luck Kyla I know you can do it. I believe in you so have more confidence and concentrate with your examination.
I'm still enjoying making loom bands. My addiction began last summer (May) and now I'm still doing it regularly. I already showed some of my done bracelets and really satisfied with the result. Now, I'm enjoying making different charms. Thanks to the tutorials available online. It would be impossible for me to make one. All my works depend on the tutorials available on youtube.
Anyway, here are my recent loom bands creations. My daughter asked for some panda so I made different colors. Daughter wasn't satisfied and asked for more panda's haha. And because daughter likes guitar I also made one for her. For the second photo I made starburst headband and lastly, bow tie ponytail. Again, all the tutorials came from youtube.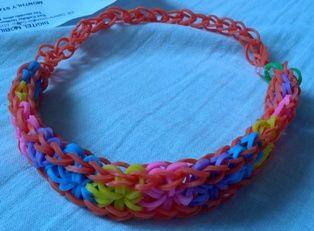 The possibilities are endless with loom bands. I thought its only for bracelets but now I have charms, hair accessories and soon will make Disney characters.