Browsing Category: "Uncategorized"
If you've been invited to a baby shower but aren't sure what kind of gift to get, then consider something that is personalized for the baby. There are personalized baby shower gifts that feature
the same details as the theme of the nursery or a favorite hobby that the parents enjoy. You can also get something simple that has the initials of the baby or the baby and the parents. Take a look at the invitation to see if there is any kind of special design that the parents are using, such as teddy bears or a sport. There isn't a rule that dictates exactly what you have to get for a baby shower gift, so try to use your imagination to get something the parents can use and that the baby will enjoy later.
An idea that can be kept on a shelf or in the crib is a stuffed animal. A name, initials or a few details of the birth can be put on the stuffed animal, such as the birth date and weight. If you want to get something that is a bit more personalized than letters, then consider a recording of the mother's heartbeat that is placed inside the animal. You can also get soothing noises or lullabies if you don't have access to the mother's heartbeat.
Another idea is a set of cards that parents can fill out with the date of when the baby sits up for the first time, takes the first steps or celebrates the first birthday. There are numerous designs to choose from, and you can personalize the cards with the name of the baby and the parents. A piggy bank is also a baby shower gift to consider if you want to get something personalized. Picture albums are an option so that the parents can have a record of all of the special moments in the baby's life. When you begin looking at personalized gifts, think about what the parents might enjoy and what they could use while tying in details of the baby as much as possible with the item you select.
Pasta is one of my favorite foods to eat. Sometimes I make my own using simple ingredients that are readily available in the house. Here is my version of Baked Mac.
Here's what you need:

macaroni shells
spaghetti sauce
hotdog
mushroom
corn beef
regular cheese
melted cheese
garlic
onion
oil
butter
water
salt and pepper to taste
How to make
1 Cook macaroni shells according to package direction.
2. In a separate pan, sauté garlic and onion in little oil and butter.
3. Add hotdog, mushroom and corn beef. Just cook for few minutes.
4. Add spaghetti sauce, water, grated cheese, salt and pepper. Simmer for few minutes and it's done.
5. Put cooked macaroni in the sauce.
6. Transfer into a bake pan and add melted cheese on top.
7. Put in preheated oven for about 15 minutes or until cheese is melted.
Enjoy homemade Baked Mac while still hot.
I missed blogging really! I was actively doing blogging and it has been my bread and butter for a long time. I used to get huge amount here and other stuff aside from money. But it is different now. It is hard even just opening this blog. Before I was complaining our internet connection but now the laptop I was using for long time ago is the problem. It is hard to work online if you don't have good laptop and internet connection. By the way, I have good internet connection now and laptop is really my dilemma. This is also the reason why I haven't updated this blog and other blogs of mine regularly. It was hard for me to let go my 2 blogs but I need to do it since I haven't updated them and no income coming.
This laptop is still working but it takes time to finish just one update of my blog. If I have a copy paste task normally I can do that in less than 5 minute or less. Because you just have to copy and paste it but now it takes hours to do that. I guess one reason why this laptop is acting weird already is because this laptop was really old. I need to get one but it is not easy for me to buy because there are other important things to consider. There are times I need to rent computer just to update my blogs. Though I could finished my task in no time still it is not convenient to work outside your own abode. I hope to go back to my routine back days when I was actively doing online job.
There is absolutely no valid argument against the proposition that modern life is tough. No matter how educated, how sensitive, how alert, or how connected a person is, aspects of modern living elude the best and brightest. Someone can have well-laid plans that would put a Renaissance era explorer to shame, and still feel as though they are ill-prepared for the challenges of life.
Most of the concerns people struggle with have to do with intensely personal conundrums, not just the how to's of everyday living. In the modern, fast-paced world, it seems as if successful people have an inroad to esoteric information that is not necessarily the privy of the masses. This is the primary reason many people learn to love psychic readings. This brand of essential mind, body, and soul help is exactly what is needed to counter the onslaught of modern living stress and struggle.
Everyday people can receive great life advice through the insights of experienced and approachable psychics. Phone psychics are, not surprisingly, the richest source of valuable life information. Individuals with vetted and true psychic abilities choose to communicate via phone connections because it creates an intimate and free atmosphere where valuable information and knowledge can be exchanged.
Without question, the most frequent searches using psychic abilities are centered on relationships. Every aspect of modern life revolves around a person's interactions with others. These relationships encompass professional duties, friend interactions, and the ever-present need to find lasting romantic bonds. True psychic power and insight is easily communicated over the phone, and is a solid source for resolving any concern.
For many people, the prospect of asking a sensitive phone psychic about very personal problems is a big leap into realms of insecurity. The best way to understand the service that phone psychics provide is through personal need. A psychic is someone who is gifted with the ability to connect with an individual on a level that is foreign to everyday interpersonal relationships. A psychic connects with an individual without judgement, and without pretense.
Individuals are constantly looking for truth that permeates the problems in life. Psychics have the talent and experience to weigh these concerns against information that is provided from sources far beyond the scope of everyday modern thinking. With the simple use of a telephone connection, anyone can enlist the help of a person whose understanding of life is beyond the norm.
The love of using phone psychics to answer questions about love, romance, careers, and family life only comes from positive connections. Most people who resolve to gain insight from psychics over the phone have immensely edifying experiences and gain valuable insights that cannot come from any other source. Phone psychics are a great way to help boost an overall proactive understanding of life itself.
Whether you spend most of your waking hours picking up after five children or closing sales, performing menial chores is probably the last thing you want to do. Other people might look at you askance upon discovering that you employ any of the tips listed below, but you'll be the one relaxing with a magazine at the nail salon each week while they're stuck doing laundry for two hours.
1. Use disposable dishes and cutlery
This isn't the most environmentally sound idea, but when your seven-year-old is having ten friends over for a sleepover that involves ice cream sundaes and macaroni surprise, you'll probably do anything to avoid the inevitable clean-up. Just make sure to only break out the paper plates when you have guests over, or you'll find that the amount of waste you produce in a given week may increase exponentially.
2. Buy a lot of clothes
Personally, I find that I run out of clean underwear and bras before I find myself low on shirts or jeans. If you wear a particular item of clothing frequently, having plenty of them on hand can drastically prolong the amount of time you can go between visits to the laundromat. For items such as block-color t-shirts or bras, buying them wholesale is a cost-effective option. Uni Hosiery offers a number of wholesale underwear and active wear options, including these delightfully comfortable mamia bras.
3. Prepare extra ingredients while cooking
If you find yourself using certain items in most of the dishes you cook, make extra so you'll have some already on hand next time you're putting together a meal. For me, frequently used items include vegetables such as tomatoes, mushrooms, and onion. Rice and potatoes are carbohydrate staples used in many dishes appropriate for breakfast, lunch, or dinner. Just be sure to place a piece of masking tape on the container with the date of preparation so you can easily avoid eating anything that might be spoiled.
With the right amount of planning and foresight, you can drastically increase the amount of free time you have available. Now the trick is to figure out what to do with all those extra minutes in your day!
As a homeowner, the idea of another repair can be enough to just about make you lose it. If you're like most, it can seem like the house you fell in love with feels a bit like a big pit where all your money goes from time to time.
While there's no way to escape home repairs if you want to keep your value up, you do have some options when it comes to how you repair your home. To spend your money well, you need to be smart about repairs.
Use this guide to help you figure out if you need a new driveway and how you should go about takin care of it. Your driveway is one of the first things people see when they visit your home, so it really does matter if appearances are at all important to you.
Determine Your Condition
Putting in a new driveway probably sounds expensive to you. With all of the other things going on at the average person's home, it can seem like an expense that's just not worth it. However, if you let it get too far, the overall expense will be much greater.
Start by surveying your driveway and trying to figure out what kind of condition it is in. Do you have big cracks or holes in your driveway? Are parts torn up and oil or water are getting into these areas?
You also need to consider the kind of damage that a badly damaged driveway can do to your car. Driving into a big pothole every single day doesn't make a lot of sense if you're trying to maintain a decent vehicle.
Do Repairs Early
Putting of repairs, especially on something like a driveway, is easy to do. Unfortunately, doing it for too long can result in some serious problems and major expenses.
Having a damaged driveway repaired is obviously much cheaper than putting a new one in. Don't wait when you see cracks and rough spots to get a professional to look at doing the repair work for you.
Get an Estimate
There are a lot of asphalt driveway contractors out there, and while many of them do good work, they aren't all reputable. Paying the right price is also important.
Get estimates and do your homework on any company before you hire them for a home improvement job.
Funeral costs throughout the country continue to rise. As this industry grows and serves more people, the costs associated with saying goodbye to a loved one climb to a level that many families find difficult to afford. When your own family has a limited budget with which to plan a loved one's final arrangements, you may fear that the service will have to be limited to the barest of essentials. However, with options like the affordable cremation services in Virginia and other types of funeral choices, you may find that you can say goodbye with a tasteful and thoughtful arrangement that pays proper respect to your lost loved one.
Choosing the Option Best for Your Needs
If you have never before planned a funeral, it can be difficult to know what to expect. You do not want to be led into choosing things that you cannot afford. At the same time, you want professional input to help you learn more about your options.
Rather than fear that you will be bullied or coerced into making choices that could fall beyond your budget, you can instead retain control over the arrangements when you choose this service. You will be presented with factual and helpful details so that you can select the funeral that is right for your family and the budget you have set aside for the funeral.
Pre-planning for Your Own Service
Planning a service can be a difficult and emotional undertaking for any family. It is only natural that most people want to spare their loved ones of the difficulty of having to put together and paying for their final services.
If you have decided to be cremated, you can begin planning your own funeral now so that your survivors are spared this obligation. You can decide arrangements like what music will be played at your memorial service, where you want your ashes to be scattered or buried, and even what kind of urn you want your ashes to be placed in after you are cremated. You can then pay for your funeral in one lump sum or with payments set up by the funeral company.
Funerals allow family members and friends to say goodbye. You can arrange a tasteful and thoughtful final goodbye for your loved one without having to overspend the budget that you and your relatives have available to you.
As Black History Month winds down in America, it truly makes you appreciate all of the contributions that have made this country a richer place from a wealth of African Americans over the years. From scientific discoveries to unforgettable literature, it's clear that an incredible impact has been made on America. African Americans continue to make their mark with artwork and gifts that have a unique flavor, making them stand out in a crowd. At BlackArtAndGifts.com, you can explore your options to find pieces that are a must for your home or as a gift for someone you love.
Discover an Extensive Collection
When you search by category, you won't believe the comprehensive selection of artwork that is available at one site. Find abstract art, Barack Obama art, Black Children's art,
African art, Education Art, Motivational Art, and more. When you think of memorable African Americans, such as Michael Jackson, you can find artwork that is devoted solely to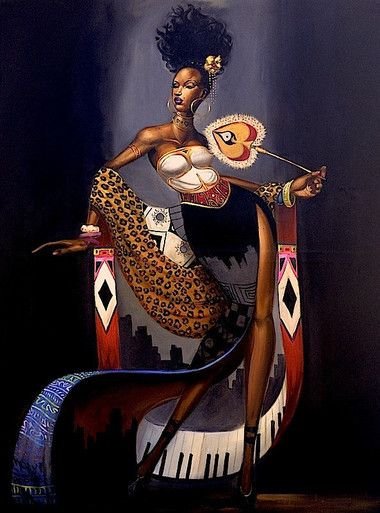 that individual. Whether you like dance, floral artwork, or photography, it's been highlighted in once place, making it available with the touch of a button.
Find Your Favorite Artist
If you already have a black artist who ranks high on your list, you have come to the right place. Find work from Michael Bailey, Cornell Barnes, Tracy Andrews, Melinda Byers, and many more. This is your opportunity to explore your options. You may discover a new favorite. Each piece is remarkable, a labor of love from a talented individual who had to express himself or herself on canvas. Make a masterpiece your own or give one to someone who means the world to you.
Choose from a Broad Assortment of Gifts
You can move beyond paintings and photography to find a host of other pieces that would enhance any collection. Plagues, bookmarks, book covers, candleholders, calendars, figurines, Christmas items, note cards, and more are waiting for you. Whether you have a specific item in mind or you feel like browsing, you'll find that there is no shortage of artwork and gifts that revolve around African Americans. Tap into the great talents that are waiting for you. Make a new addition to your home or give someone else a memorable gift that shows how much you care when you visit a site that is dedicated to black art and gifts.
Major construction projects require the use of specialty equipment. When it is your job to make sure all of this equipment shows up to the job site, you may wonder if it would be feasible for you to partner with a company that specializes in delivering, setting up, and inspecting such necessities. You can establish such a partnership by going online to the website and discovering what services and benefits the company can offer you. You can also check out your options for equipment like overhead bridge cranes that you and your crew can use to carry out the work safely and efficiently.
If your company does not already have such large equipment in its possession, you will need to partner with a company that sells this machinery. When you purchase the machinery from the company, you can have it delivered safely to your job site. Delivering such a massive piece of equipment requires permits and knowledge of local transportation laws that may be more than what your crew is prepared to handle. By dealing with the company online, you can have the equipment brought to your location safely and in a timely manner.
The company can also set up the equipment for you, ensuring that it will be safe to use and also set up in a way that abides with local safety laws. The permit that your company has for the project may require that the crane be set up so many feet away from the road, for example. Rather than risk setting up the crane in a way that violates the permit, you can allow a professional equipment handler to take care of this task for you.
If you do choose to set up the equipment, you may need to have it inspected prior to using it. When you want a fast and thorough inspection, you can find out about this service online. The business has inspectors who can come to your job site to look at the gear that you have set up and ready to use. They can tell you what has to be changed and what you must do to use the equipment safely. The company also has parts available in case you need to make repairs to any of the crane equipment that you are using for the job. You can find out more by going online.
Good morning. Let me share my breakfast for today. I don't normally eat heavy breakfast, simple foods will do. I want bread more than rice in the morning. I want it to be toasted. So here are my toasted breads and made tuna for filling. My daughter likes tuna sandwich so I always find time to make this filling.
My ingredients for tuna filling are century tuna flakes, mayonnaise, salt and pepper. It's very easy to make, you just need to mix all the ingredients and refrigerate so it will last a little longer.
Aside from bread, I'm enjoying banaba tea for two weeks already. I had problem with my back and was thinking if banaba tea will heal my back pain. With my curiosity I purchased a box. I don't know if this tea was the one who helps me but for two weeks of drinking this tea, I don't feel the pain already. I still drinking the tea every morning and I trust this one really helps me. Price of banaba tea is less expensive compared to other tea so will patronize this one. Honestly, I didn't like the taste at first but with continuous drinking I used to it.