One of my favorite Filipino salads is Chicken Macaroni Salad. This salad is best served in any occasions but you can enjoy this everyday as an appetizer or food for merienda. Recently, I made my own version of chicken macaroni salad; here are the ingredients and how to make it.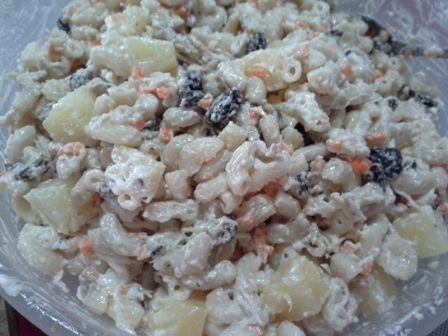 Ingredients
Elbow Macaroni
Mayonnaise
Chicken
Carrot
Raisin
Pineapple tidbits
Onion
Salt and pepper to taste
How to make:
1. Cook elbow macaroni according to package directions. Drain and set aside.
2. Bring water to a boil. Once boiling, add salt and chicken. Cook the chicken until done. Drain the water and let the chicken cool. Discard the bone from the chicken and then shred the chicken meat using hands.
3. In a large mixing bowl combine all the ingredients; elbow macaroni, shredded chicken and the rest of the ingredients. Season with salt and pepper to taste. Mix well.
4. Cover the mixing bowl, refrigerate for at least an hour before serving.
5. Transfer to a plate and enjoy
I saw in other chicken macaroni salad recipe that they add cheese, I didn't put but will try to add next time. I will see if cheese would make the salad delicious. I have tasted other macaroni salad and instead of chicken, they add ham, tomatoes, lettuce, pineapple tidbits, mayonnaise and salt and pepper to taste. I must say macaroni salad is best if you choose the right mayonnaise, so add the best mayonnaise that you could find. I add the leading mayonnaise available in the market but it didn't taste good for me so I add other mayonnaise brand.