Employees who work in the kitchen or serve food can expect to suffer the occasional spill. When you want to minimize your corporate dry cleaning bill, you may invest in apparel that will keep your employees' uniforms as clean as possible during a shift. Extras like restaurant aprons can protect your workers' clothing while still allowing them to look stylish. These extras also serve a practical function while the people
wearing them serve table or work in the kitchens.
When you choose apparel like aprons for your wait staff, you provide them with a piece of apparel that covers their uniforms and also acts as a complement to their ensembles. The aprons can be color coordinated and also emblazoned with your logo or corporate name. Likewise, the aprons can have pockets in them so the wait staff has a place to put their pens, order pads, tips, and other items that they need to have on hand during a shift. The apron looks stylish while serving a practical function.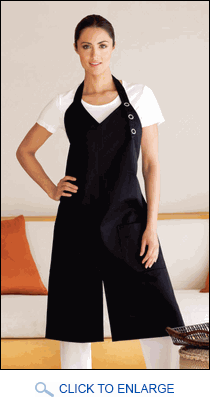 The aprons you choose for your kitchen staff can likewise be made in your corporate colors and have your logo or business name on them. However, the aprons for kitchen wait staff may be sturdier and more stain resistant than the ones worn by your front of the house wait staff. Your cooks and dishwashers will come into contact with grease, water, soap, food, drinks, and other debris throughout a shift. You may find it necessary to provide them with a covering so that they do not damage their work shirts and pants. An apron designed for kitchen wear can serve this purpose.
When it comes to choosing shirts and pants for your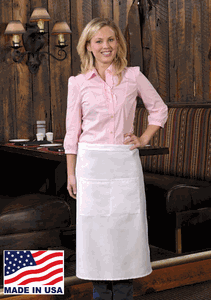 front and back of the house staff, you want them to coordinate with the rest of your business. Your host staff, for example, may have shirts that have certain embroidery and feature certain colors. Your front desk staff likewise may have button-down shirts that are emblazoned with your corporate design. While the kitchen staff must wear shirts and pants that suit their occupation, you can still order uniforms that complement those worn by other employees. Uniforms that have the same color scheme present a unified appearance to others who may be visiting your business for the first time. You can order uniforms and accessories for all of your staff when you shop online.