Browsing Category: "Food"
I'm drooling over these yummy green mangoes. This green mango is called Indian mango in our place. I can't remember the last time I ate Indian mangoes until I saw when this picture was taken. So, it was July, more than three months already. Indian mango is one of my favorites among the family of mango.
I saw the photo earlier when I was cleaning my photo files. I'm sure that I haven't shared this photo here because it's still in my files. I remember my cousin who is my neighbor gave these green mangoes and tasted so sweet though it's green mangoes.
I'm not certain if mangoes are in season today. I think not because I rarely seen fruits in the mango trees of my neighborhoods. Anyway, Indian mangoes are best to eat with bagoong or shrimp paste or salt with pieces of red chili, that's yummy!

I was checking photos of my daughter during fiilipiniana culminating activity (buwan ng wika) and I saw this yummy kakanin (native sweet delicacies). I brought the food in my daughter's school during the celebration of Buwan ng Wika. After the program, daughter's school normally enjoys Barrio Fiesta. Each one of the student will bring kakanin or food/s they like to bring. Then the teacher, students, parents and guardians are eating together; Barrio Fiesta is a tradition already in her school.
I chose the kakanin because i don't have time to cook so I purchased this delicacies in one of the stores selling yummy sweet delicacies in my place. Sadness, I didn't taste everything. I ate only the one in the middle which is pichi pichi. It tasted so good and of course the rest of the kakanin as mentioned by the other mommies. I think 5 different kakanin are there in one winnow and for only Php230, thumbs up. Now, I'm craving for all these kakanin and wish I have any of them in front of me.
Cheese stick is a great meryenda (snack) not only for kids but for everyone. It is deep-fried snacks with simple three ingredients; cheese, spring roll wrapper and oil. For my cheese sticks I used left over spring roll, Eden cheese and oil.
Simple cooking procedures:
1. Wrap the cheese in spring roll wrapper.
2. Heat the pan and pour-in the cooking oil.
3. Deep-fry the cheese in spring roll wrapper until the color of the spring roll wrapper turns golden brown.
4. Remove from the pan and place in a plate with paper towel. Let stand for a few minutes for the oil to drain.
5. Serve with mayonnaise and catsup dip.

Another round of free brownies actually my fourth-time to claim free brownies at Brownies unlimited. As I said before BDO has promo and the receipt can be used to claim treats from Brownies unlimited and other three food stores. Well, the promo has been ended and happy to get 8 boxes of brownies unlimited.
Aside from brownies I also got Monde Special Mamon (6 pieces). This was another promo of BDO credit card by purchasing Php1000 or Php3, 000 charged to BDO credit card at any SM supermarket and hypermart, member has a chance to get item for free. I think the promo ended already but you can still avail free treats until July 31, 2013. Make sure you used BDO credit card from April to May 31, 2013 to get free item. You can get different item depending on the day.  Happy tummies!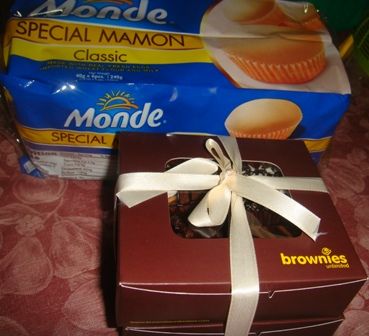 Photo above is the halo-halo we ate during our visit in Fort Ilocandia Resort, Ilocos Norte. After a short sightseeing we took a break and had each glass of this famous dessert with one scoop of vanilla ice cream and green crispy rice on top. This cost 75 php but regular one without ice cream cost 50 php.

Halo-halo is a popular Filipino dessert especially during summer. It has a mixture of shaved ice, evaporated milk and some added various sweets and fruits, to make it special you can add ice cream on top and leche flan.
Don't forget to visit your favorite McDonald's Breakfast restaurant to get your FREE McMuffin. I received an email from Nuffnang with this subject McDonald's National Breakfast Day. I already saw this on TV commercial but still clueless. So I read the email and I learned that McDonald's is celebrating National Breakfast Day on March 18. It's an event that the Philippines is celebrating together with other countries in Asia, Middle East, and South Africa.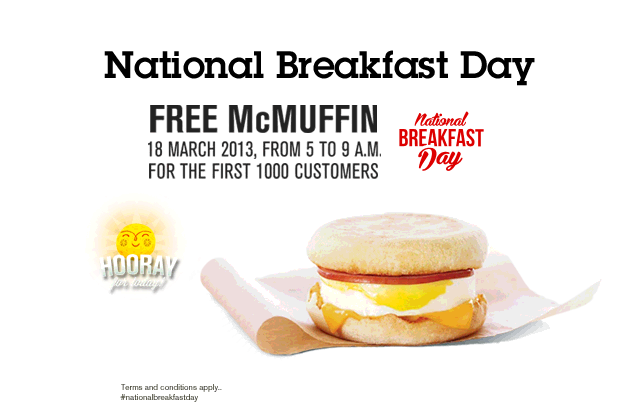 Terms and Conditions:
•Coupons for the FREE McMuffin will be given to 1,000 customers on a first-come-first-served basis.
•Coupon must be surrendered to the crew upon redemption. Redemption does not require any purchase. 
•The coupon is valid for dine-in, take-out and drive-thru only. 
•Only one (1) coupon will be given per customer. 
•Only one (1) McMuffin can be claimed per coupon. 
•Only one (1) coupon can be redeemed in a single transaction. 
•No coupon, No free McMuffin. 
•Coupon/offer is not exchangeable to cash and/or other McDonald's products. 
•McDonald's reserves the right to refuse redemption if coupon was found to be tampered with. 
•Only original McDonald's issued coupons will be accepted.  
•Free product may vary from illustration. McDonald's reserves the right to replace the free item at its discretion, without any prior notice.

You can check here Participating McDonald's Stores in the Philippines. Information and Image were grabbed from McDonald's site.

These are the discount coupons I got when I availed Happy plus card in Jollibee. It's so sad because it's already expired and I didn't use any of them. These coupons were valid for 1 month from the time I purchased the Happy plus card but I forgot to use it. Sigh, I should get Php 50 to 100 OFF from these food stores Jollibee, Chowking, Greenwich, and Red Ribbon. Anyway, better luck next time …for sure there are other discount coupons for me to grab on.