Browsing Category: "Food"
Photo above is the halo-halo we ate during our visit in Fort Ilocandia Resort, Ilocos Norte. After a short sightseeing we took a break and had each glass of this famous dessert with one scoop of vanilla ice cream and green crispy rice on top. This cost 75 php but regular one without ice cream cost 50 php.

Halo-halo is a popular Filipino dessert especially during summer. It has a mixture of shaved ice, evaporated milk and some added various sweets and fruits, to make it special you can add ice cream on top and leche flan.
Don't forget to visit your favorite McDonald's Breakfast restaurant to get your FREE McMuffin. I received an email from Nuffnang with this subject McDonald's National Breakfast Day. I already saw this on TV commercial but still clueless. So I read the email and I learned that McDonald's is celebrating National Breakfast Day on March 18. It's an event that the Philippines is celebrating together with other countries in Asia, Middle East, and South Africa.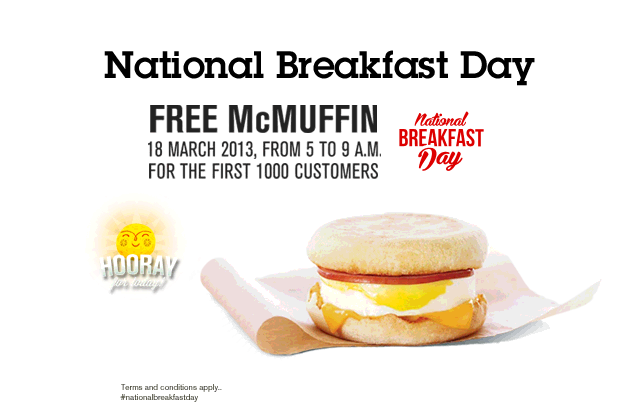 Terms and Conditions:
•Coupons for the FREE McMuffin will be given to 1,000 customers on a first-come-first-served basis.
•Coupon must be surrendered to the crew upon redemption. Redemption does not require any purchase. 
•The coupon is valid for dine-in, take-out and drive-thru only. 
•Only one (1) coupon will be given per customer. 
•Only one (1) McMuffin can be claimed per coupon. 
•Only one (1) coupon can be redeemed in a single transaction. 
•No coupon, No free McMuffin. 
•Coupon/offer is not exchangeable to cash and/or other McDonald's products. 
•McDonald's reserves the right to refuse redemption if coupon was found to be tampered with. 
•Only original McDonald's issued coupons will be accepted.  
•Free product may vary from illustration. McDonald's reserves the right to replace the free item at its discretion, without any prior notice.

You can check here Participating McDonald's Stores in the Philippines. Information and Image were grabbed from McDonald's site.

These are the discount coupons I got when I availed Happy plus card in Jollibee. It's so sad because it's already expired and I didn't use any of them. These coupons were valid for 1 month from the time I purchased the Happy plus card but I forgot to use it. Sigh, I should get Php 50 to 100 OFF from these food stores Jollibee, Chowking, Greenwich, and Red Ribbon. Anyway, better luck next time …for sure there are other discount coupons for me to grab on.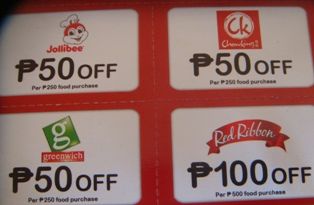 I am using Happy plus Card for less than a month.  So what is Happy Plus Card?
It is the country's first cashless payment card with rewards that is acceptable in Jollibee, Chowking, Greenwich and Red Ribbon. Soon Mang Inasal will be included in the list. By using this card no need to pay your transaction using cash. Just tap the card in the machine (make sure it has load) and you get your food. No need to wait for your change (which sometimes a problem) and you will receive benefits using this happy plus card.
Benefits of using Happy Plus Card 
Free food for Points – Earn happy point when you use your card and use the points to get free food. For every Php50 food purchase earns you one happy point. One happy point is equal to one (1) peso.

 
Monthly cash winners – register and reload your happy plus card for a chance to win up to Php100, 000 every month. Exclusive only to registered card holders.

 
Php100 = 1 raffle entry
Php300 = 5 raffle entries
Php 500 = 10 raffle entries
Php1000 = 25 raffle entries 
The more you reload, the more raffle entries you get. 
Fast cashless payment – No need to search your wallet for cash or wait for change. Just tap the happy plus card to pay for your food.

 
When you run out of load, just reload your card for a minimum of Php100. You can do this before you order.  
To enjoy these benefits you need to purchase the happy plus card for Php100 and load it for a minimum of 100 pesos. Remember to register your card so you are entitled to join the raffle monthly. Happy plus card is good for three (3) years and renew it after. 
When you purchased happy plus card you also get this free coupon discount coupons valid for 1 month upon purchased. 
Jollibee – Php50 OFF for every Php250 foor purchase
Chowking – Php50 OFF for every Php250 foor purchase
Greenwich- Php50 OFF for every Php250 foor purchase
Red Ribbon – Php100 OFF for every Php500 foor purchase 
Happy plus card is transferable.  So far I'm enjoying this card and its hassle free. But I read from other users that they encountered problem using this card. I guess the problem is the machine. So better check your balance first before giving your order. So if something happens, you can see if your balance is accurate.
Photo not mine