Browsing Category: "Gadget"
I'm glad this blog is now up. For the past days we encountered server problem so I can't open or access my blog. We were informed about the server problem and I'm glad the problem has been resolved. I hope this is for good already anyway, I don't know what happened but I'm pretty sure my last update was about our PLDT WiFi well I have to write it again.
I shared last time that we now have PLDT WiFi at home. We are using this for two weeks already. The first week of using it was smooth and didn't encounter any problem but after that second week is already a big dilemma. There were times the connection is very slow and down. I called PLDT hotline and informed them about the dilemma we are experiencing. The operator then told me they will advise PLDT branch in our place. The night when I called them, I encountered big dilemma because I can't access any websites. I waited until midnight but nothing happened though I was connected but I can't access anything.
Anyway, I'm happy for their quick action because one of the technicians from PLDT came to the house one day after I called them. The technician fixed everything and told me he just made adjustment with our server. Well, I hope our PLDT WiFi connection is up for good just like this blog.
Our simple abode is now WiFi zone. Before I used SUN Broadband stick. I think used their service for almost 3 years but decided to cut my line because the broadband stick has problem already, I think that's the reason why my connection always failed but before it was cut, the stick still usable, you have to be patient only. Anyhow, I decided to get WiFi from PLDT. I think it was Thursday when we have this and so far the connection is good. Sometimes I have problem but I think the problem is not in my connection but the laptop I'm using because this is old already.
Anyhow, I'm glad because we have PLDT WiFi now in the house. I can use the Starmobile Engage 9 that I bought recently. Before, I need to go to the mall just to connect my tablet online and upgrade all the applications. This is one of the advantages of using WiFi, at least now the family is able to use all the gadgets simultaneously.

Last time, I promised that I will make a review of my newly purchased tablet. So here it is my Starmobile Engage 9 Review, today is my first week of using this tablet. Just like what the store said to me, I should charge the unit completely before using. So that's what I did, it took 6 hours to charge the battery completely. I thought, because it was initial charging so it took that long. After completely charged, my daughter was so excited to use it, surprisingly she used it for only 5-6 hours with a little break. I never expected that the battery will just stayed for 5-6 hours, I have no choice but to charge the unit again. The second, third and fourth time I charged the tablet, it took 5 hours and one time 5 hours and 20 minutes. I went to check Starmobile fan page on Facebook and happy because they response easily every time I'm making query.  Regarding charging time, they said 3-4 hours is the normal time to charge the unit completely. They advised me to bring the unit to the nearest service center to check the unit.
Aside from this charging time, I was shocked this morning because my engage 9 unit shutdown. It wasn't low battery because it has 15% remaining battery. Normally, battery low warning appears if the unit is already 4%. Well, at this time I'm writing this post the unit is charging and it opens already. Still, it is very alarming so I have planned of bringing the unit in the store where I purchased it, maybe tomorrow.
Other than these problems, so far I don't have problems in other features. I tried to connect online using Wi-Fi in the store where I purchased it and didn't encounter problem. I tried to browse Facebook, Yahoomail, Google search,  Play store,  Instagram and other application using my sub broadband stick and didn't encounter dilemma but watching Youtube gave me headache. I don't know if it's because of my connection. Games like Temple Run, Angry Bird, Plants vs Zombies and other games work fine without hanging.
Camera – it has back and front camera. Honestly, I haven't tried completely the camera but it's not good for dim places as in the result is not good.  Audio/Volume – its fine compared to my laptop =)
Anyhow, if they can resolve charging time of my Engage 9, I will recommend you to purchase this unit. Actually it's already a good choice if you are looking for cheap and affordable tablet and the price of 7,190 Php, I think it's reasonable.
Buying tablet is one thing I was looking forward ever since. At first, I wanted an iPad but later on I got interest in Samsung tablet. Sad to say I didn't get any of these two tablets because I don't have enough money. Even purchasing them using my credit card, I don't think I can pay monthly due because I don't have regular income.
So, instead of dreaming any of iPad and Samsung, I checked other cheap tablets. There are many cheap tablets available online. Last time I saw 7" tablet in eBay for only 2,600 Php. I was thinking to get this tab already but I'm not confident buying gadgets online.
Well, to make the story short, yesterday I bought Starmobile Engage 9. It's not my plan to buy yesterday but the store has good offer that made me decide to get one. I have BDO credit card and currently offering BNPL (buy now pay later). Aside from that I will pay the tab for 1 year. It's only 600 pesos per month. For me it's already a good deal so I decided to get this Starmobile Engage 9. I will make a review of this tablet next time.
Technical Specifications
Platform:  Allwinner A10 Cortex A8 at 1GHz
OS: Android  4.0 Ice Cream Sandwich
Size and Weight:  Dimension:  238mm x 156mm x 12.6mm
                  Weight – 507.6g (inclusive of battery)
Memory:  Internal Memory – NAND + SDRAM 8GB+1GB
                Expandable Memory up to 32GB
Display: Screen – 9.0 Capacitive 5 Point
Multi Touch Display
WVGA 800×480 pixel resolution
Connectivity:  WiFi 802.11 b/g/n
Browser: Android browser
Messaging: Supports Multiple Email Accounts
Camera: Back Camera: 3.0 MP
Front Camera: 0.3MP
Video Call and Recording Supported
Multimedia: MP3 Player
Voice Recorder
Supports Flash Player (Version 11.1)
Social Media: Facebook, Twitter, Skype, Youtube, Yahoo Messenger, MSN
Other Applications: Play Store
Location: Assisted Global Positioning System
Audio:  Audio formats supported: MP1, MP2, MP3, WMA, WAV, OGG, OGA, APE, FLAC, AAC, M4A, and 3GPP
Sound Recorder file format: 3GPP or MP3
Photos: Image formats supported: JPEG, BMP, GIF, and PNG up to 8000×8000 pixel resolution
Battery: 4500 mAh battery life
Up to 200 hours standby time and 6 hours HD Video Playback
*Available in black and white color
* Price  – 7,290 Php
Finally, I'm back online. I had problem with my internet connection last week. Actually, it was my fault because I forgot to pay my account so they disconnected my line. My daughter's school was busy last week because of foundation celebration. They had different activities, reason why I forgot to settle my obligation to Sun cellular. After 3 days I settled my account. I was thinking that my connection will back in few hours based on my past experienced. I was waited till late at night but I can't access my net.
Early morning (Saturday) I called Sun hotline. The operator checked my account and she said I didn't pay my account. I was shocked because I paid already (Friday afternoon). She was asking me to give reference number so she could check my payment. Sadly, there was no reference number. She then told me to check my connection from time to time or wait for 24 hours. Late in the afternoon I checked my connection again but still it didn't works. So late at night I called Sun hotline again. Just like the first operator I talked in the morning, this operator checked my account. He then told me my account was still disconnected. I told him that I already settled my account. And same thing he asked me about reference number. I told him that reference number wasn't available in the official receipt so I just gave him number of official receipt. He recorded it and asked me again to wait for the reconnection.
Sunday afternoon, I checked my account and still no connection. I was really mad at SUN that time. This is not the first time my connection got disconnected but in my past experienced they reconnected in few hours after paying. And there was a time they reconnected my net after I called SUN hotline. Anyway, I made a call again. The operator then checked my account and she said there was no payment posted under my account. So, again I insisted that I paid my account 2 days ago. Well, same with the other operators I had talked, she promised me to check my account from time to time. So I waited again the whole Sunday and still no connection.
Monday morning I called SUN hotline and as usual they checked my account. I felt happy when the operator told me the payment I made was already posted. She said wait for my account to reconnect. So I thought in few hours I can work online but I was wrong. The whole Monday I can't access my internet connection. I thought I will do all my online tasks because it was long weekend but nothing happened. SUN just made my long weekend useless.

Tuesday after I fetched my daughter from school we went to SUN office right away. The staff checked my account and she said it was lifted already. I asked her when and told me since Monday. I told her that I checked my net before going to school and failed to connect, so how my connection was lifted since Sunday. Well, I didn't argue anymore and went home right away. I was just excited to see if I have connection. Surprisingly, there was no connection. So I called SUN hotline again, I can't remember how many times already.  Upon checking my account he said my account still has a problem but can't tell me the exact problem. I was curious because the staff from the office said my account was lifted already and yet in SUN hotline there was still a problem. He then promised me to do everything and wait for another 24 hours. Wow! Pissed off!
So I went to SUN office again (Wednesday). I even brought my SUN broadband stick so they could check if the problem is on the stick. The staff I talked previously checked my account again. I told her that she said my account was lifted already so asked her why I can't access net. So she checked again and told me that still problem in my account and say sorry for the inconvenience, wow again!
Well, after 5 hours my net comes back finally and received a call from the SUN staff asking my connection. That time I felt I was in heaven, lol. Just uttered, thanks God.
I'm in a state of confusion, hahah. I thought I will be buying kindle fire for my daughter but when I checked in Amazon they said they are not sending the kind of kindle fire in the country. But they have other version of kindle fire that could be sent here. I read reviews from different sites and said kindle fire is possible to send (new or old version) but I need to pay for shipping and some hidden charges (taxes, etc).
So, I think I should not buy kindle fire anymore and besides it has no camera. The camera I am using has battery problem already so I need to buy gadget that supports photos and videos. So instead of purchasing a Kindle fire I will check for Apple Ipad or Samsung Tablet. I already asked my niece in Canada the price of these two gadgets and the prices are cheaper compared here. The problem is vacation in Canada was over so no one will come here in the Philippines and bring the gadget. If I will let my niece buy the gadget more or less it would be sent this Christmas, that's a long wait. Other option is to ship it here but we all know it's not cheap to ship items here so it's better to buy it here because for sure the amount is the same (price and shipping).
Well, I have to think more whether Apple Ipad or Samsung Tablet. What do you think? What is the best for you? I hope I will get more ideas so I will be enlightened whether Ipad or Samsung Tablet or just simply share if it is worth it to buy any kind of tablets.
Here is my new my|phone B88+Duo. Last time I said I will buy mobile phone with dual sim feature.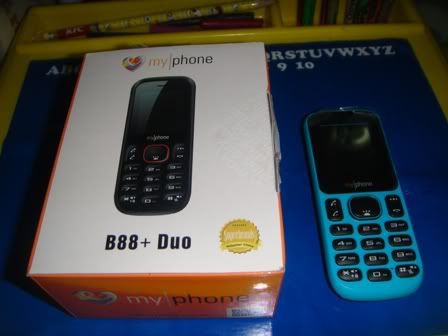 My Samsung Galaxy Y doesn't support dual SIM so I have no choice but to purchase another mobile phone. Changing SIM regularly will make my phone weak for sure. So, I decided to buy new one but a cheap phone only because I will mainly use it for SMS and calls purposes.
So why I need mobile phone with dual SIM features? Because I have Globe SIM for my banKO account. I'm also planning to have a small reloading business. So having dual SIM in one phone is helpful. 
Included in the package: 
B88 + Duo Unit
Battery
Batterycharger
USB cable
User Manual
 Specifications:
Dual SIM Bar FM Phone  
GSM Dualband
1.8" 128×160 pixels TFT
VGA Camera
Wireless FM Radio
MP3/MP4 player
Money Reader (UV Light)
Expandable memory up to 8GB
Bluetooth/USB 
Likes: 
It's affordable and very easy to use.
This is my first time to use mobile phone with Dual SIM and thankful because it's not really hard to use.
Now listening to music made easy through this phone. I can hear music anytime anywhere through their wireless FM Radio.
I like the money reader feature because I can detect easily if the money is fake or genuine (photo below)
So far the battery life is good.
This phone has Bluetooth so transferring files are not hard.
It's a pinoy phone ready which contains prayers, about our country, great Filipino quotation, famous movie lines and many others. But I have a problem using it because everytime I click them it said "file not found." I need to visit the store to ask about this error. I hope it will fix because pinoy applications are useful.
Dislikes:
No games available.
There is no jack for headset. I need to buy separate usb adapter in order to use headset.
It has limited capacity for SMS (both SIMs)
In General:
I like my|phone B88+Duo and for only 888 pesos I can enjoy the features of this phone. Serve as your best friend if you are into SMS and calls only. The sound is fine. It has built-in camera but I prefer to use my other phone and digicam. Bluetooth feature is helpful. I like the money detector feature. 
[ Tagged In ] my|phone B88+Duo, my|phone B88+Duo review, Samsung Galaxy Y