Coffee Jelly is so easy to prepare and you don't need many ingredients to make this delicious dessert. The best thing is it is delicious. This is one of my daughter's favorite desserts.
Ingredients
1 pack Mr Gulaman (White) Unflavored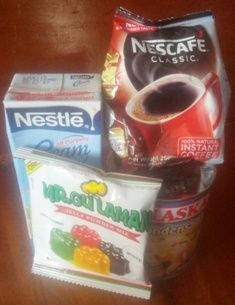 1 condensed milk
1 Nestle All Purpose Cream
2 tbsp Instant Coffee
Directions
1.    Cook Mr Gulaman according to package direction.
2.    Once cooked put in a container and set aside. Wait till it set.
3.    In a separate bowl combine nestle all purpose cream and condensed milk.
4.    Cut cooked gulaman into small pieces (cubes) and add in the cream mixture.
5.    Mix together then refrigerate.