Last time I shared our newly purchased Kyowa electric oven (thanks to my niece). Anyway, It was still in the box when i showed it last time. So here it is our new Kyowa electric oven model KW-3307.
Features
18 liters capacity
Bake, roast and toast
With rotisseri function
Durable stainless steel body
60-minute timer with bell alarm
Temperature and heater control switch
Removable tray for easy cleaning
Large and see-through heat resistant glass window
With baking accessories for convenient cooking experience
Accessories include are: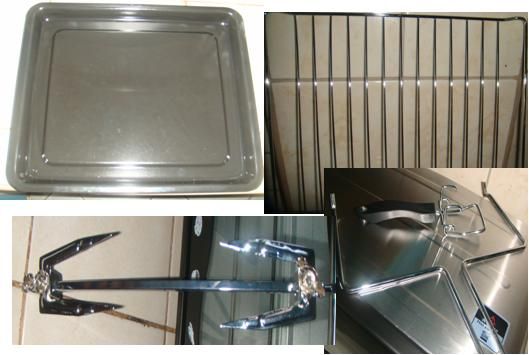 Bake pan, Bake rack, Rotisserie spits,  rotisserie handle
Bake pan support
It has function knob that allow to select heater setting for a variety of cooking needs
Upper / lower heating elements ideal for cooking cakes and pastries
Upper + lower heating elements ideal for cooking breads and pizza
Rotisserie and heating elements ideal for cooking and roasting whole chickens, pork chops, loins, and more.
* I already used this oven and baked banana loaf bread, I will share my experience using this mini electric oven next time. Anyway, maybe some of you already read this post in my other blog. I just copied this post from that blog and will copy also other entries. My other blog is expiring this month and i don't have planned of renewing it. Renewal fee is a bit expensive compared before and since the blog doesn't receive compensation, i think I need to close it already.