Browsing Category: "Parenting"
Vacation is over and it's back to school again after almost 2 weeks vacation. Honestly, I'm not yet ready to go back to school. Time flies and I didn't enjoy our vacation. Going back to school only means getting up early from bed and doing assignments again. I told my daughter this morning and uttered again before sleeping that tomorrow she will go back to school. I told her if she's ready and said yes, it seems the mama is the one who is not ready, wink.
Well, I need to sleep now its already 12 midnight, I need to wake up early because Kyla's school time is 8am. I told myself that I will sleep early months ago but I don't know why I'm still up at this time. Anyway, while I'm writing this post the heavy rain is pouring. I hope it won't last long, its hard to go to school when it is raining because we are riding on public vehicle.
Ok, I'm sleepy so I will end this post now; I still have 6 hours to enjoy my bed. Good night, good morning and afternoon wherever you are. God bless us all!
I was browsing our old photos and saw daughter's photographs while playing small toy guitar. She was pretending that she is a performer. This little girl loves musical instruments especially guitar, drum and now electric organ. I told her next time I will enroll her in music class so she will continue her passion for music. My dilemma is her feature of being a shy girl. Sometimes it's hard for her to deal with other people but I believe supporting and encouraging her is helpful to lessen her shyness and for her to gain confidence. Anyhow, these photos were taken couple of weeks ago. She has a real guitar but the strings were broken so need to bring to music store.  Anyway, here she is happy and satisfied of little toy guitar. My daughter is growing so fast, she's now 5 and soon will be celebrating her 6th birthday. If her passion for music will continue until she grows up, she might use of fernandes guitars at musicians friend.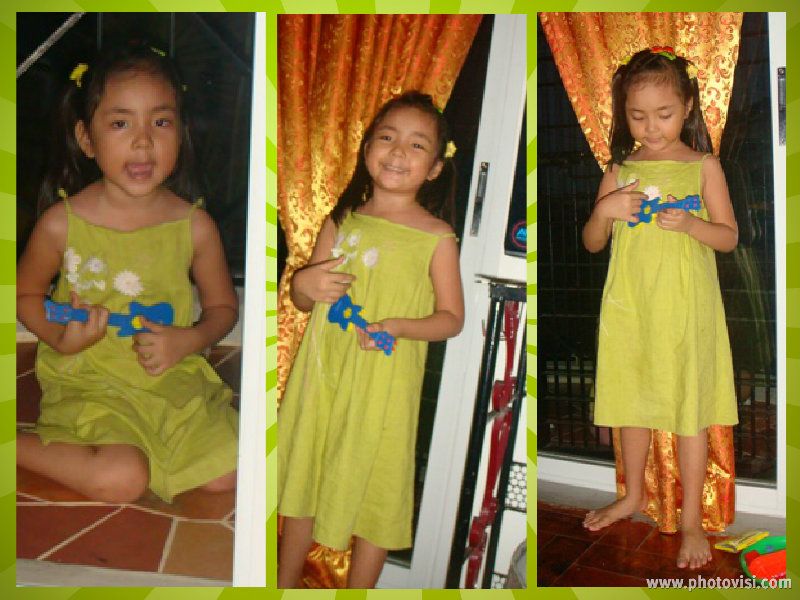 Earlier I was browsing our old photos here in laptop, suddenly; I saw this photo of my daughter. It looks like she's doing sunbathing even though no sun at all. It was taken in Goldland Millenia Suites in Pasig. We stayed there for 1 night when my niece from Canada came here for a short visit. Anyhow, before check-out my daughter and her cousins enjoyed Millenia's pool first. They have two swimming pools. The pools aren't big but good enough to accommodate visitors of Millenia. Wall falls adds attraction to the pool, I'm not certain if there is led pool light but if they have definitely this kind  light will beautify the pool more.
It can be difficult getting a child to take his or her multivitamin each day. There are so many different vitamin choices available to parents. It can be overwhelming. It's important to get a vitamin that is both visually appealing and delicious. Children shouldn't have to be persuaded to take their daily multivitamin. It should be pleasant experience every day. First, Vitamins for kids absolutely have to be delicious. There are few things worse than watching a child spit out a vitamin. Children just won't tolerate the chalky flavor of an adult vitamin.
Animal Parade Vitamins are incredibly palatable to children. They come in a variety if fruity flavors that kids love. Kids will love eating Animal Parade Vitamins.
There's no danger of kids spitting them out later either. Vitamins aren't cheap, and they must be swallowed in order to work properly. For parents who don't want their children eating real sugar, there are even sugar-free options. Next, vitamins need to be visually appealing. Large pills can be intimidating to small children. Kids can even begin to have anxiety about taking vitamins. Children should never be asked to take large adult vitamins. It's so important to choose a vitamin that is visually appealing to small kids. Animal Parade vitamins take the form of various wild animals. Children love the nonthreatening, fun shapes. They don't look scary at all. Nature's Plus Animal Parade children's vitamins are a great choice for parents who have picky eaters. Children may even begin to ask for their vitamins each day.
My admiration to all musicians is really high whether they are the singer, composer, and arranger. This is a kind of profession that I have dreamed before unfortunately music doesn't love me. This only means it's impossible for me to attain my dream so I'm praying that my daughter will do this for me.
I can see her passion for music and instruments. She's 5 now and I believe giving my full support and encouraging more to continue loving music, for sure she will achieve it while growing. Anyhow, if you are looking for cheap finale 2012, I browsed a site earlier that offer this kind of program. This is a great tool for generating professional music scores.
Last week, my two nieces, daughter and I spent 2 days in my brother house. Brother house is situated far in the city proper but  we enjoyed our stay. We never had a dull moment staying in their abode. One of the reasons is their internet shop business in the house. Also, my sister-in-law is selling ice candy in time for summer because it's really hot today. My daughter is always excited to give ice candy to those buyers. Aside from that, one of the neighbors is selling street foods and halo-halo, it's not all the time that I enjoy these foods so I always buy if available.
Anyhow, before going home, I browsed Disney junior site and looked for Disney characters that I can print so my daughter can color. Daughter was so excited to color all Disney characters when we got home. I'm glad because the printing quality is nice and lucid so daughter easily colored them all.
Next week daughter school will be celebrating its 16th Foundation Week. The children are all excited to join the different activities that the Foundation committee has prepared. The activities for preschool are bake sale, kite flying, preschool's amazing talents, splash day and family fun day. My daughter is excited in the annual splash day and look forward to see community friends from fire department with their fire truck. Fore sure the kids will enjoy the said activity.
Well, there are many exciting activities this year compared last year. I'm excited for Booth Lane, I heard clothes, accessories and other staff will be selling on the last day of celebration. Anyhow, I wonder if they already create flyers, catalogs, stickers, business cards and other printing activity for the said foundation. These things are helpful to promote the school so for this they need the best local printing.