The other night I cooked spaghetti for our dinner. My daughter asked if I could cook spaghetti for her. So wish granted I cooked pasta for her. We have only pasta noodles, cheese and hotdog available. Good thing there is nearby convenience store so I just bought spaghetti sauce, maggi magic sarap and corned beef. Normally, when cooking pasta I'm using ground pork or beef but it's not available so I need to find substitute for that and found corned beef instead. So here is my simple spaghetti recipe. The exact amount of ingredients used is not provided.
Ingredients: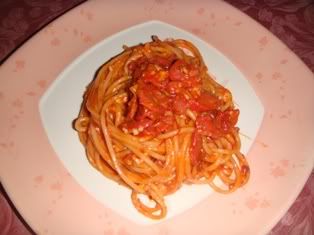 Spaghetti noodles

Ready made Spaghetti sauce

Hotdog

Corned beef

Cheese

Maggi magic sarap

Garlic, onion

Pepper to taste

Oil
Direction:
Cook spaghetti noodles according to package direction.

In a separate pan, heat the oil and sauté onion and garlic.

In the same pan cook hotdog and corned beef.

When done add spaghetti sauce, a little water and put seasoning like magic sarap and pepper.

Add cheese while the sauce is boiling to make the sauce a little thick and cheesy.

Just let it boils for a few minutes and it's done.
Verdict:
My daughter liked it. She even ate the spaghetti the following day. I'm happy because daughter appreciates my cooking. I'm not great at cooking but everytime I do, I'm always trying my very best =)