My sister and her family from Canada are here in the Philippines for three weeks vacation. The initial planned was going here in July because its vacation in Canada but it was changed. They decided to come here now because of my mother's illness.
Last January they sent us package and arrived first week of March. We didn't open the package because we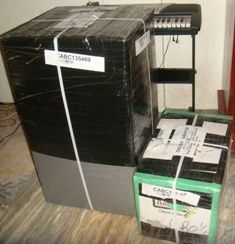 were waiting for my mother's discharge from the hospital. We never thought her confinement will last more than two weeks. This is the reason why my sister and her family decided to come home for a short vacation.
We were happy and blessed because my mother has been discharged from long days hospital confinement two days before my sister and family arrive. March 28, they were here and we hurriedly opened the two boxes of package. Thanks to my sister and her family for all the stuff for me and my daughter. Your family is the best and I know God will bless you more for being so generous and helpful.