So last Friday, daughter and the rest of preschooler students had their first educational field trip. The last destination of daughter's field trip was Filinvest Mall in Alabang wherein we enjoyed our free time for almost 1 hour. Anyway, after a short stroll in the mall, we decided to buy Krispy Kreme Doughnuts as our pasalubong or (homecoming gift). Oh my, we consumed less than 1 hour just to find the store of Krispy Kreme. We asked tenants where to find the store but we didn't' get clear information. Then we saw guard and same thing no clear information provided. We almost give up but we saw another guard and asked once again where we could find Krispy Kreme doughnuts store and we are thankful because he gave the right path. Along the way we saw other people carrying boxes of krispy kreme so we just said sigh, finally the store is here.
Looking at this box, Krispy Kreme is celebrating its 75th birthday! Wow, 75th year in the business so for sure they are really a trusted doughnut store.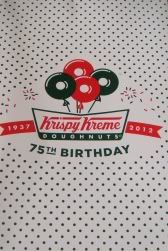 There is a wide selection of doughnuts but I chose to buy this original glazed doughnut. I bought 1 dozen for only 285 pesos, its already on sale 🙂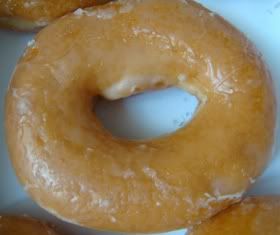 Children were given a Krispy Kreme hat in celebration of their 75th birthday.