Here is my new my|phone B88+Duo. Last time I said I will buy mobile phone with dual sim feature.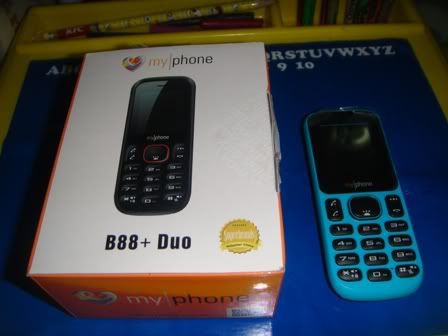 My Samsung Galaxy Y doesn't support dual SIM so I have no choice but to purchase another mobile phone. Changing SIM regularly will make my phone weak for sure. So, I decided to buy new one but a cheap phone only because I will mainly use it for SMS and calls purposes.
So why I need mobile phone with dual SIM features? Because I have Globe SIM for my banKO account. I'm also planning to have a small reloading business. So having dual SIM in one phone is helpful. 
Included in the package: 
B88 + Duo Unit
Battery
Batterycharger
USB cable
User Manual
 Specifications:
Dual SIM Bar FM Phone  
GSM Dualband
1.8" 128×160 pixels TFT
VGA Camera
Wireless FM Radio
MP3/MP4 player
Money Reader (UV Light)
Expandable memory up to 8GB
Bluetooth/USB 
Likes: 
It's affordable and very easy to use.
This is my first time to use mobile phone with Dual SIM and thankful because it's not really hard to use.
Now listening to music made easy through this phone. I can hear music anytime anywhere through their wireless FM Radio.
I like the money reader feature because I can detect easily if the money is fake or genuine (photo below)
So far the battery life is good.
This phone has Bluetooth so transferring files are not hard.
It's a pinoy phone ready which contains prayers, about our country, great Filipino quotation, famous movie lines and many others. But I have a problem using it because everytime I click them it said "file not found." I need to visit the store to ask about this error. I hope it will fix because pinoy applications are useful.
Dislikes:
No games available.
There is no jack for headset. I need to buy separate usb adapter in order to use headset.
It has limited capacity for SMS (both SIMs)
In General:
I like my|phone B88+Duo and for only 888 pesos I can enjoy the features of this phone. Serve as your best friend if you are into SMS and calls only. The sound is fine. It has built-in camera but I prefer to use my other phone and digicam. Bluetooth feature is helpful. I like the money detector feature.