I love Korean series but I don't have the chance to watch any of them lately. I guess, it's because my TV is acting weird already. I don't want to watch Korean series online because for me its time consuming especially waiting for an episode to download. I'd rather buy DVD and watch all they long. 
Anyway, soon A Gentlemen's Dignity will be airing on ABS-CBN. I heard the story of this Korean series is nice so hopefully I will have a chance to watch this.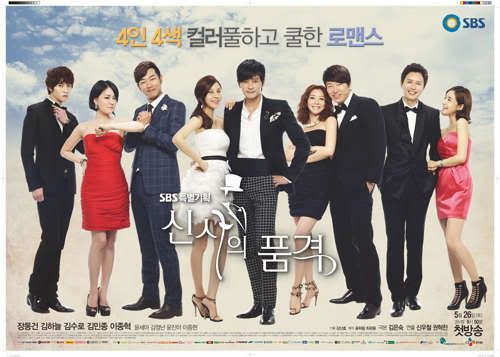 Here is the synopsis of A Gentlemen's Dignity from Wikipedia
Billed as a male version of Sex and the City, A Gentlemen's Dignity is about the careers and love lives of urban professionals. It tells the story of four men in their forties who have been friends since they were eighteen, as they go through love, breakup, success and failure. 
Kim Do-jin is a ladies man who meets Seo Yi-soo and begins a one-sided love. He discovers that she has a crush on his best friend Im Tae-san. Tae-san is dating Hong Se-ra but troubles arise when she reveals she doesn't want to get married. Choi Yoon is a lawyer who is still recovering from his wife's death four years ago but begins to have feelings for Tae-sans much younger sister, Im Meari. Lee Jung-rok is married to a rich woman, Park Min-sook, but constantly flirts with other women which causes problems in their marriage. Meanwhile a teenager named Colin comes toKorealooking for his biological father…