Here in the Philippines, everyone is excited because of Pope Francis coming. He is expected to arrive in PH, tomorrow at around 5:45 in the afternoon and will stay in the country until January 19 (Monday). How I wish to see him in person but I'm away in Manila. There are different activities and masses to be held in different places.
Aside from Manila, he will go to Tacloban on Saturday to meet those people affected of Typhoon Yolanda way back November 2013. Pope Francis will have a lunch with selected 30 victims of Typhoon and earthquake in Bohol.
I really wanted to be part of any of his itinerary. It would be a blessing but it's impossible for me and daughter to see the pope in person. My daughter took a chance to have a picture with his standee, which we saw in her school. How I desire this is real and my daughter is actually holding Pope Francis.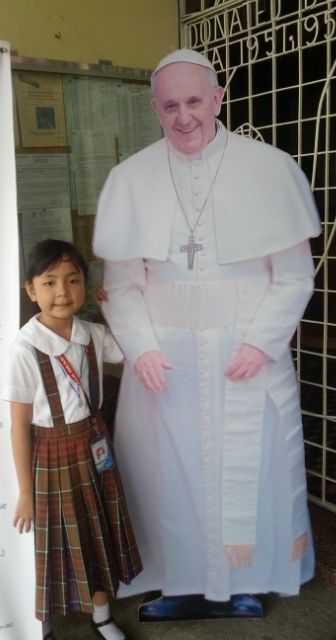 Let us pray that the visit of Pope Francis in the PH will be a successful and peaceful one. I heard first typhoon for this year is coming tomorrow so I'm praying it won't affect papal visit. Let us pray for the safety of Pope Francis. I hope after the visit we will all embody mercy and compassion in our day to day living.