I'm currently watching The Legendary Witch. It is a South Korean television series aired October 25, 2014 to March 8, 2015. It has 40 episodes, so far the longest Korean television series I have ever watched. Usually 16 episodes per series but this one is different. Currently, I'm episode on 23 and I would say the story is nice. I don't mind if it is long because each episode is not boring at all.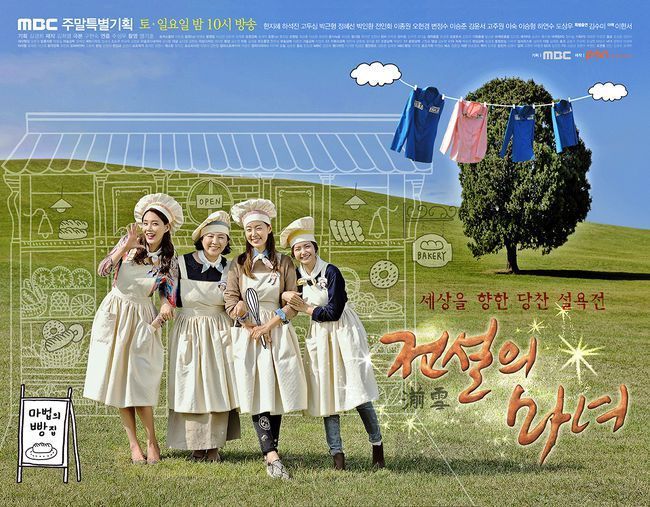 Here is the plot I got from Wikipedia.
Orphan Moon Soo-in (Han Ji-Hye) marries Ma Do-hyun, the eldest son of the chaebol family who owns bakery corporation Shinhwa Group. But when Do-hyun dies unexpectedly, the Ma family makes Soo-in take the fall for their illegal business practices and she ends up in jail for stock manipulation that she didn't commit.
At Cheongju's Penitentiary for Women, her cellmates are kind-hearted Shim Bok-nyeo (Ko Du-Shim) who was falsely accused of killing her husband and son; tough-as-nails, foul-mouthed Son Poong-geum(Oh Hyun-Kyung)  who was convicted of fraud; and former model Seo Mi-oh (Ha Yeon-Soo) who's been charged with attempted murder of her boyfriend, Shinhwa Group's youngest son.
The four women bond and become friends, particularly when they join the baking classes being taught by Nam Woo-suk, (Ha Seok-Jin) a hotel chef. Woo-suk is a widower who is raising his daughter alone after the death of his wife six years ago. At his father-in-law's suggestion, he became a volunteer at the local prison's vocational training center, where he meets Soo-in and begins to fall for her.
Upon their discharge, the four women put the baking skills they learned in prison to use, opening up a bakery together. But they face stiff competition from the Shinhwa Group.