Video making program for your Windows
If you have been looking for a complete video making program and haven't yet got the perfect companion, then you must definitely try out the Movavi Video Suite. It is an all-in-one tool for your video vision. Movavi Suite is an exhaustive video preparing program with all the tools and stuff that you need to create your masterpiece at home. It is very quick and reliable tool for video making. This software lets you make a video like a professional.
You can record and edit the complete list of your videos and music files. This amazing software will let you put together slideshows and video clips and also record videos right away from your computer screen. You can also save online videos. Converting videos and music to any format is now easy. You can also burn videos, data and music to a DVD. There are some other wonderful features as well, you can apply some stylish effects and patterns to your videos, you can also cut and join video segments, improve the video quality and much more. Movavi Video Suite makes video making and editing very easy and convenient. You can download this software for Microsoft Windows and check out yourself from movavi.com.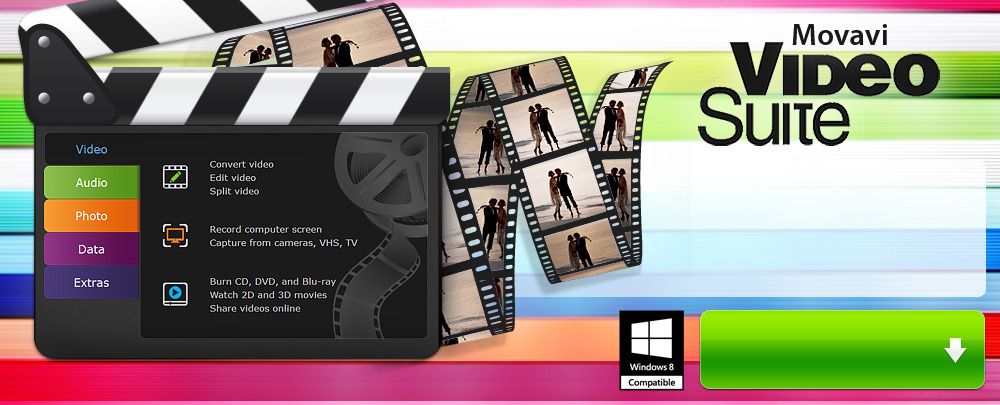 Tasks which you can do with Movavi Video Suite
There are some amazing videos or movie clips which you can make with your Movavi Video Suite, we have summarized them below:
Make Professional-looking Movies at home: you can make some amazing movies by using your music playlists and videos. You can also turn your photos into a beautiful slideshow, all you need to do is just import them and make a sequence with some transitions and titles and you can also add music to the slides. The video suite also lets you enhance the quality of the videos by using some filters and some artistic effects and transitions.

It lets you record your own clips and voiceover or soundtrack: You can create video tutorials, screencasts, highlight the cursor movements, and highlight the keys pressed during recording. It also lets you save online videos or the activities which are happening on your screen with ease. Do you love video blogging? If yes, then this video suite will make you a star as you can record yourself on webcam and use the Chroma Key feature to transport yourself in the background of your choice. Recording Skype conversation with your family and friends is now an easy affair as well.

Converting multimedia files in just a few seconds: this suite lets you convert files between 180 multimedia formats; you can convert music or videos quickly using the SuperSpeed Conversion Mode. You can also play the videos on your mobile devices.
There are some other great features as well which will help you make a video flawlessly, like the digitization of videos from external devices like TV tuners, Digital Cameras etc; you can grab awe inspiring HD quality screen grabs. There is also a built in media player for you to watch movies in style. Movavi Video Suite also lets you burn movies, videos and music to DVDs, CDs and Blu-ray Players.