I really like pasta, so I tried to cook different pasta dishes though I'm not a good cook, wink! The last pasta dish I cooked was baked macaroni or simply baked mac. Here are my ingredients; sorry I won't provide the exact amount of ingredients.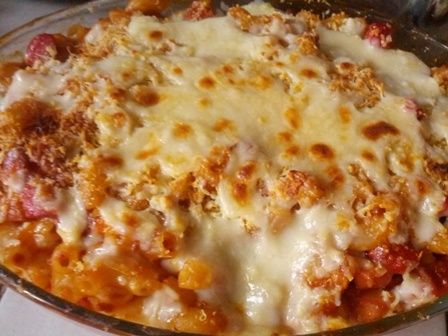 Macaroni shells
Oil, butter
Garlic
Onion
Lean ground beef
Hotdog
Jolly mushroom (pieces and stems)
Spaghetti sauce
Salt and pepper to taste
Eden cheese
Eden melted cheese
Directions
1. Cook macaroni shells according to package direction then set aside.
2. In a separate pan, sauté garlic and onion in oil and butter.
3. Put lean ground beef until slightly brown, add hotdog and jolly mushroom.
4. When cooked, put salt and pepper to taste, then spaghetti sauce and let it summer for about 30 minutes.
5. Put cooked macaroni shells in a casserole cover with cooked spaghetti sauce.
6. Add cheese on top.
7. Bake in 180 degrees celsius for 15-20 minutes or until cheese is melted.
It would taste even better if you put different kinds of cheese especially parmesan cheese. But because my budget is tight so, I just put eden cheese and eden melted cheese. Well, it tasted good but again baked macaroni is even tastier if you put different kinds of cheese on top.