While technology advances every few months, no area is better impacted than home security. It not only improves your ability to protect your family and possessions, it can also be integrated with several other safety features. With monitored home security from companies such as Alabama ADT, you can access emergency services just a few minutes after an alarm is triggered.
Advances in Home Security
Vibration sensors have advanced a lot since the days when a falling branch could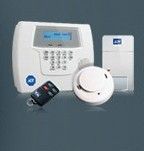 trigger one. Today, vibration sensors can tell the difference between many common noises and shattering glass. This technology makes them able to distinguish different emergencies.
Infrared motion detectors are invisible beams of light that are situated throughout your home. When disturbed by suspicious movement, they trigger an alarm. These motion detectors have a pet-friendly design to avoid false alarms.
Automated systems allow you to remotely take control of the lighting, temperature, appliances and security features of your home from almost anywhere. You can turn on lights before you get home and turn on your heating or air conditioning. This will save you money on your energy bill because you no longer need to keep your climate control on all day. If you have security cameras, you can look at the inside of your home from far and check on elderly parents or pets. If there is a child asleep upstairs, you can monitor him or her from your computer in your office downstairs.
Remote online access is possible from a smartphone, iPad or other web-enabled device. You can check the status of your alarms, and it allows you to be automatically contacted by email if your alarm has been triggered. It works with a wireless home security network.
Other Emergency Responses
Burglars are not the only home emergency you can have. Your system can also be enabled to detect smoke, fire, flood, furnace or gas leaks and medical emergencies. For example, if you have an elderly person living with your family, but your family is not at home during the day, you don't need to worry that your parent will be without help if he or she needs it.
Today, it's easy and affordable to have integrated home security. The only real peace of mind happens when you know your home is monitored by a professional home security team. You can check your home on your phone at any time.