There are few things more frustrating than feeling like the walls are closing in while you're in bed. Your bedroom might look and feel smaller because you have slanted ceilings, a bed that is too large for the space, too much furniture in the room or even because of the clutter in your bedroom. You might even feel so frustrated that you give some serious thought to putting your house on the market. Before contacting a real estate agent, find out how you can make a smaller bedroom look and feel much larger.
Opt for Double Duty Pieces
Your bedroom might feel small and claustrophobic simply because you have too many things in your room and not enough space for those things. While you might not have space or money in your budget to add a walk-in closet, you can bring in double duty pieces that serve as storage. Take a buffet out of the kitchen and into your bedroom. This longer piece of furniture has space for clothing and accessories and can fit your television on top. Nightstands with drawers and shelves give you even more storage space.
Choose the Right Furniture
Make sure your bedroom furniture fits the amount of space you have available. A Thomasville Furniture bed with storage drawers beneath gives you ample space for clothing and other items, while a smaller chest of drawers gives you storage space without taking up as much room as a larger dresser will. You may want to consider investing in a bed that uses an upholstered headboard with no footboard as well. These beds fit right up against the wall and won't feature additional elements that might get in your way.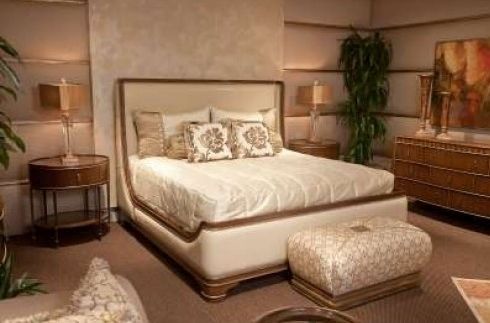 Reach for a Paint Can
The best way to make your room look larger and feel more spacious is with a new coat of paint. Darker colors have a tendency to overwhelm the space and can make it feel like the ceilings are even lower to the ground. A lighter paint color will open up the room and make it feel much larger. Make sure you apply primer to prevent the older color from bleeding through. The natural light reflecting off a shade like lemon yellow or mint green can make your bedroom look like a whole new room.
Painting the walls, choosing the right furniture and using double duty pieces can make your small bedroom feel much larger.