I made banana loaf bread for the very first time.  It wasn't 100% successful because some of the part burned especially bottom part but happy because the bread didn't go to waste completely and besides it was my first baking experience.
Anyhow, I got banana loaf bread recipe in this site http://www.simplyrecipes.com/recipes/banana_bread/. All the ingredients are easy to find and some are already in the kitchen so I didn't think twice of baking banana loaf bread.
Ingredients
• 3 or 4 ripe bananas, smashed
• 1/3 cup melted butter
• 1 cup sugar (can easily reduce to 3/4 cup)
• 1 egg, beaten
• 1 teaspoon vanilla
• 1 teaspoon baking soda
• Pinch of salt
• 1 1/2 cups of all-purpose flour
Method
No need for a mixer for this recipe. Preheat the oven to 350°F (175°C). With a wooden spoon, mix butter into the mashed bananas in a large mixing bowl. Mix in the sugar, egg, and vanilla. Sprinkle the baking soda and salt over the mixture and mix in. Add the flour last, mix. Pour mixture into a buttered 4×8 inch loaf pan. Bake for 1 hour. Cool on a rack. Remove from pan and slice to serve.
Yield: Makes one loaf.
—–
I followed all the ingredients and baking procedure and patiently waiting for the outcome. After 30 mins I smelled something, my loaf is beginning to burn. I checked it and inserted a toothpick inside, just like the bakers said you will find your cake or bread done when the toothpick comes out clean. When I inserted the bread isn't cook yet.
So I continue baking and didn't mind the smell but instead of cooking it for one hour I only baked it for 50mins. The oven i used has function knob that allow to select heater setting. At first i selected lower setting and it took time before i changed it to upper setting. I think that's the reason why the bottom part burned completely.
Well after 50 mins it was done. I let it cool first and transferred to plate. As expected the bottom and top part burned, I wasn't surprised. The bottom part is burned completely sorry I didn't capture it. Just think of charcoal and it was like that. The top part is slightly burned but inside it was cooked properly see image below.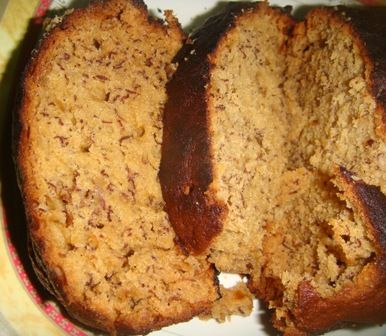 The family who tasted my banana loaf said it was good well not the burned part. I must say I'm 60% satisfied with my first baking experience. I'm using mini oven so I think the cooking time is different compared to big oven.
Anyhow, for sure this isn't the first and the last and definitely I will bake banana loaf bread again, I won't stop until I perfect it.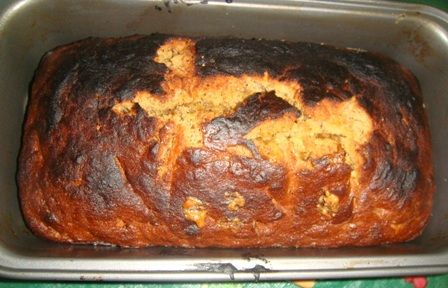 This post was created June 2013, copied from my deleted blog.