I'm still enjoying making loom bands. My addiction began last summer (May) and now I'm still doing it regularly. I already showed some of my done bracelets and really satisfied with the result. Now, I'm enjoying making different charms. Thanks to the tutorials available online. It would be impossible for me to make one. All my works depend on the tutorials available on youtube.
Anyway, here are my recent loom bands creations. My daughter asked for some panda so I made different colors. Daughter wasn't satisfied and asked for more panda's haha. And because daughter likes guitar I also made one for her. For the second photo I made starburst headband and lastly, bow tie ponytail. Again, all the tutorials came from youtube.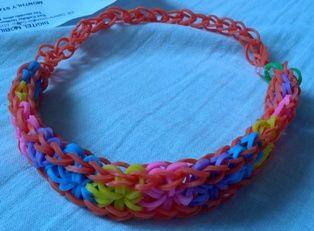 The possibilities are endless with loom bands. I thought its only for bracelets but now I have charms, hair accessories and soon will make Disney characters.