So busy in my offline stuff for the past days so I'm not able to update this blog. I should share this thing two weeks ago but forgot to do so. Anyway, aside from attending trick or treat in school my daughter also attended trick or treat in one of the hotels in our area. This was her first time to attend trick or treat wherein hotel is the venue. She used to attend in school and trick or treat in Jollibee. But for this year I didn't join her in Jollibee. There are many participants every year in Jollibee I think all the Jollibee branches in Quezon province are gathered in one place yearly. I don't want to mingle with hundred of parents and participants so I chose to join in one of the hotels here.
The fee amount is Php 250 which includes pumpkin basket, face painting, photo booth and food. I was surprised with the pumpkin basket because it's so little, haha. Even the apple that they gave didn't fit in this pumpkin basket.
Anyway, daughter wanted to have butterfly on her face so here she is while the paint artist is putting her requested butterfly. On photo booth we got 4 shots.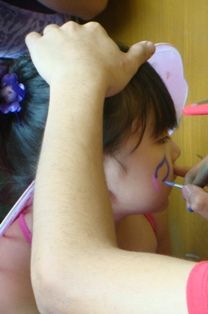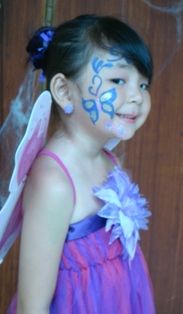 These are the foods included in the package. Well, I'm not satisfied with the foods. The spaghetti noodles are so thin but the taste is quite good. There is white pasta but lacking of flavor. Pizza is good but I think they only used tasty bread. For the dessert there are cupcakes with Halloween theme. Well, the one I tasted was banana cup cake, quite good.
After eating children were asked to go in different offices of the hotel for the trick or treat. Daughter got 1 apple, small imported chocolates, candies and cookies. There is one room where the kids are giving 1-2 minutes (I think) to find the hidden goodies. It's hard to find because it has dim light. The goodies were hidden under the bed, pillows, drawer, tables, and blankets. Daughter didn't get anything in that room so the staff gave her some candies.
Overall, it's a nice experience but I'm not sure if we will attend here again next year. I want my daughter to experience other trick or treat event maybe in the mall next time, we will see!