I got free Chowking 2015 Planner when I purchased Chinese Style Fried Chicken Lauriat and upsized the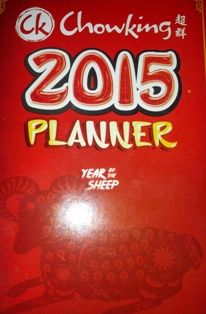 drink. This planner is a good stuff for me to have this 2015. Unlike last year, I want this year to be more organized. So, I think Chowking planner would be a great help. Aside from the space provided for your day to day plans every month, inside are personal information, 2015 Chinese horoscope, national holidays for 2015, calendar, contact list, Philippine area codes, international dialing codes, conversion tables and spaces for some of your notes.
Added also in the planner is the Chowking lucky treats for 2015. You could get free chowking product every
month when purchase certain meal from the store.