Dolphy died at 83. I didn't know that Dolphy, the one and only Comedy King passed away last night, July 10 at around 8.34 pm. Early this morning when my daughter opened the TV, that's the only time I heard Dolphy passed away already.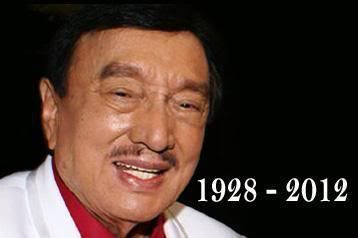 If we could remember, last June 19, Dolphy was brought to Makati Medical Center due to pneumonia. On June 16, he was admitted at the same hospital because of shortness of breath. After, nearly one month being confined at Makati Medical Center, the Comedy King, passed away at the age of 83. He is about to celebrate his 84th birthday on the 25th of this month. 
According to reports, the reason for his death was because of multiple organ failure, secondary to complications brought about by severe pneumonia, Chronic Obstructive Pulmonary Disease (COPD), and acute renal failure. 
Today, Dolphy's corpse was brought at Dolphy Theater in ABS-CBN compound. And earlier, necrological service was held. I confessed while watching it I saw myself crying. I am one of Dolphy's fans and for me he will be remembered forever. Thank you for being part of our life, for all the inspirations and for the many years you made us happy. May you rest in peace.